This cassette-deck style toaster designed by Arthur Wu can surely match your modern kitchen. Your toast will pop out every morning just like your mix tape in 1980s technology. I like the top switch and the front cool logo. But I see that the design only have one side heating element, which mean we have to flip to side B to heat both side, and that is impractical. Arthur, want to make comment on this ?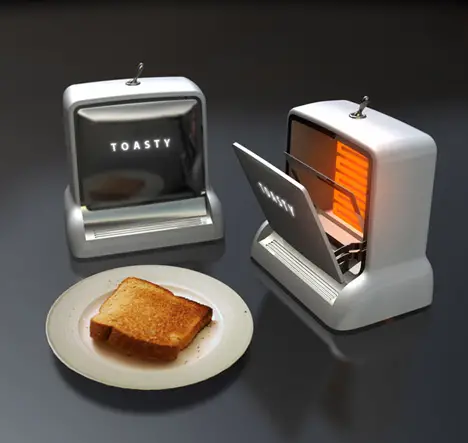 ---
We just received X-Mini Uno and X-Mini Max for hands-on review, thanks to XMI team who was kind enough to send us its latest products to test. Just in case you haven't heard about this portable speaker, we wrote reviews about them before X-Mini 2nd generation and X-Mini Max II.
X-Mini Uno is the 3rd generation capsule speaker that delivers better and bigger sound thanks to new ceramic drivers, you'll get to enjoy clearer and crispier sound. Yes, it is tiny in size, but don't underestimate what this little gadget can do, it delivers some serious audio quality in any room.
From design point of view, X-Mini Uno features smaller size compared to the 2nd generation and it comes with variety of colors: blue, green, gun metal, orange, purple, and red. The one that came for a review has gun metal color which looks really cool in our opinion, it blends perfectly well with its bright orange ceramic driver. It feels pretty solid in our hand, it's a bit heavier than the 2nd gen. [Buy It Here]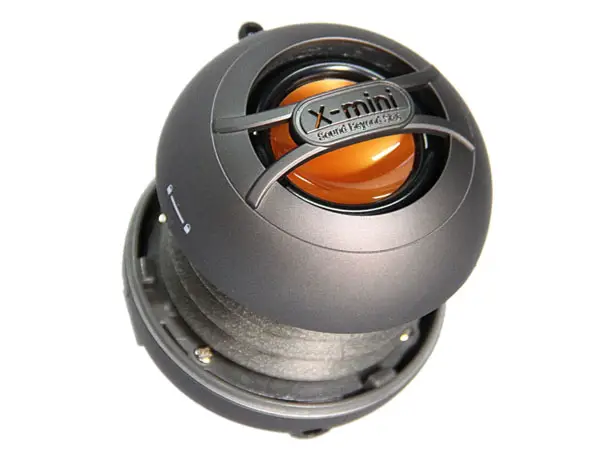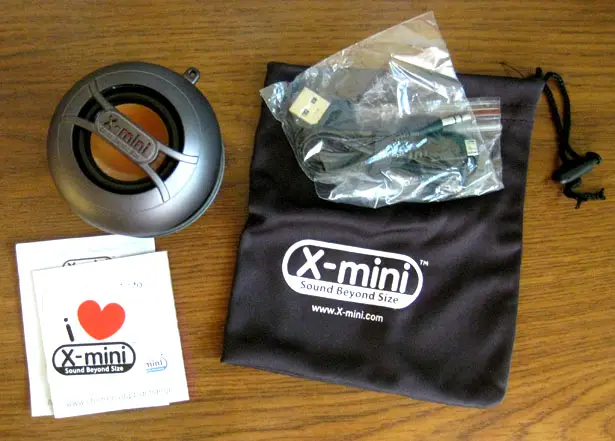 The main selling points of these speakers are their portability and simplicity, the company has received many design awards for their speaker design, so you won't see any radical changes as it's already perfect.
You can find 3.5mm plug which is compatible to most range of media devices, connect it to your laptop, tablet, smartphone, or music player, enjoy stereo sound from this pocket sized boombox. Unfortunately for people who prefer to connect using wireless system, this capsule speaker doesn't support Bluetooth connection but on the positive note, it will have longer batter life, the company claims that it can last up to 20 hours. [Buy It Here]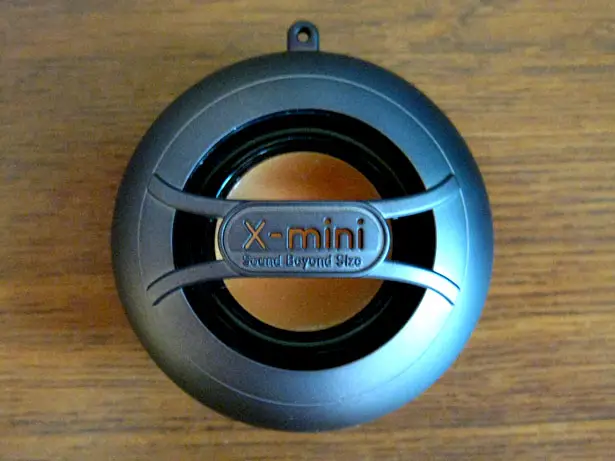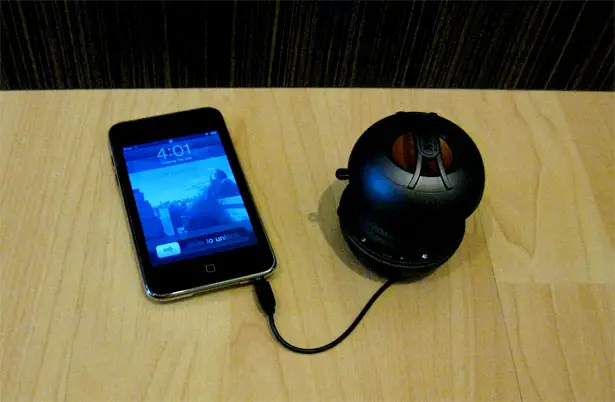 Buddy-Jack is one of many features that we love about X-Mini capsule speakers, it allows you to connect several x-mini to a single music source for enhanced sound experience. You can use the stowaway 3.5mm audio plug and form a chain of x-mini speakers at a party, an outdoor event, or picnic to enjoy the music with everyone around.
At the base, you'll find the rubber feet have new design that wiggle a bit but you hardly notice it. This new design allows the speaker to vibrate a little to improve the bass response, nice. Each X-Mini Uno has its own volume control unlike X-Mini Max.
Conclusion: X-Mini Uno is definitely beautiful portable speaker that provides decent stereo sound in a small package. It's a great option if you don't want to spend too much money and look for great portability, it'll only cost you less than $40. However if you really really hate the cord connection, you might as well go with Bluetooth speaker but prepare for more expensive price. [Buy It Here]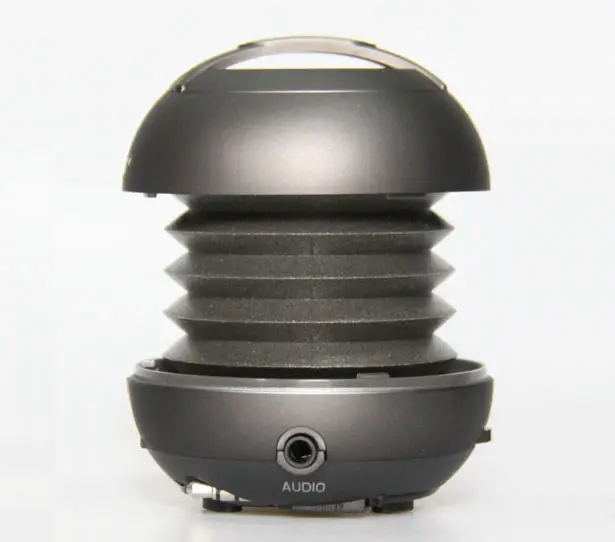 Tuvie has received "X-Mini Uno Capsule Speaker" from our 'Ask for A Review' feature, where we receive test unit/product sample for a review.
---
Sleek and high-tech concept phone, oh wait, this device is not just another cell phone or a new UMPC device. It's something more than that; the designer refers this design as PCP or "Professional Computer Phone". The design of TPM VIPNI began with inspiration to create a device that can bring power of a full blown professional computer to your pocket. The designer has clearly stated that this phone concept doesn't belong to any company but ThePowerMachine, it is original design and not based on anything that's already in the market. Ok, we hear you pal!
TPM VIPNI Professional Computer Phone is a compact device that you can use to work on your tasks. It can perform really well without compromising its battery power, usability and pocketability. It utilizes the productivity of "X86" microprocessor along with all reliability and robustness of ARM processing.
Designer : Imran Sheikh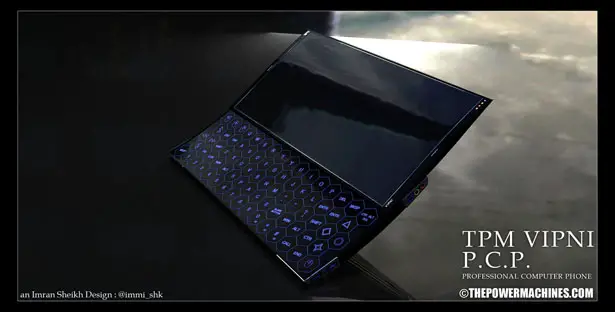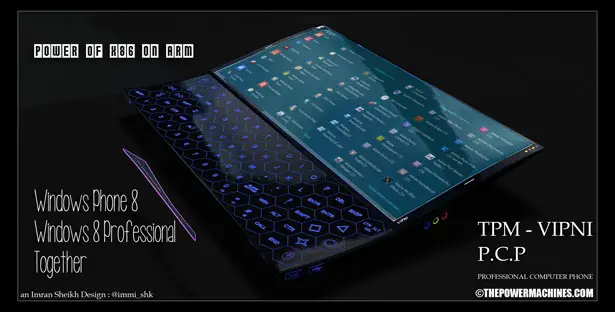 The Operating System chosen for TPM VIPNI is Microsoft Windows 8 Pro and Windows Phone 8. Yes, you read that right, 2 OS in one small device. It is made possible by the power of Quad Core ARM processor. This special feature allows user to perform any professional tasks with ease on this compact, light weight, energy efficient device. PS : Do you know that when you rotate VIPNI 180-degree, you would read "INDIA"?
TPM VIPNI PCP Features:
1. x86 on ARM concept
2. Keyboard:
blank button
bottom-line numeric keys for semi slide mode
gaming keys inclusion
split mouse
3. Top-Bottom Design
4. Central 3d camera placement
5. Redesigned stylus
6. Tap Controlled UI
7. Bottom fold capacitive mouse
8. Dual camera button
9. Professional ports for multimedia professional:
video in(blue)
audio in(yellow)
audio out(Red)
10. A totally redesigned Back cover/stand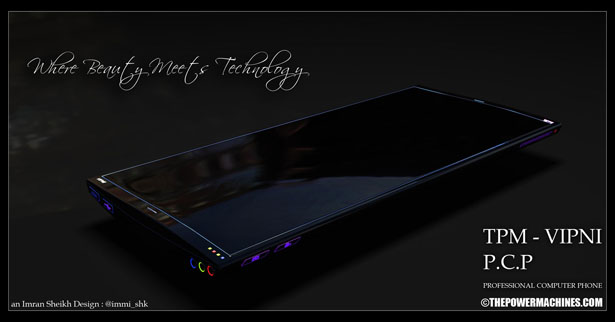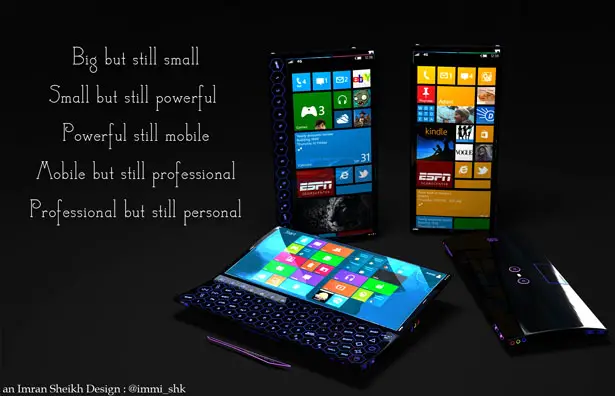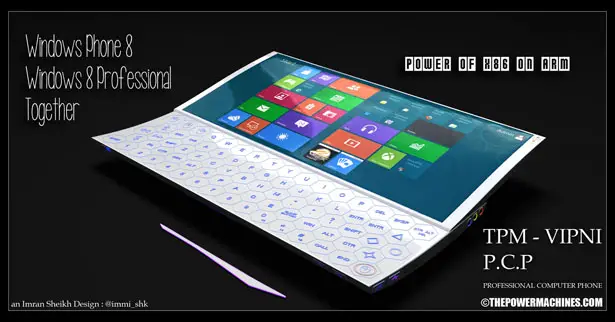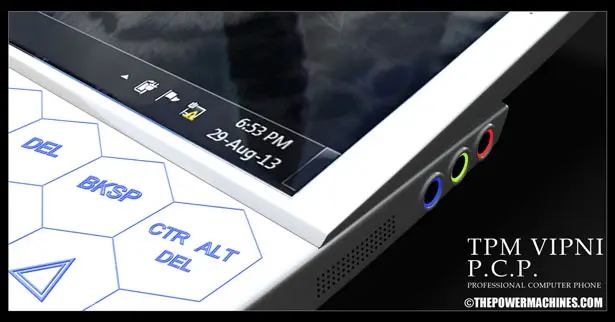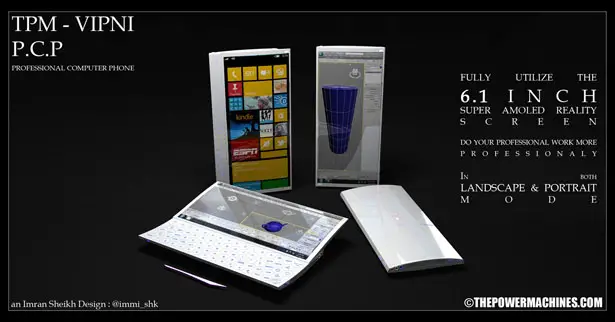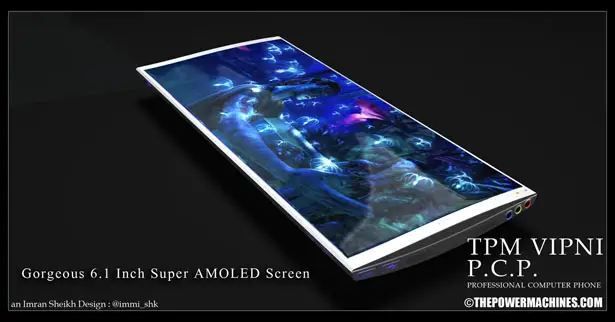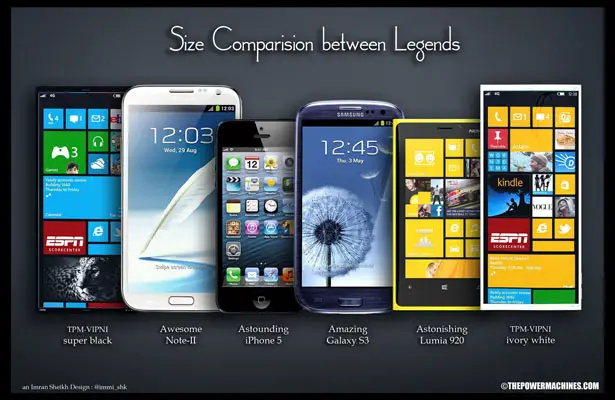 Tuvie has received "TPM VIPNI Professional Computer Phone" project from our 'Submit A Design' feature, where we welcome our readers to submit their design/concept for publication.
---