This submission is really interesting, Bell&Bell spice container from Minwoo Lee. As you can guess the design of this container was inspired by a hand bell, beautifully translated into dining table accessory. You can use Bell&Bell as salt and pepper container where each set consists of 2 containers that have been carved with "salt" or "pepper" labels. Sprinkle some salt and pepper on your food as if you ring a hand bell, pretty cool, huh?
Designer : Minwoo Lee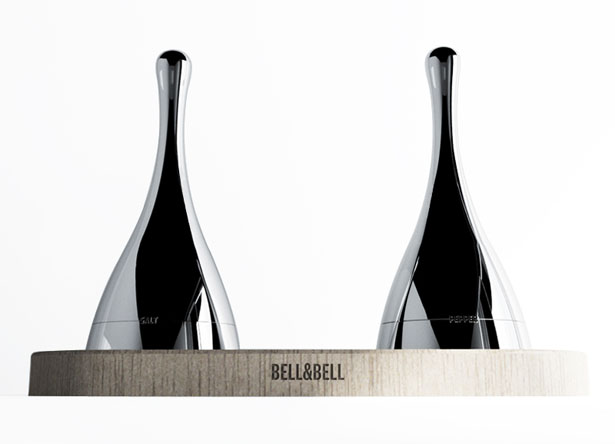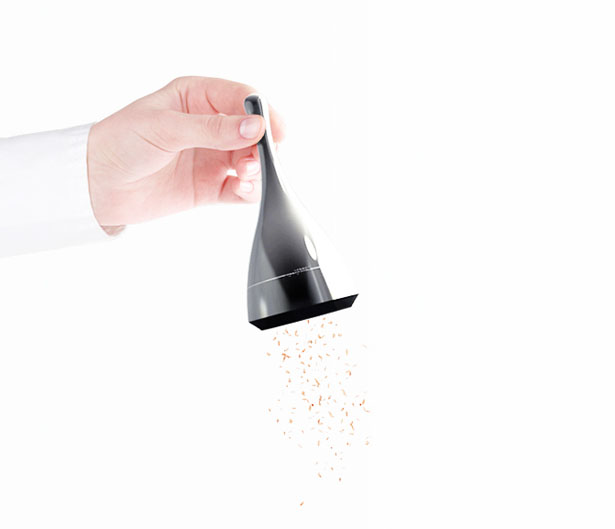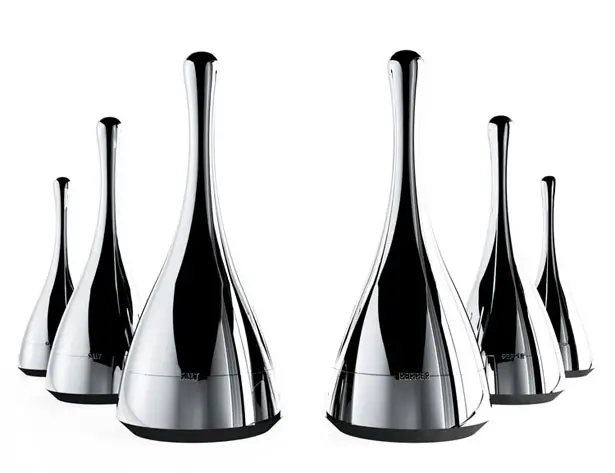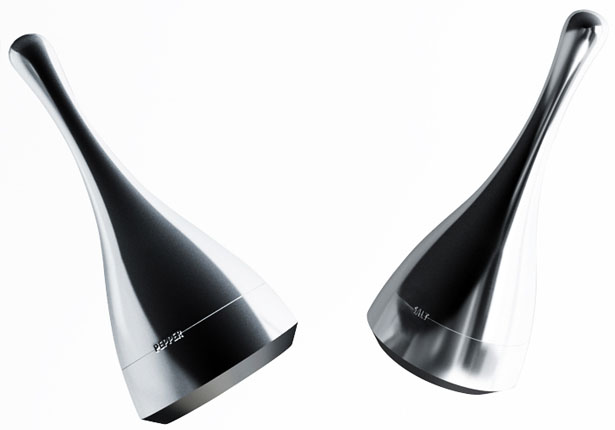 Tuvie has received "Bell&Bell Spice Container" from our 'Submit A Design' feature, where we welcome our readers to submit their design/concept for publication.
---
Good news guys, ever since we featured Armadillo folded backpack, there are numbers of you who've been asking where to get one. Dutch design studio Lijmbach, Leeuw & Vormgeving have shared with us the news that they have decided to develop the prototype into production. Of course the final backpack design has changed considerably since the previous prototype, however, rest assure, it's getting larger and better. In fact, you can keep your laptops up to 15.6" in this backpack and the new compartments can be used to keep your cell phones or any other small items.
Designers : Herman Lijmbach and Leeuw & Vormgeving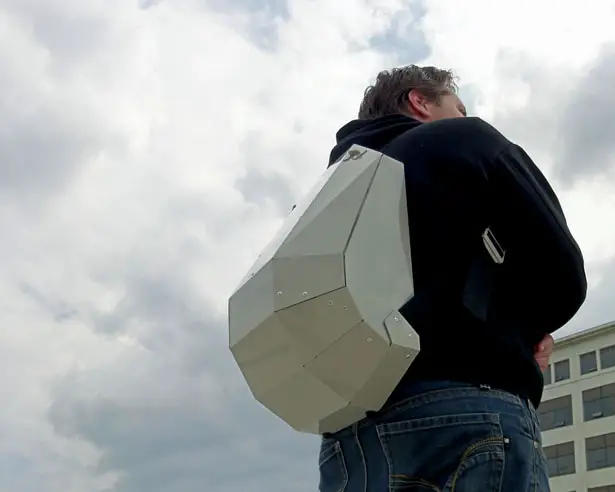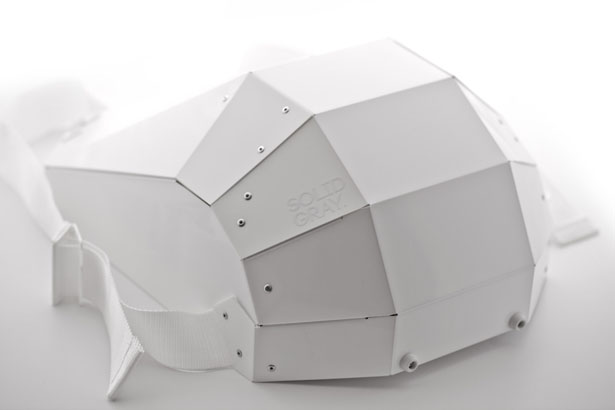 Just in case you haven't noticed, the biggest change would be the totally different material used. The locks, buckles, and snaps are now constructed using the same material as the rest of the bag that is polypropene block-copolymer, in this way, Armadillo folded backpack will be stronger and lighter. You can fold this hardshell millions of times without having to worry about breaking or tearing it apart.
The new Armadillo folded backpack is now called Solid Gray. The first series in white glossy finish was launched at the Dutch Design Week 2011 for an introductory price of 119 euro. Each Armadillo folded backpack owns a unique serial number and the first run is only available for 90 pieces.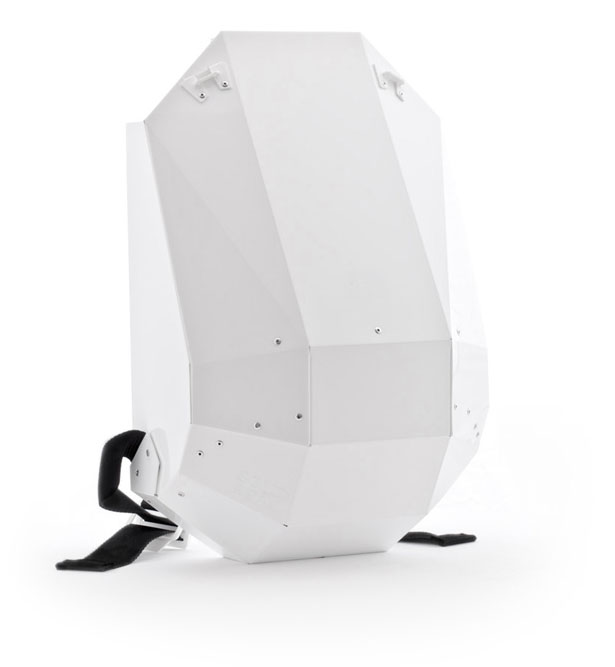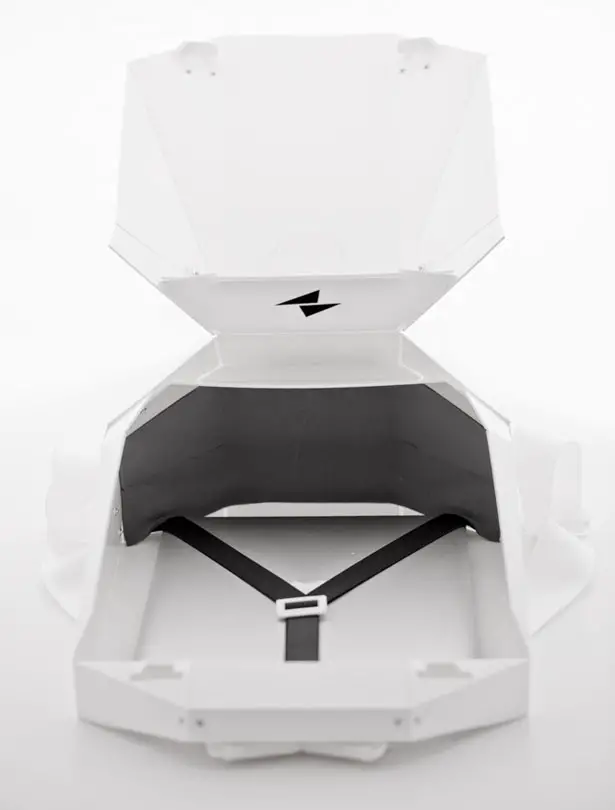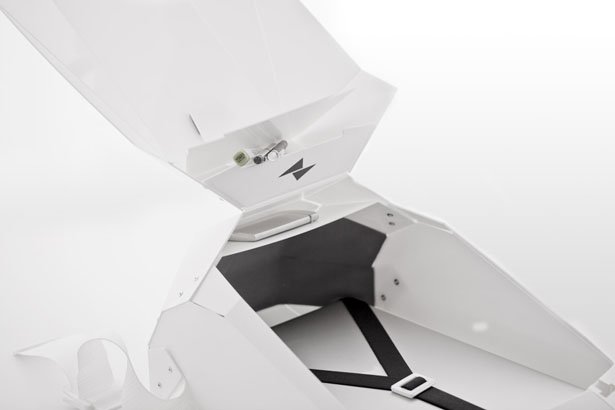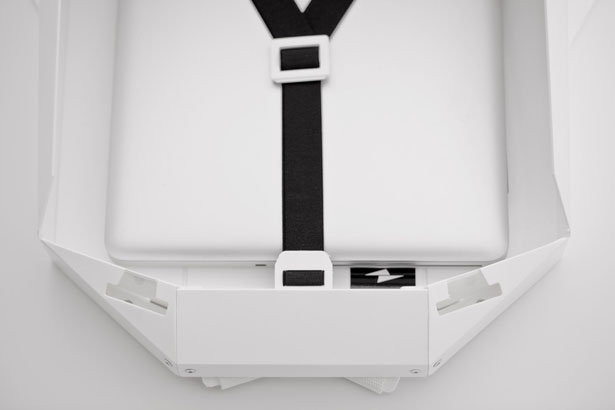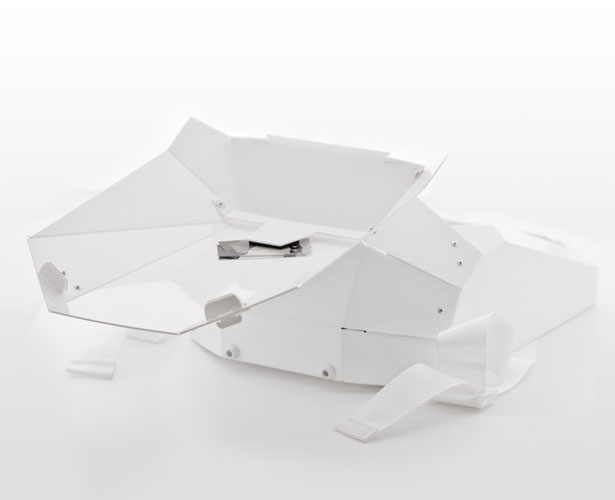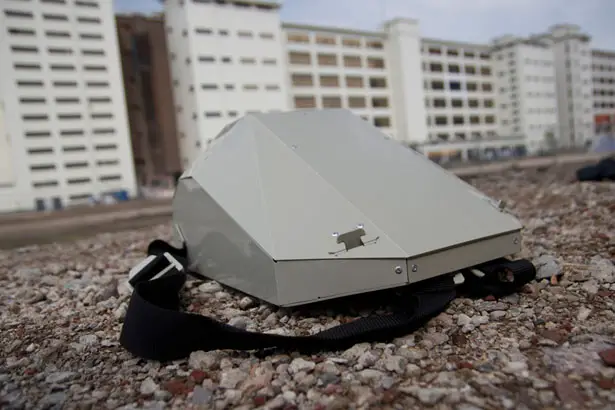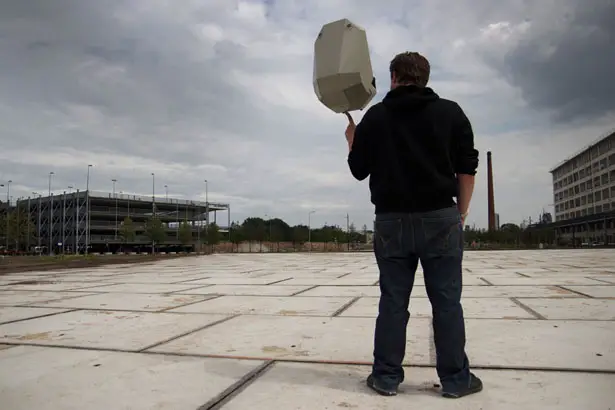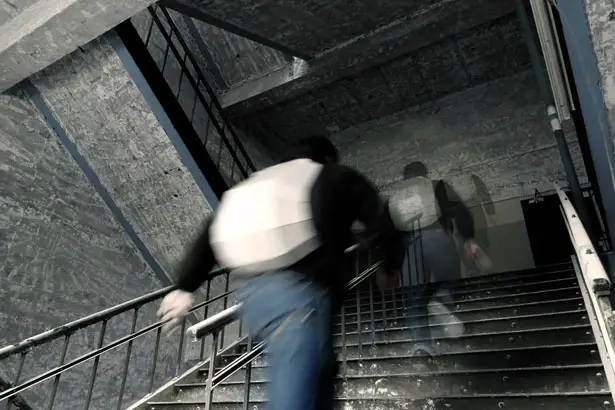 Tuvie has received "Solid Gray – Armadillo Folded Backpack" project from our 'Submit A Design' feature, where we welcome our readers to submit their design/concept for publication.
---
Limited Edition LeDIX Origine is the ultimate expression of contemporary elegance. LeDix Origine combines a pocket watch and mobile phone into a luxurious object that pushes the boundaries of imagination. It is made from polished and brushed grade 5 titanium discreetly enhanced by solid ebony wood inserts.
The classic dial features polished and brushed-finish Black Gold and proudly bears the °C of Celsius X VI II. It also has a visual "optical illusion" type surprise in store for observers, since when viewed from a different angle, the 0-3-9 indexes reveal three-dimensional numerals.
The timeless keypad is made of 21 keys and one single sapphire crystal plate. It is available in Latin, Arabic, Chinese or Cyrillic.
Designer : Celcius X VI II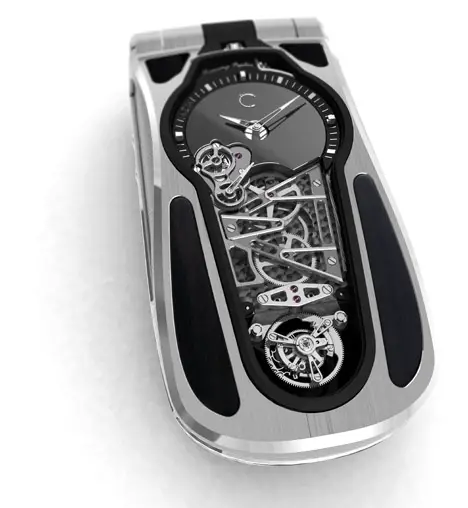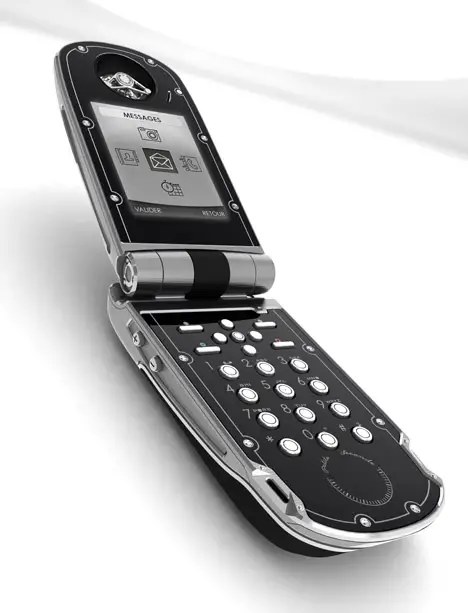 [Press Release]
Whilst communicating has become a detached commodity induced by the transformation of the traditional pen and paper into disposable computers and phones, Celsius X VI II innovates to create functional "Objets d'Art" that bring emotions back to communication.
Like a butterfly spreading its wings, LeDIX, the first creation from Celsius X VI II, has taken flight after four years of research and development. Is it a pocketphone-watch or a watch cell phone? It is above all a resolutely novel nomadic object that pushes the boundaries of imagination.
At first glance, LeDIX is a clamshell cell phone with an integrated tourbillon watch. As streamlined as a sports car, this aerodynamic creation is made from polished and brushed grade 5 titanium discreetly enhanced by inserts. It is the ultimate expression of contemporary elegance. The exclusive mechanical movement, developed under the technical supervision of Celsius X VI II, has what it takes to appeal to the most demanding watchmaking connoisseurs: a flying tourbillon equipped with exclusive shock-absorbers and more offset than any existing model; a modern design focusing on transparency; as well as fine watch finishing and decoration. The stage setting chosen for this movement ensures peerless visibility and aesthetic elegance.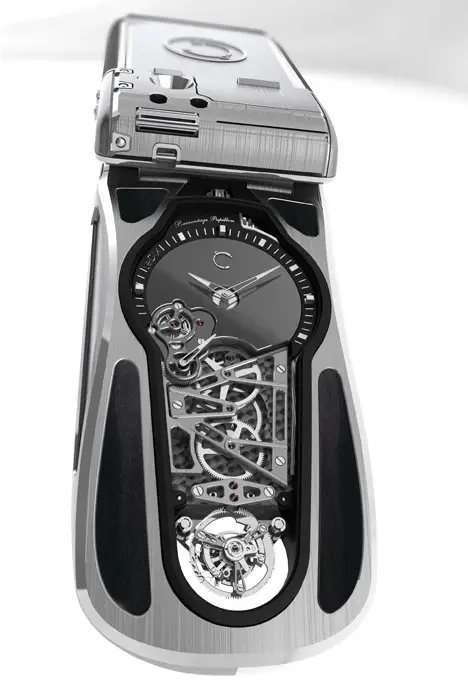 When LeDIX opens its wings, an attentive listener perceives a gentle noise that micromechanical devotees are sure to appreciate. It comes from the patented winding system of its horological component. Housed within the hinge, this Remontage Papillon (Butterfly Winding) is activated with each opening, thereby adding three hours of power reserve to the total 100 hours – a major innovation that elevates this nomadic object to an extraordinary, fusional dimension. This state-of-the-art communication device comprises a range of features that take micromechanics well beyond its usual boundaries, including: a mechanical battery-ejection system; a main connector protected by a mechanical-locking flap; and screen-flap closing cushioned by a set of spring-mounted ball bearings.
The electronic communication platform combines high performance with extreme reliability. Designed in collaboration with renowned French company, recognised as a global benchmark in the field of customised connected lifestyle devices, it embodies the most demanding quality standards. Its interface, which deliberately focuses on the essential mobile functions, makes LeDIX the ultimate personal phone, specifically designed for the pleasure of escaping from daily routine. This approach targeting durability, quality and simplicity involved a number of challenges, such as handling interferences with the moving watch components, or with the metal casing – itself a token of nobility and superior resistance. The fusion of haute horologerie with the world of mobile technology led to some innovative features, such as the mechanical whisper of time constantly accompanying every communication.
This revolutionary object comes complete with its very own ecosystem of accessories. "LeKit": the no-hands kit secured by a tie-pin style clip, "LaBase": the docking station. "LaChaîne", the innovative chain system, and "LeCoffret": the presentation box. They've been all devised and designed by Celsius X VI II. They are crafted in noble materials and equipped with mechanical components reflecting the brand's fundamental concept. Leather items, such as "LeHolster": the holster-type pouch, are made from top-quality hand-sewn hides. LeDix and its ecosystem herald a new and prestigious mechanical world…
LeDIX is available in two limited editions:
LeDIX Origine, limited edition of 18 in grade 5 titanium with ebony inserts
LeDIX Véloce, limited edition of 28 in black PVD-treated titanium with carbon fibre inserts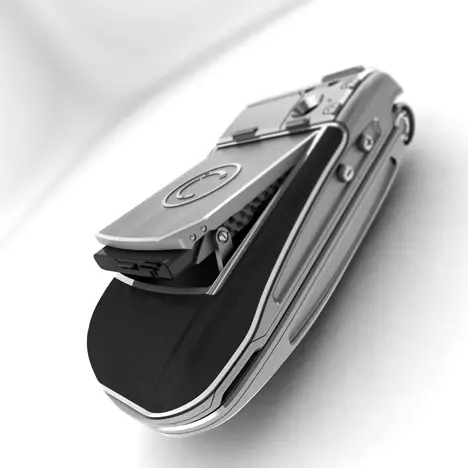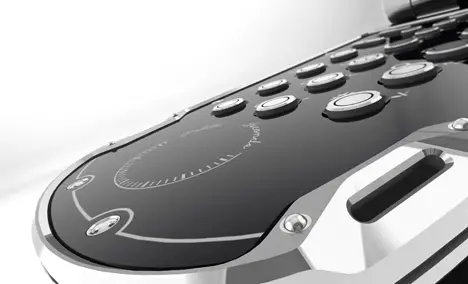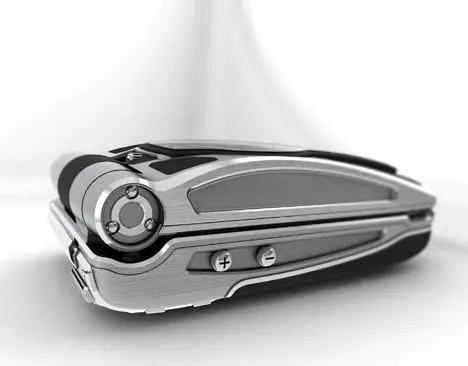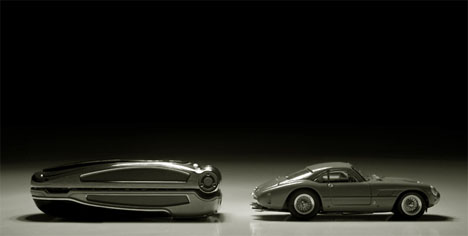 ---