As part of this industrial designer design study of the future automobiles, Futuristic MITHOS Electromagnetic Vehicle was born. It was originally designed in 2006 as modeling and styling exercise and finally improved in 2011 for animated teaser. Tiago Miguel Inácio, the designer told us that the exterior design of MITHOS took around 6 months to finish. Below this article, you'll be able to view the video teaser that was created to provide you better audio visual experience and illustrate what it feels like an electric supercar should be.
Designer : Tiago Miguel Inacio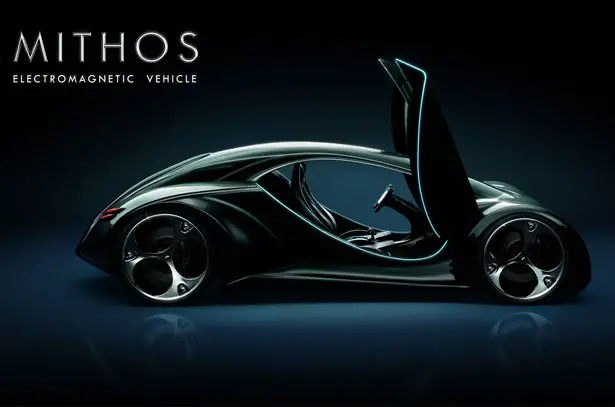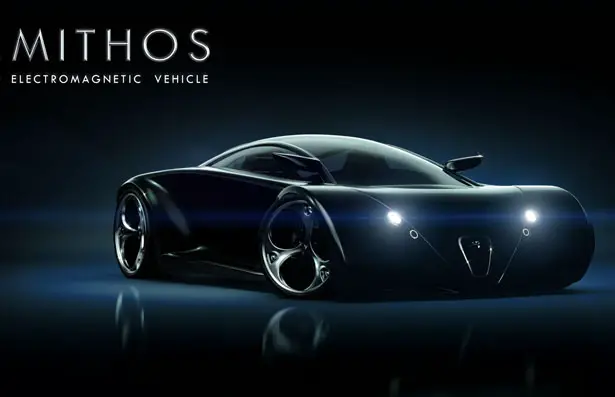 MITHOS GENERAL FEATURES
Many of MITHOS Electromagnetic Vehicle features are based on evolving technologies and SCI-FI ideas, which means that some of them are not possible or viable at present time. But, I believe that each one of these features would be greatly welcomed by consumers in general.
ZERO EMISSIONS SUPERCAR
Equipped with a 1.5 megawatt electromagnetic induction motor (2011hp), Mithos can go from 0 to 100km/h in 2.1 seconds and reach the maximum speed of 397 km/h in approximately 12 seconds. Batteries are automatically recharged by local W.C.S. (Wireless Charging Stations).
H-FIBER MEMORY COATING
Crash resistant body panels are manually crafted in H-Fiber composite and shape memorized in an authorized Nanotechnology Facility. In case of a crash or body damage, the Mithos BPU (Body Processing Unit) automatically reshapes the body panels into its factory defaults.
TERRAIN SCANNING SYSTEM
For a relaxed driving experience, MITHOS Electromagnetic Vehicle is equipped with T.S.S. Mapping and Recognition sensors, which continuously gathers the current terrain morphology, rechecks with the E.T.D. (Earth Terrain Database) and safely adjusts the suspension behavior, into its optimal settings.
Q-TELEPORTATION READY
Engineered from the beginning to be Q-Teleported, the M.T.P. (Molecular Teleport Processor) provides Mithos molecular coordinates and dynamic properties to a standard Q-Teleport Transmitter/Receiver Station, enabling safe, fast and easy teleportation.
INSTANT TORQUE RESPONSE
Due to the high torque of the 1.5 megawatt electromagnetic motor and the high adherence of Flexirubber tires, the traction control system smooths out unnecessary acceleration into a safer G force level, thus preventing inertia derived injuries.
QUANTUM BOOST TECHNOLOGY
By using Quantum Boost Technology on demand, MITHOS Electromagnetic Vehicle can magnetically levitate, relieving the air and ground resistance and reaching its limited top Quantum speed of 655 km/h* making longer trips faster, safer and more exciting.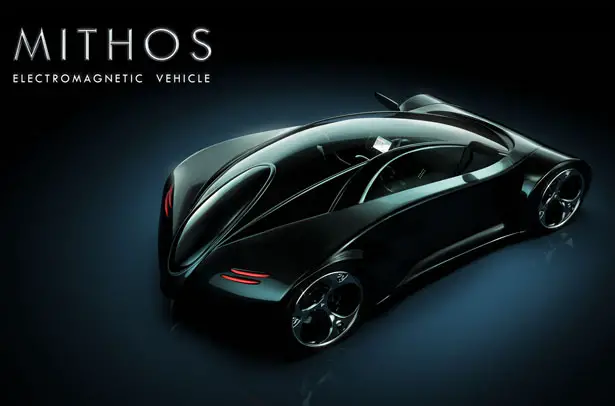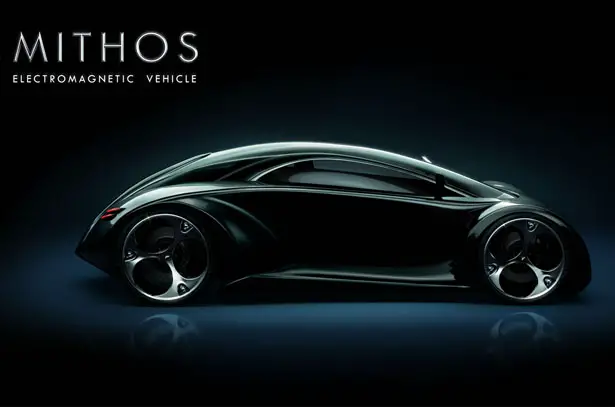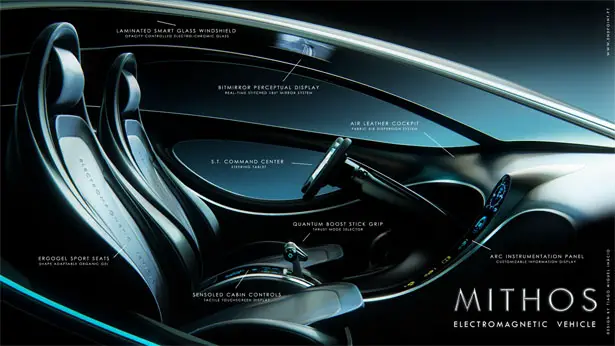 Click above image for bigger view
MITHOS INTERIOR FEATURES
LAMINATED SMART GLASS WINDSHIELD
Guaranteed enjoyment under all weather and lighting conditions with continuous Smart Glass windshield. Translucency is automatically adjusted to keep comfortable light and heat intake to the cabin, from summer midday sun to romantic starry night.
BITMIRROR PERCEPTUAL DISPLAY
18% of car collisions are due to mirror blind spots when switching between lanes. This common problem is now over. Bitmirror Perceptual Display allows you to watch on a thin film display a 180º real time panoramic stitched video, captured by 6 micro-cameras positioned inside the H-Fiber body panels.
S.T. COMMAND CENTER
Forget dashboard plastic buttons and noisy commands. The S.T.( Steering Tablet) is the future of car user interface. Compatible with most Wi-Fi Devices, it allows you to control all MITHOS Electromagnetic Vehicle features and external devices, through an intuitive touchscreen display.
AIR LEATHER COCKPIT
Standard directional air systems can cause uneven temperature dispersion, contributing to an unhealthy cabin environment. Air Leather is a revolutionary anti-allergic synthetic leather with a high level of air permeability that filters and balances the cabin air flow.
QUANTUM BOOST STICK GRIP
The Q.B. Stick Grip is an ergonomic thrust level/mode selector that allows precise 3D thrust control when in Mithos Quantum Boost mode. In normal mode, it works as a 2D speed mode selector.
SENSOLED CABIN CONTROLS
The cabin controls are located in the center console, so it can be easily accessed by both driver and passenger. The controls are accessible on a Sensored screen with tactile feedback properties, so you can keep your eyes on the road at all times.
ERGOGEL SPORT SEATS
Most sport seats are uncomfortable for daily driving. The Ergogel Sport Seats are made from a special gel with memory properties that automatically reshapes it´s form and density to best match the occupants body shape and driving style.
ARC INSTRUMENTATION PANEL of MITHOS ELECTROMAGNETIC VEHICLE
Experience the pleasure of a customizable instrumentation display. Download your favorite Arc Instrumentation widgets and organize them as you like.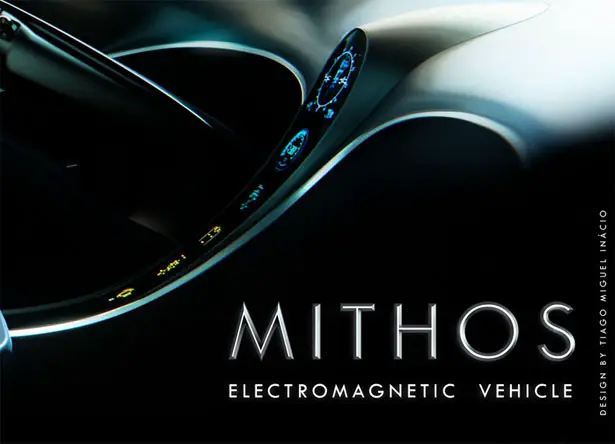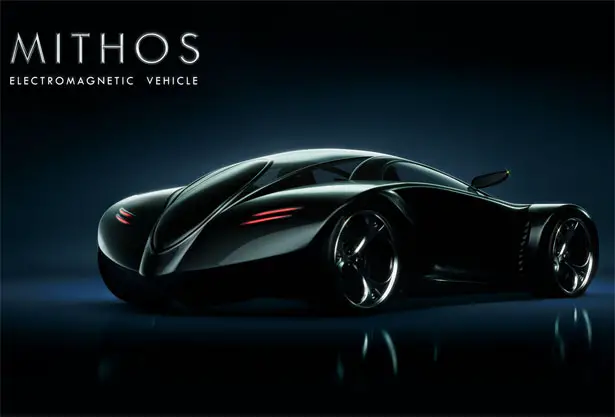 ---
Another green car for Geneva Motor Show, here's an amazing hydrogen powered car : the Morgan Life Car, stunning design and at the same time environmental friendly. I think 2008 will be filled with new design of green car technology, this Life Car is powered by an energy storage system composed of advanced fuel cells that will take you for 250 miles on a single tank of hydrogen. It is set to have a top speed of 100mph and will do 0 to 60mph in around 7 seconds. Looking forward to see "the real car" at the Geneva Motor Show 2008.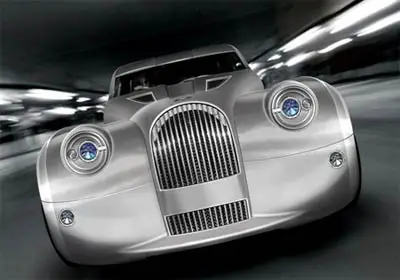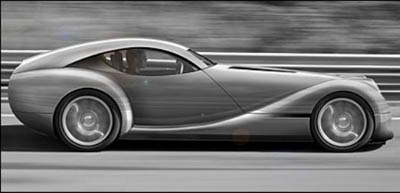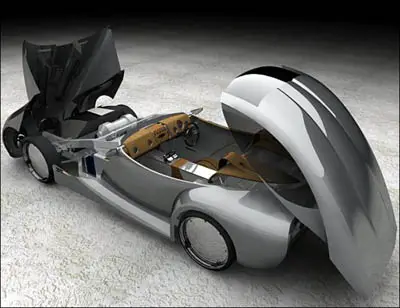 Designer : Morgan Motor via Inhabitat
---
Empathik concept features a mobility aid for elderly people and a shopping trolley, so it's not just a walking frame. Conventional walking frames are usually ugly in design and less flexible, this project integrates a light weight material as the main structure with visually appealing design and ergonomic forms to easily adapt to human body. Its flexibility level allows this concept together with the user to adapt to different environments and situations.
This project aims to provide a modern walking frame to support elderly people to maintain their active lifestyle. It's meant to motivate and encourage senior citizens to do outdoor activities to improve their outdoor experiences along with families and communities.
Designer : Vivian Chang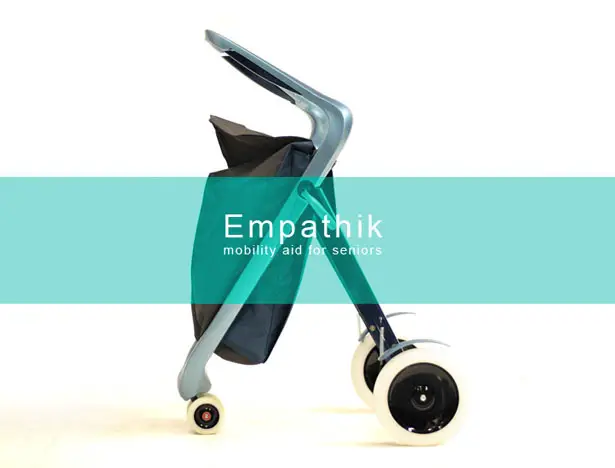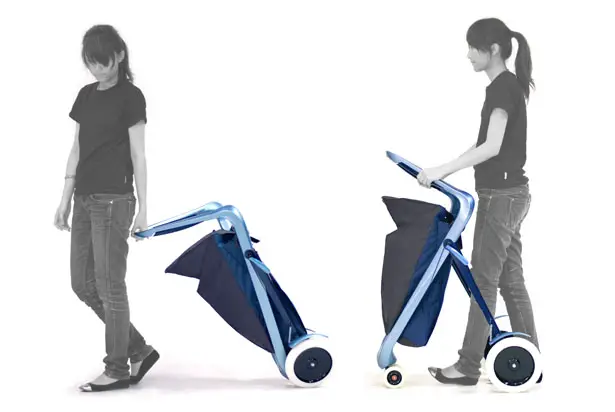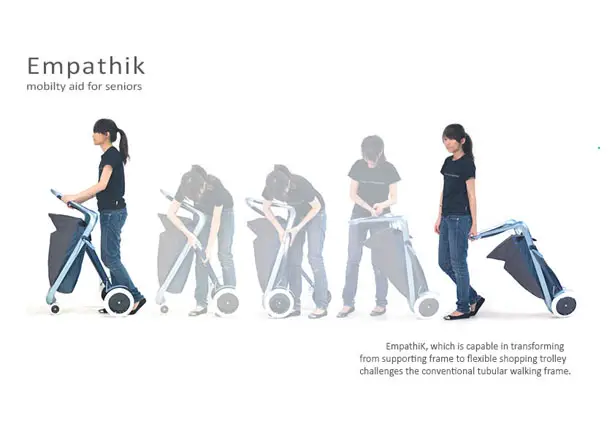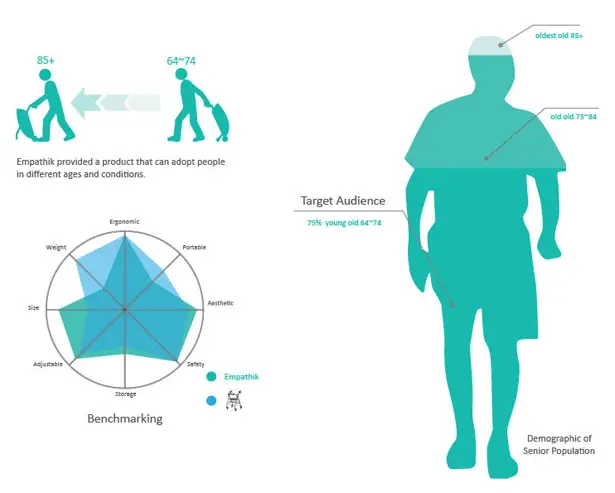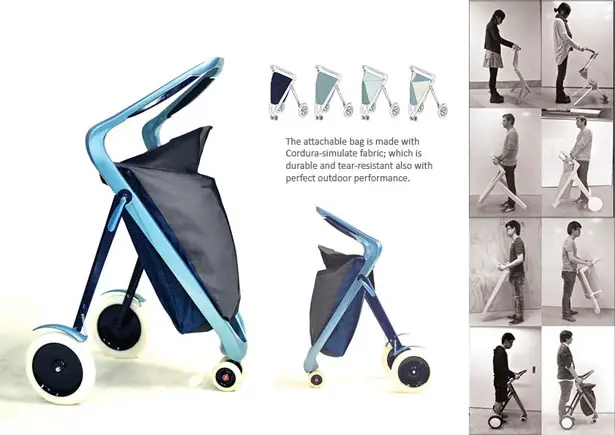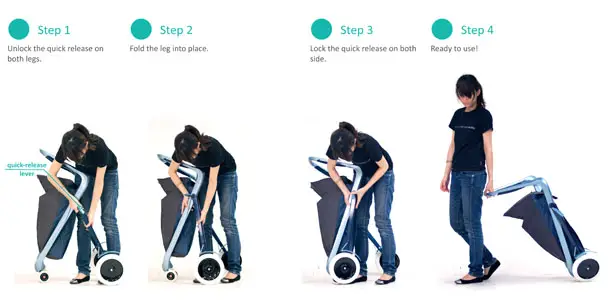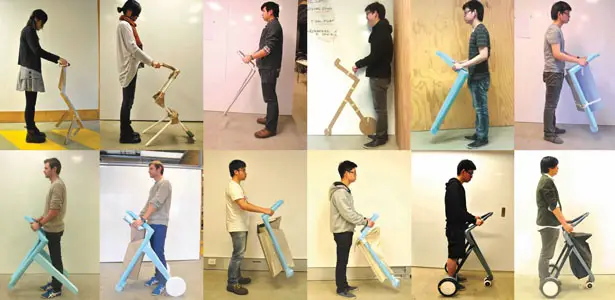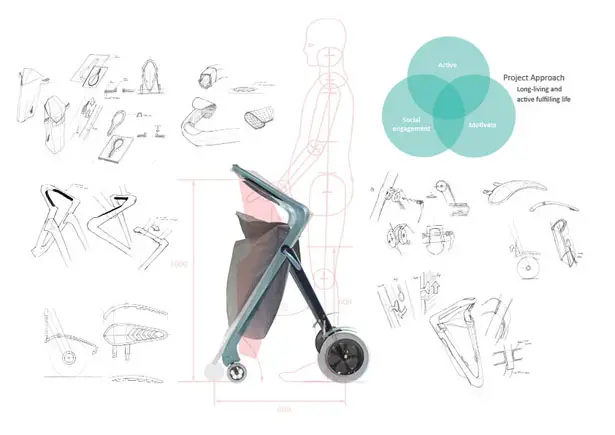 ---