Have you ever found yourself in a situation where you might have gone traveling overseas and your current mobile phone doesn't work? Well kiss those problems goodbye with the new Freedom 2010 phone.
Freedom Phone is a small pre-paid phone for travelers who cannot use their usual mobile phones while being abroad, or it could be a solution for those users who just don't need all the fancy features a last-generation phone has to offer, that is unique in design and unique in out it works. Upon arriving into the new country, you have the option of purchasing the Freedom Phone with 60, 100 or 200 minutes. There's no fuss remembering Roaming tariffs, no extra prefixes to remember when being abroad, you have complete Freedom when calling home.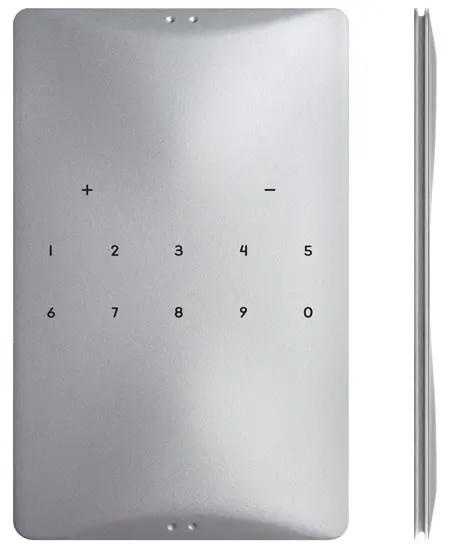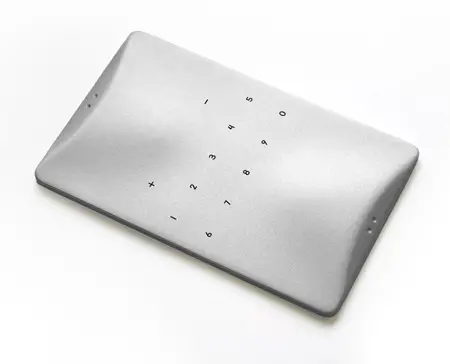 No SIM card needed – no roaming charges and in 10 short minutes, the Freedom Phone is charged. The phone number, important service and other information are located on the back of the Freedom Phone. Best of all, the Freedom Phone is so tiny; there won't be the frustration of lagging the phone around with you on your trip. The bottom line, Freedom Phone, is a perfect and new solution to your traveling needs.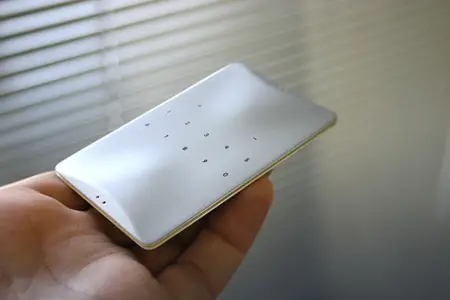 Not all the manufacturers have realized that there's a huge market out there for people who are just interested in making and receiving phone calls, no need for advanced and complicated devices, which are used only at 5% of what they could really offer. There's also a huge market comprised of elderly users, not at all the tech-savvy type, for which producers should remember to keep things simple, as simple as possible.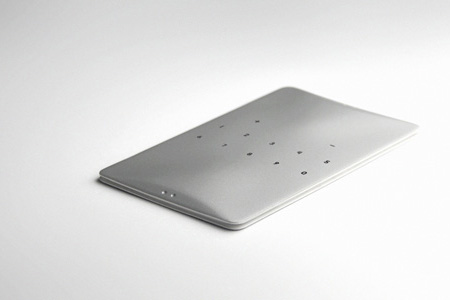 This concept simply grants you a phone that is used for nothing more than making and receiving calls. Its design focuses on ease of use and practicality.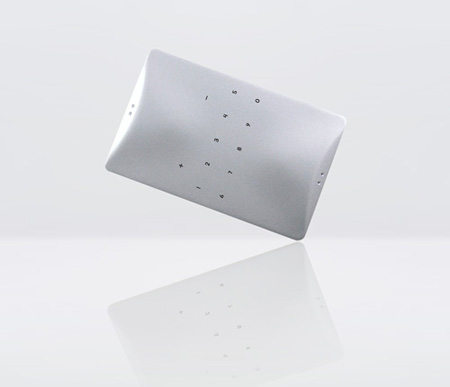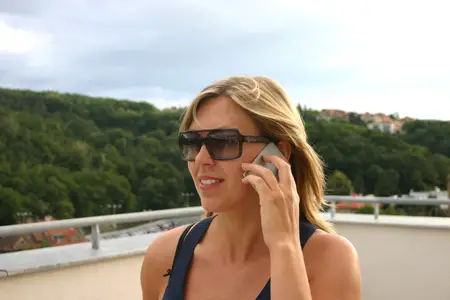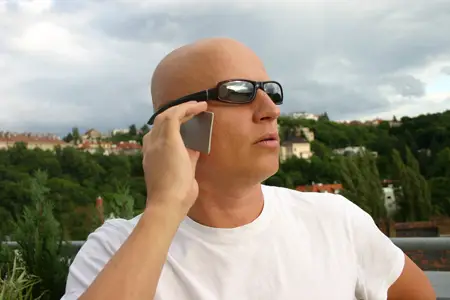 Designer : Vadim Kibardin
---
Novague, a Prague design studio, have proposed a rocking chair concept that will be able to produce enough power for a reading light by converting the rocking motion into electricity. The LED lamp is empowered by a dynamo that can convert the mechanic energy acquired by the movement of the chair into electric energy. A simple steam engine like kinematic mechanism is set under the seat which works with a sliding lever that pulls a flywheel disc while the chair rocks. Produced energy is either supplied to the LED lamp or deposited in the batteries for later use. The aim of the principle is to develop the awareness among mass people of producing their required energy easily by themselves.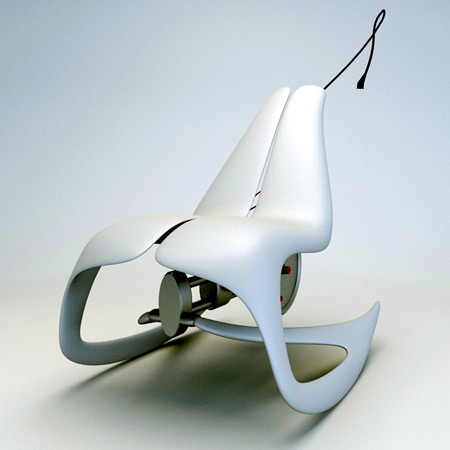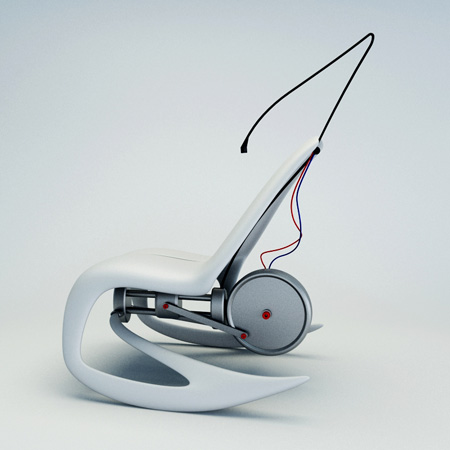 Novague words:
Move Your Energy is a power-independent rocking chair with a LED lamp designed especially for reading. The lamp is run by dynamo which changes the mechanic energy obtained by rocking to electric energy. You produce energy needed for lighting on your own.
A simple kinematic arrangement is placed beneath the seat. Mechanism is similar to those used in steam engines and it works together with a sliding lever that runs a flywhell disc while you rock. Produced energy is either deposited in batteries or it supplies the LED lamp.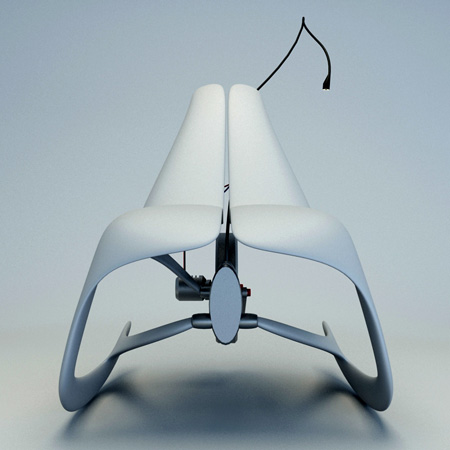 The principal aims of this concept were to arouse a discussion about "How to achieve the energetic self-sufficiency in the future" and to make public think about how much energy we could save if we produce energy needed for common day-to-day activities on our own and moreover by amazing and spontaneous way that is friendly to environment.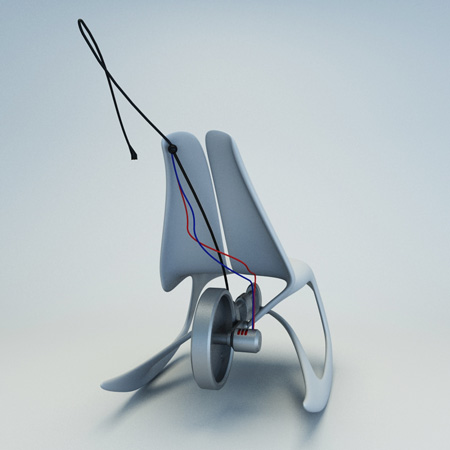 Designer : Novague via [Dezeen]
---
Texting and simultaneous mobile activities are very common among teens. With every company bring forth their newly added texting features every now and then, LG stays exceptional. LG Mobile has come up with LG DoublePlay Mobile Phone, yet another challenging texting feature boasting a split QWERTY keyboard with dual capacitive touch screens. In fact, LG Mobile is challenging the quickest thumbs with its brand-new LG DoublePlay in the 5th annual LG U.S. National Texting Contest. A 1 GHz Qualcomm Snapdragon processor powers the LG DoublePlay.
From : LG Via [Wired]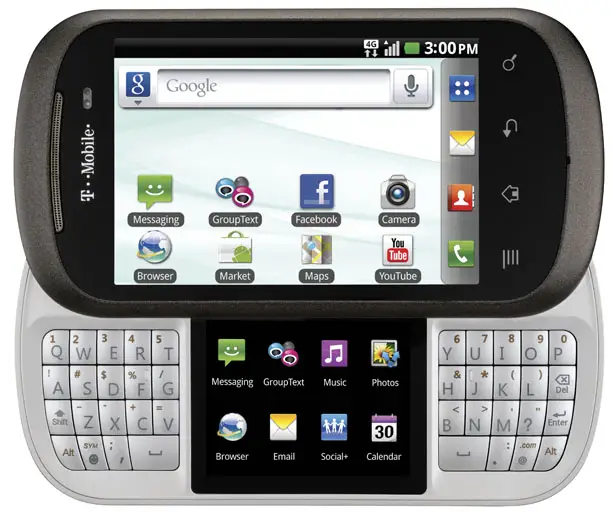 The handset allows users to carry out multiple tasks simultaneously including Facebook updates, surfing the web, checking mails and messaging. The LG DoublePlay is equipped with double customizable touch screens including a 3.5 inch main display plus a 2.0 inch sub display, which operates in tandem. LG DoublePlay's striking hardware made it the apparent choice for the certified mobile phone of National Texting Contest 2011. Equipped with a 5-megapixel camera and 720p HD video recorder, the LG DoublePlay allows users to click and share photos and videos through messaging or Facebook. Users can even send and receive messages from a PC or create group chats faster than ever using the multiple messaging options (Cloud Text, Group Text) the device offers. The LG DoublePlay is certainly an excellent device, serving as an exceptional multitasking tool to customers.
---