The Triclo is an innovative tricycle concept, featuring the functionality of a paddling tricycle, while offering the outlook of a futuristic transportation means. This vehicle is designed to make room for one person only and comprises paddles with a convenient sitting arrangement. The Triclo has a steering wheel instead of conventional tricycle handles and an innovative and unique rear wheel setup. It features a shade over the driver that will let the driver protected from the sun and mild rain.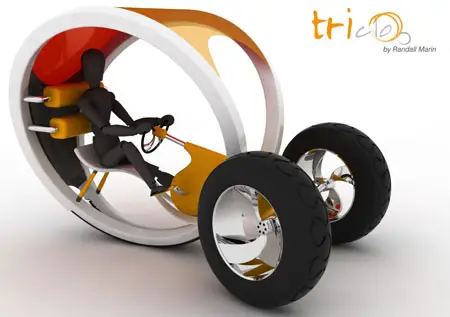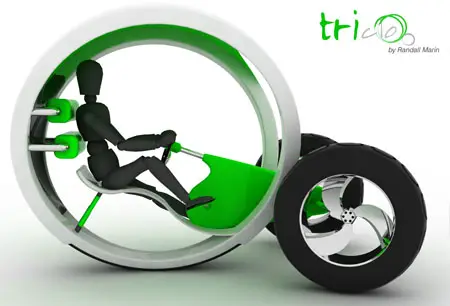 Randall words about Triclo:
Triclo is a conceptual design of what a tricycle can be in a urban environment. It uses an organic forms and contemporary trend. Balance in visual volume and mass. Using arrays and knots was the basis for the formal development and geometric design.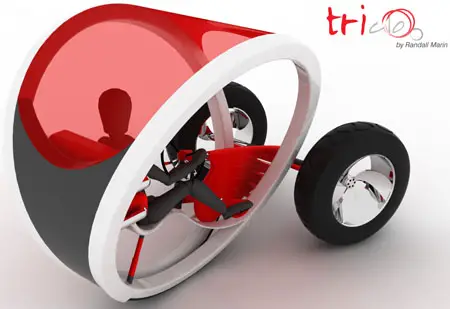 The concept was: low material vs. high volume
The design is targeted for a younger market but can be used by adults too. The idea was to create a tricycle with a diferent look to capture the attention of people and thus encourage exercise. At the same time the concept of design is important to not use much material in the product and reduce costs.
A tricycle is more than a bicycle but less than a motorbike, but this tricycle has almost a cab, this protects of the sun and rain to the user. Therefore, that is its advantage over a motorcycle that somehow is to approach a car. Maybe this way, providing superior comfort offered by a bicycle or even a conventional tricycle, is a way for people interested in using the product and increasing exercise in the population. The design is targeted for a younger market but can be used by adults too.
The materials were designed to be recycled once they finish their service life. There are variety of colors to suit all tastes.
Dimensions:
1800 x 1500 x 1100 mm.
Maximum capacity:
180 Kg.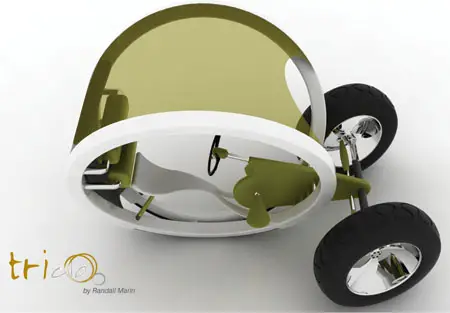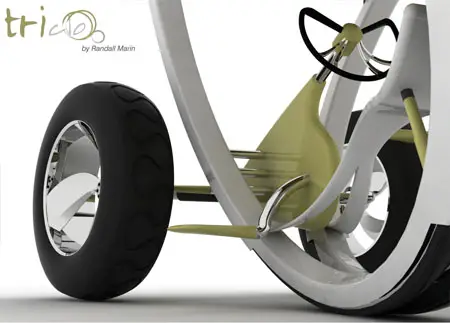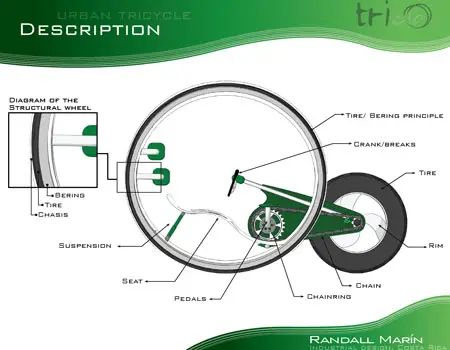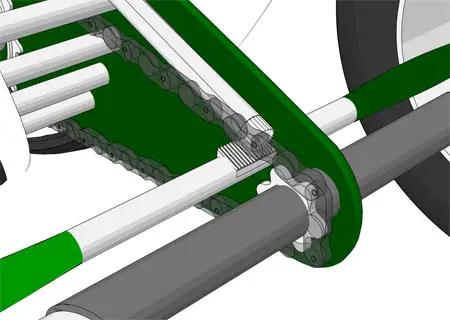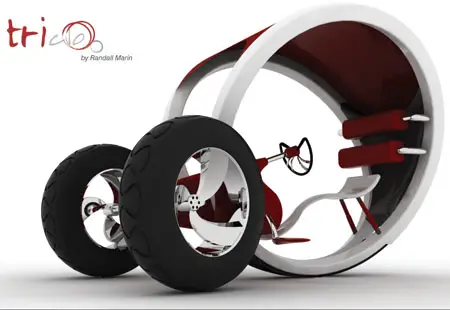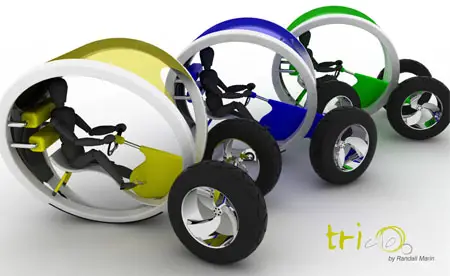 Designer : Randall Marin
---
Porsche Design and BlackBerry has teamed up to bring you the latest product: Porsche Design P'9983 Smartphone from BlackBerry. It's a premium smartphone that completes luxurious electronic product range of Porsche Design. You might still recognize the characteristic of this phone as BlackBerry yet it is also infused with Porsche Design fluid and effortless experience of BlackBerry 10 technology. The company promises to deliver superior productivity, each smartphone is engineered using highest quality materials. The elegant appearance can be achieved thanks to luxurious glossy finish, user can also download customized features such as ringtone, auto signature, or Porsche Design watch app. In order to protect your privacy, this phone features BlackBerry security through encrypted BBM instant messaging combined with Porsche Design PIN. It'll make sure to keep your messages private as it's meant to be.
Designer : Porsche Design and BlackBerry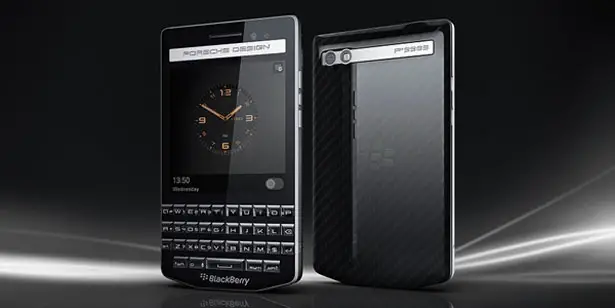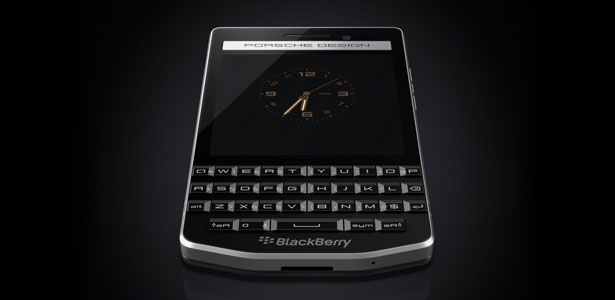 ---
The Peugeot Seed Concept is designed by Andrew Kim and the main idea behind this concept is eco-friendly vehicle. The Seeds uses only electricity for power which is provided by solar panels. This car doesn't have windows but has cameras to show the surrounding to the driver. Its air flow system is awesome. It is passive and eco-friendly cooling system that doesn't require heavy parts that raise energy consumption. The best thing about this vehicle is that there is no glass window but has a wrap around LCD Display. Even though it is just a futuristic concept but when it will come in reality, it surely will offer some freshness in the auto world.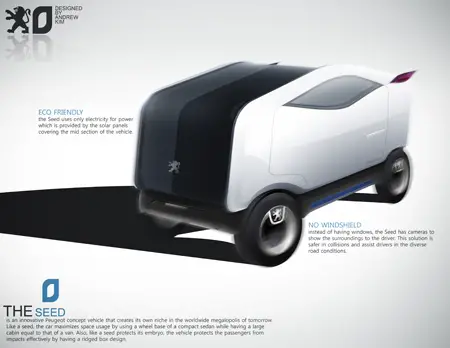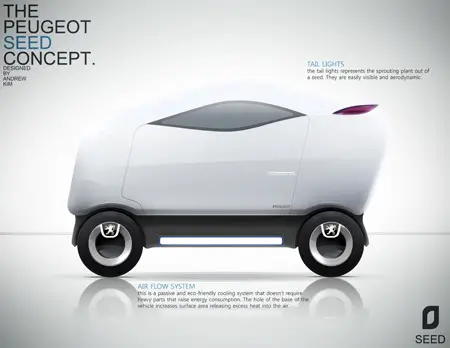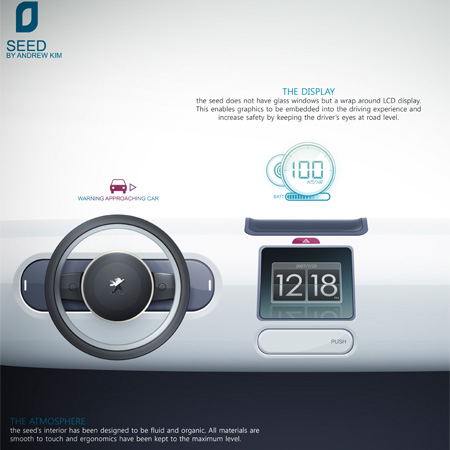 Designer : Andrew Kim
---