Mobility designers Springtime (Amsterdam) developed an E-bike for a very specific target group that currently isn't addressed by this category of bicycles: students. The result: Adam, a bike that is awesome to see, great to ride and incredibly adaptive to a student's 24-hour lifestyle. A user centered design exploration.
Amsterdam is one of the world's bicycle capitals. This makes it a great place to do research on different use patterns amongst the various demographic groups in the city. The design team went into town for several days, armed with camera and notebook. They identified a number of groups with clearly different cycling behavior: commuters, school kids, students, families, senior citizens, tourists. There is great variation in the types of bicycle they ride, the frequency of use, the luggage solutions they have, the physical state of their bikes, etc.
The E-bike category originates from a supporting, senior citizen perspective. Over time, the product has reached the group of daily commuters, and is even picking up in active sports like downhill mountain biking. So what could an E-bike mean for some of the other groups? They picked the students and developed some day-in-the-life scenarios for them.
Being a student can mean a couple of things for your bike use:
You have a daily commute to your school. An E-drive might be just what you are looking for those stormy morning commutes during Fall.
You'll bring electronic devices like laptops, phone and use them throughout the day. Where is a power outlet when you need one?
During lunch breaks and after class, you might hang outside with your friends. Some music might be nice.
You're likely to have a social evening program at least 2-3 nights a week. But parking your valuable E-bike outside of a bar doesn't seem a good idea, does it?
So how could an E-bike support all of this? Expanding the definition of E-bike to "having electricity on your bike", this has provided lots of room for thought and ideation. The result: Adam. (where a'dam is short for Amsterdam).
Designers : John Kock, Niels Caris, Coline Jarry, and Stijn Kroeze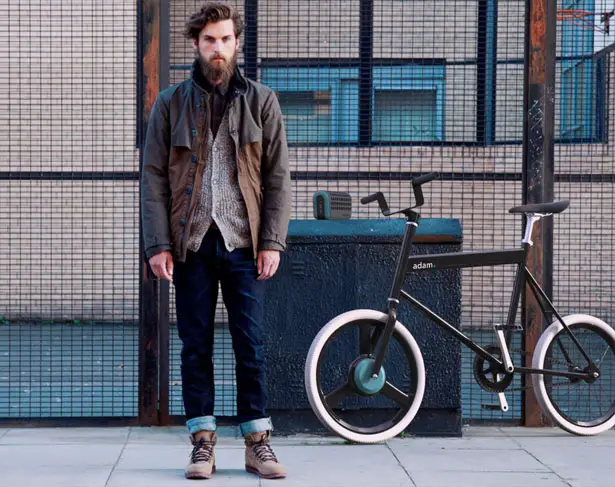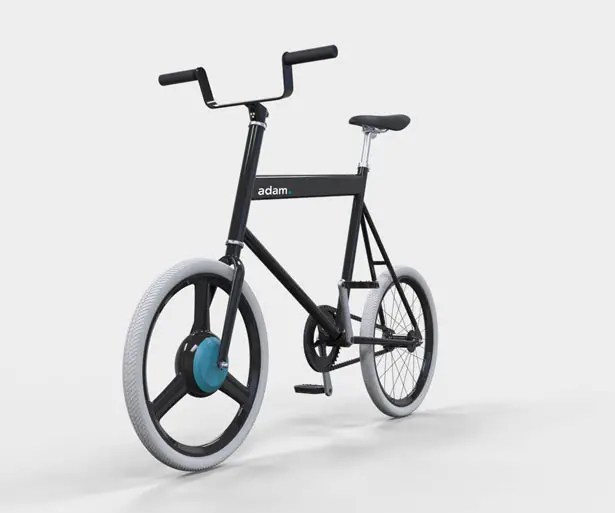 Adam is a 20-inch minimal single-speed bike that is built to survive city use and look awesome while doing so. A front wheel hub motor that is fully incorporated in the front wheel design power assists the bike when needed. The detachable battery is placed on the handle bar and doubles as a portable speaker and power bank. The use scenario is immensely versatile.
During your commute, you can make use of the electric drive, and use your phone for navigation, reading incoming messages or play music.
In school, take out the battery and you have a great power bank to charge your laptop or phone, and play music during the breaks
In the evening, simply leave home the battery and you have a rock solid naked bicycle to enter the nightlife. No vulnerable cables, nothing to break or take off. The only remaining part of the electric drive, motor, remains safely integrated in the wheel.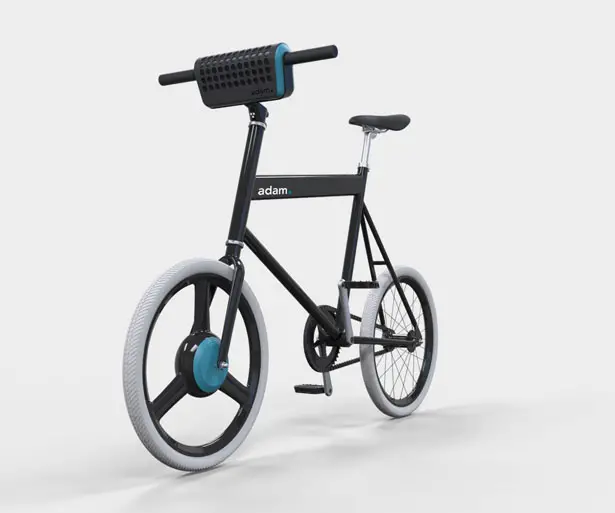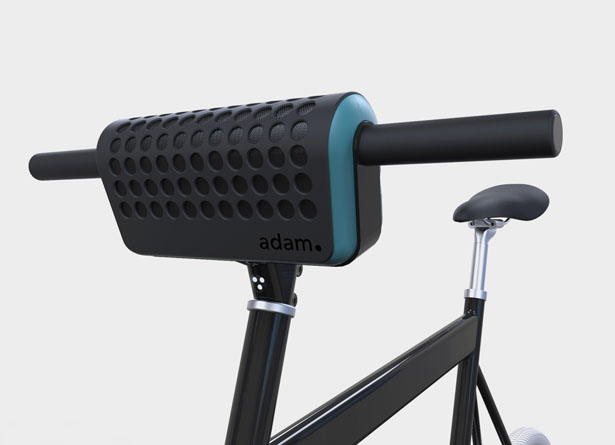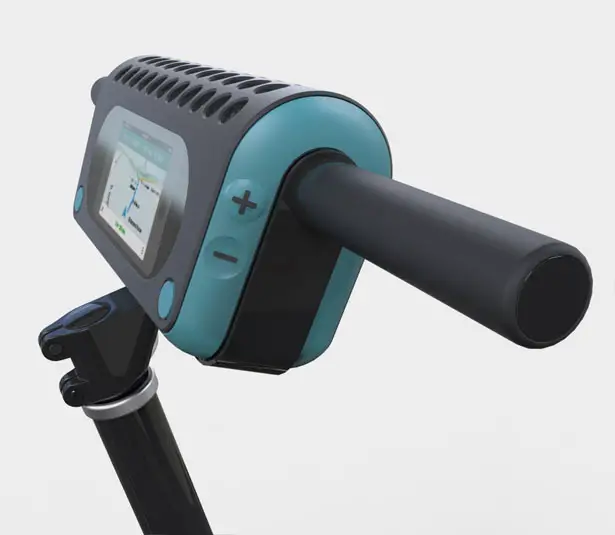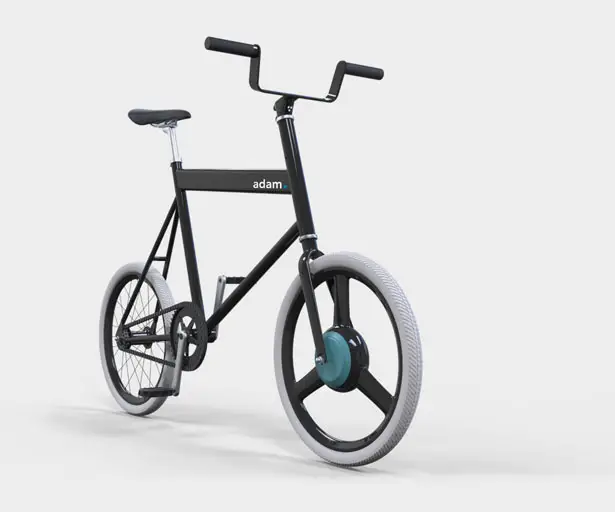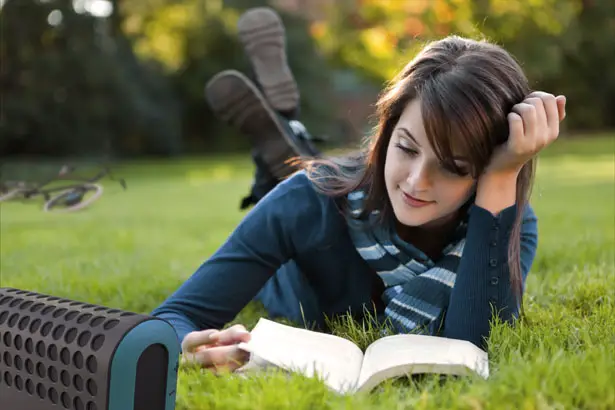 Tuvie has received "Adam Student e-Bike" project from our 'Submit A Design' feature, where we welcome our readers to submit their design/concept for publication.
---
After casulo, here comes another invention from Japan called Trunk Station Ad, a workstation in a box. I guess we are going to see a lot of transforming furniture design in the future, this is due to saving space issue that we are going to face. The W 906mm x D 615mm H x 1190mm sized melamine resin trunk opens to reveal an efficient work space, complete with pre-drilled holes for electrical and component wires/cables, a fold out desk, and plenty of shelving for a whole lot of extras (including some add-on units). The price tag is around $1,980, quite expensive, well … saving space is never cheap.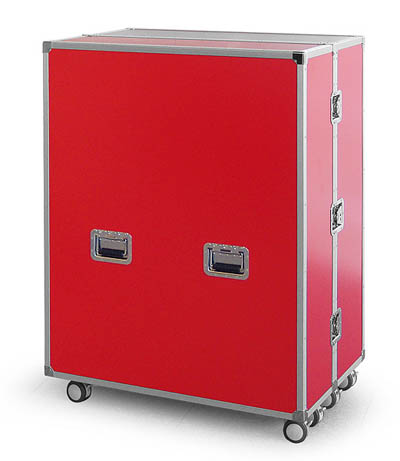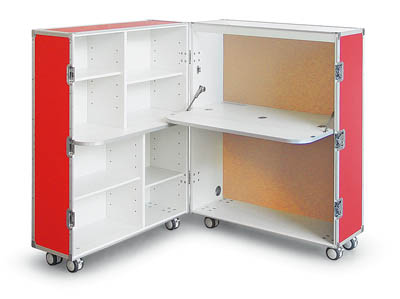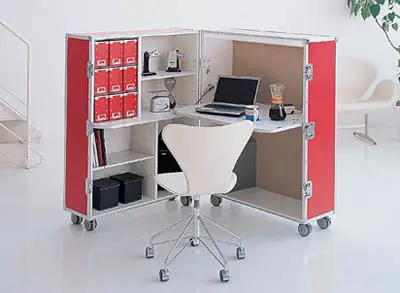 Product Page : Caina via Unplggd
---
EKON lights up to welcome you, literally! This interactive city coupe 2+2 is designed with electro chromatic glass that changes its opacity from tinted to clear by pressing a remote control or fingerprint reader behind the glazing above the doors. Thomas Pinel, the designer of this car was inspired by organic forms when he designed the interior, you can tell from leaves shaped OLED screens on the instrument panel. He also says that the seat covers are made of green fabric, aluminum for switches and steering wheel. This futuristic car is capable to send messages to other drivers or pedestrians by displaying graphical messages on its body, hopefully it will improve the traffic to prevent accident instead of distracting other drivers, or starting a road rage by mocking others through its display.
Designer : Thomas Pinel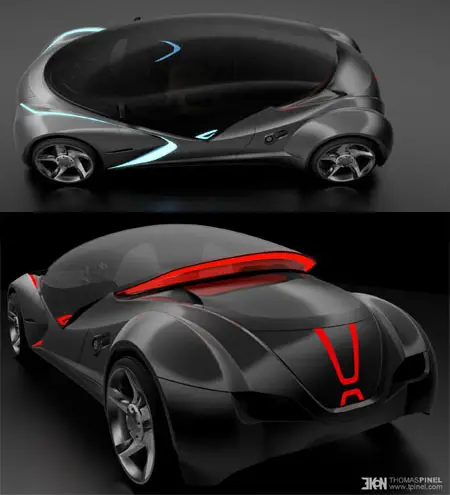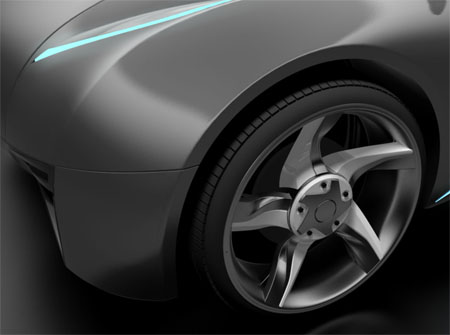 From Thomas:
"The EKON is an interactive city coupe 2+2, powered by an electric engine in each wheels. This result for the Ekon by a unique package and proportions (H. 1300 W.1770 L.3940).

The Ekon turn on like a notebook. It lights up, the main screen of electro chromatic glass changes opacity from tinted to clear and the interior appears, welcoming the driver and passengers – Only by pressing a remote control or by touching the fingerprint reader behind the glazing above the doors. In the mean while, the top and doors move up and backseats can flip ahead to ease the access to rears seats."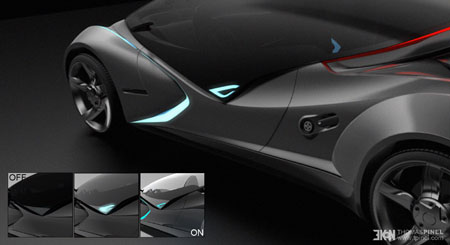 "The interior theme is inspired by the idea of efficiency of nature and organic forms. The OLED screens shaped as leaves come out from the instrument panel. Materials chosen remind home interiors with warm wood planks on the dashboard, Aluminum for switches and steering wheel, Green fabric for seats covers and black and white Glossy surfaces for back seat, door panels and boxes."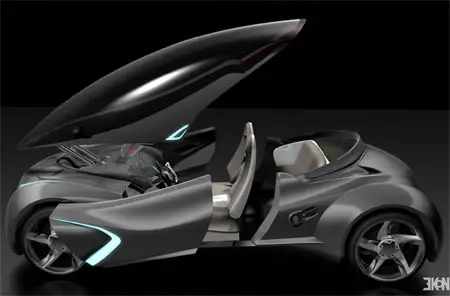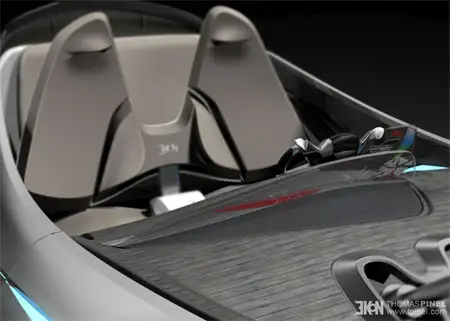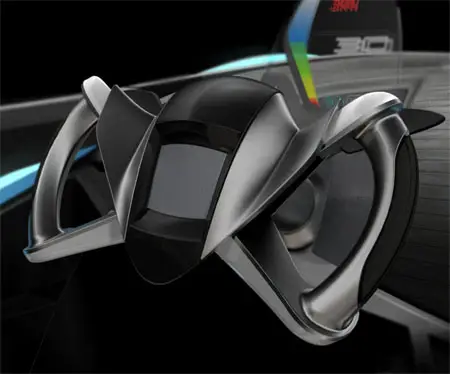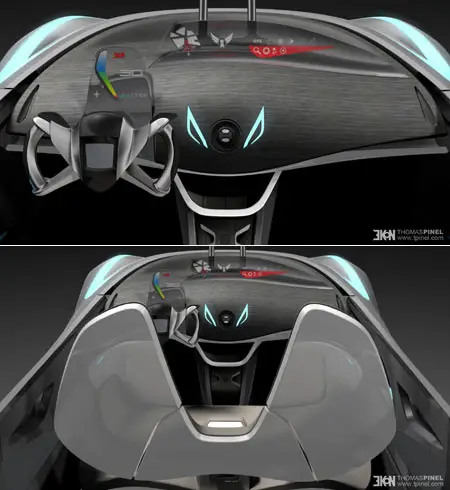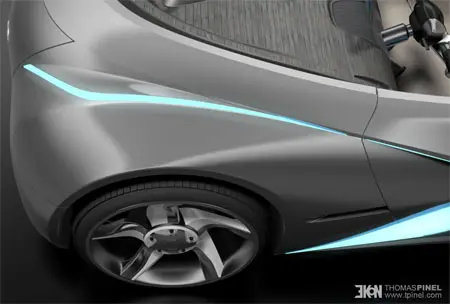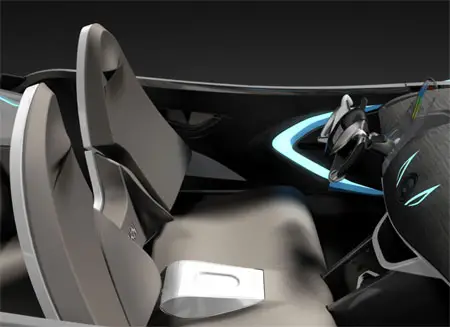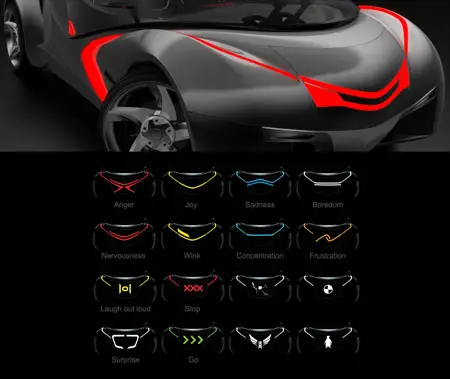 "The Ekon enhances interactivity with other drivers or pedestrians by exchanging graphical messages, visible on its body (Tinted OLED screen on front and rear).

These messages relate to 3 fields of communication: Information, Personalization and Emotion.
The information consists by a quick message to improve the traffic and interactions with other cars and pedestrians. So the messages can prevent accident, misunderstanding or simply give the priority.

The personalization is the playground for creative people who have the envy to mark them out with an avatar, special look for the car. It can refer also to long term information like advertising.

The emotion is the user feeling and the need to express it. How many times a driver hit the steering wheel and speaks to himself? This is the possibility to be thankful, happy about the weather or hate someone.

The language chosen, by visibility and readability concerns, is an automotive interpretation of virtual chat icons (Emoticons). One tactile pad on the steering wheel allows sending theses icons by very simple and intuitive movements like you would use your IPhone."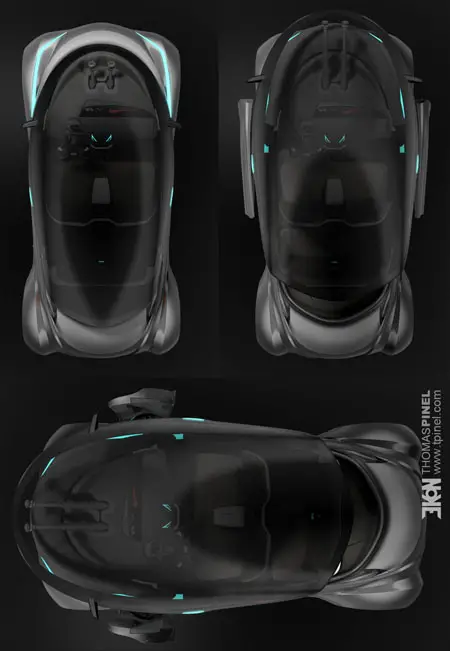 ---