Sleek and high-tech concept phone, oh wait, this device is not just another cell phone or a new UMPC device. It's something more than that; the designer refers this design as PCP or "Professional Computer Phone". The design of TPM VIPNI began with inspiration to create a device that can bring power of a full blown professional computer to your pocket. The designer has clearly stated that this phone concept doesn't belong to any company but ThePowerMachine, it is original design and not based on anything that's already in the market. Ok, we hear you pal!
TPM VIPNI Professional Computer Phone is a compact device that you can use to work on your tasks. It can perform really well without compromising its battery power, usability and pocketability. It utilizes the productivity of "X86" microprocessor along with all reliability and robustness of ARM processing.
Designer : Imran Sheikh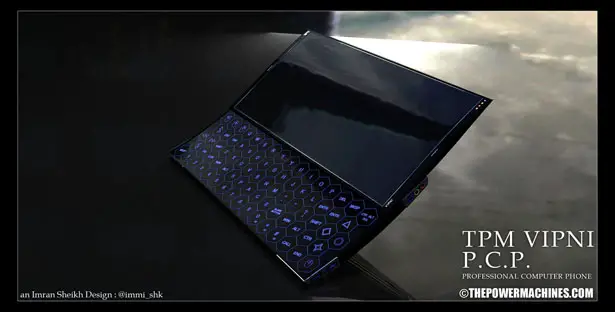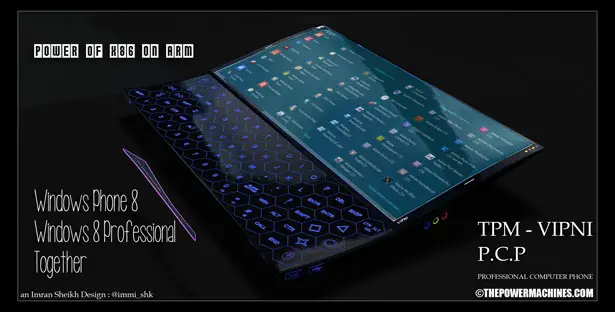 The Operating System chosen for TPM VIPNI is Microsoft Windows 8 Pro and Windows Phone 8. Yes, you read that right, 2 OS in one small device. It is made possible by the power of Quad Core ARM processor. This special feature allows user to perform any professional tasks with ease on this compact, light weight, energy efficient device. PS : Do you know that when you rotate VIPNI 180-degree, you would read "INDIA"?
TPM VIPNI PCP Features:
1. x86 on ARM concept
2. Keyboard:
blank button
bottom-line numeric keys for semi slide mode
gaming keys inclusion
split mouse
3. Top-Bottom Design
4. Central 3d camera placement
5. Redesigned stylus
6. Tap Controlled UI
7. Bottom fold capacitive mouse
8. Dual camera button
9. Professional ports for multimedia professional:
video in(blue)
audio in(yellow)
audio out(Red)
10. A totally redesigned Back cover/stand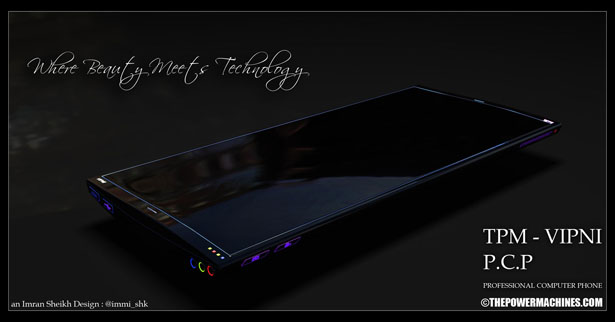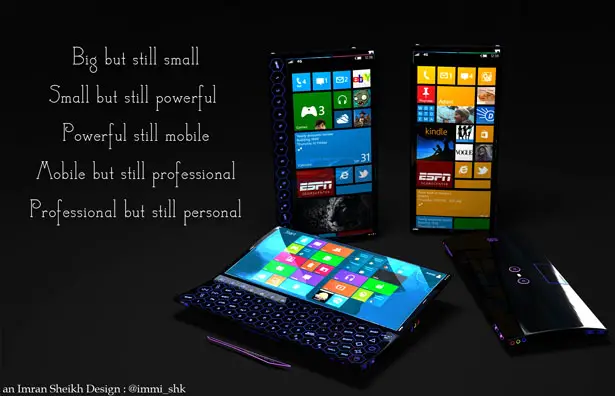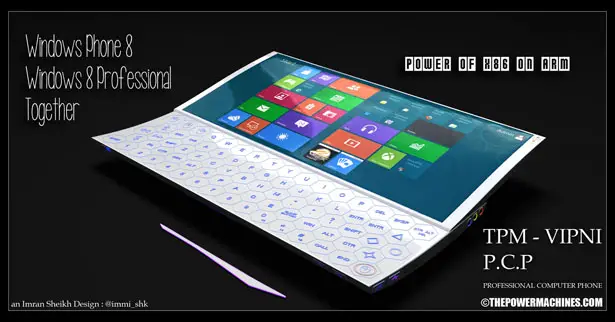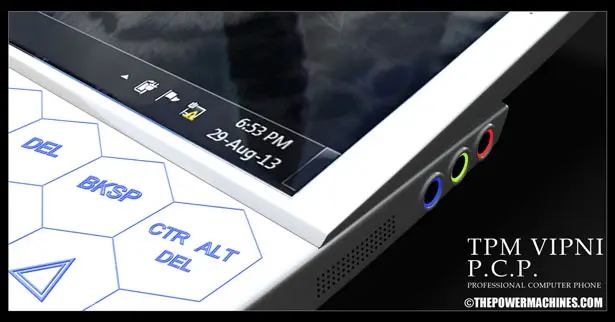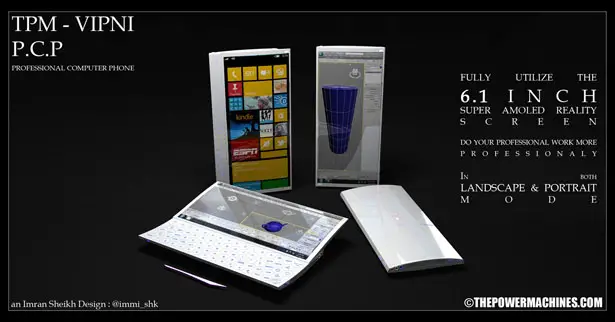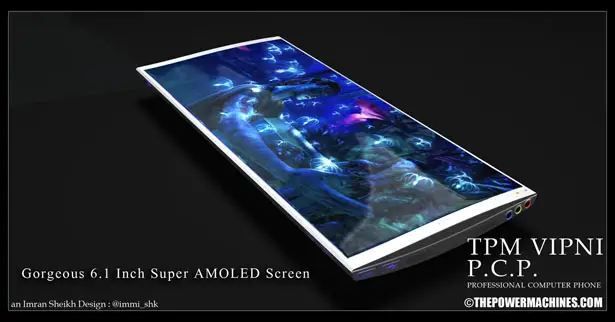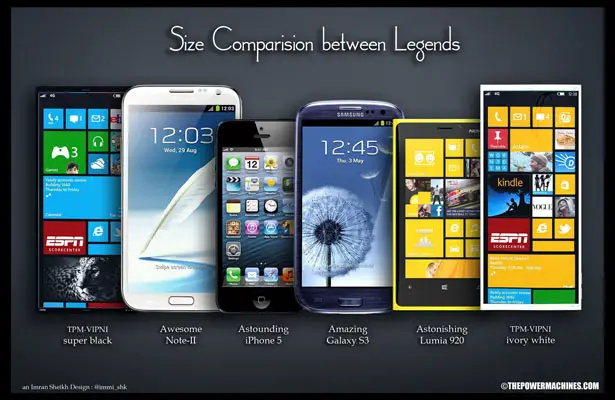 Tuvie has received "TPM VIPNI Professional Computer Phone" project from our 'Submit A Design' feature, where we welcome our readers to submit their design/concept for publication.
---
In a world eclipsed by exceedingly versatile smart phones, many mobile phone design companies are unveiling stunning cell phone models. The collaboration between Yves Béhar, the founder of San-Francisco-based design plus branding firm, and Aesir Copenhagen, Danish mobile phone design company has led to the unveiling of Yves Béhar Phone.
This mobile phone centers over the thought of voice, clarity and simplicity and places high emphasis on unmatched user interface while companioning the notion of craftsmanship. Initially this phone might look like a watch band and perhaps it was deigned from a jeweler's outlook. Yves Béhar's viewpoint towards communication is rather different from that, which rules the market today, as he trusts in the longevity of the product. Taking its inspiration from the decades-long glamour of lavish watches, this mobile phone model boasts an assortment of options. This precious device boasts a ceramic top with 18-carat yellow gold. The user can as well opt for the stainless steel version. Engineered to display seven languages and better sound, this new phone with a wide array of features including caller ID, an open SIM card, laser engraved keypad characters with LED backlight, Bluetooth functions and calculator, is available this summer in Europe and to the rest of the world this Fall. You can avail the 18-carat gold version for $63,000 and the stunning stainless steel version for $11,000.
Designer : Yves Béhar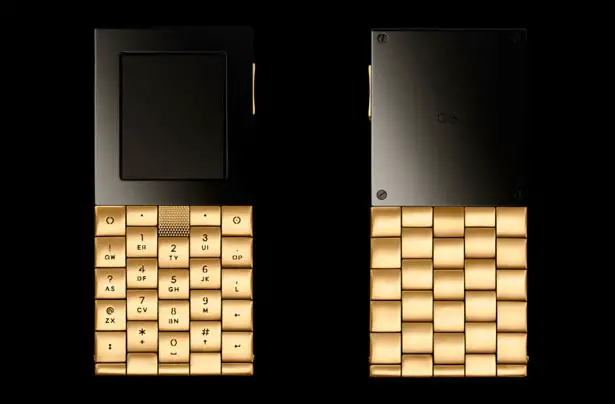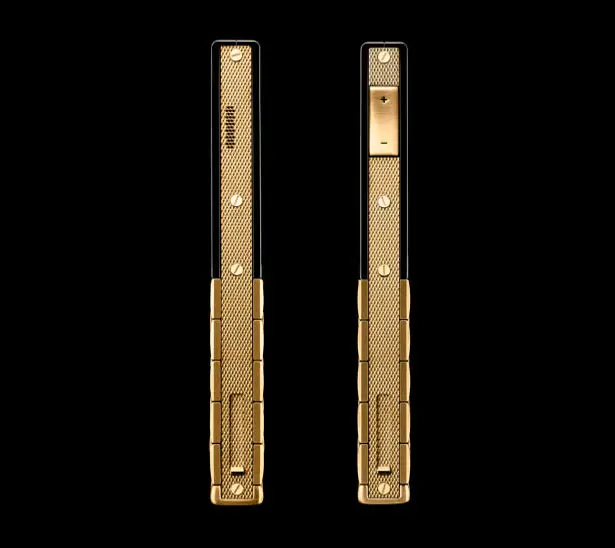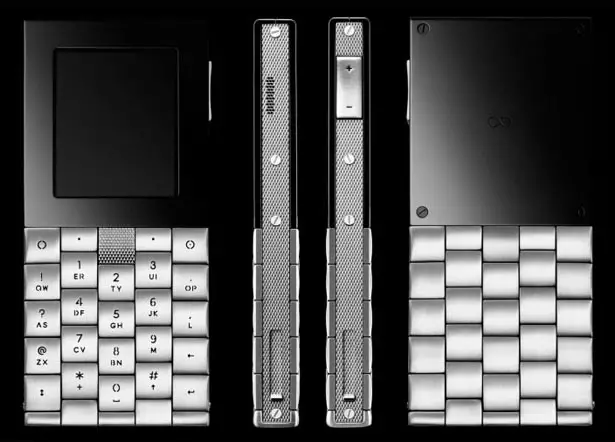 ---
Louis Vuitton's Tambour watch collection has enhanced with the adjoin of the Tambour Mysterieuse, a watch made of luxury gold and steel, but still in the immediately recognizable tambour drum outline, this completely mechanical watch deals in the horological magic stuff. Calibre LV115 is another addition in this series which has been developed, created and assembled in the workshop of this brand in Switzerland. This exceptional piece can reserve 8-day power and there is nothing redundant about the mechanical movement and healthiness stands in bleak contrast to its ephemeral nature. The hour and minute indicators generally placed on completely transparent mobile sapphire discs.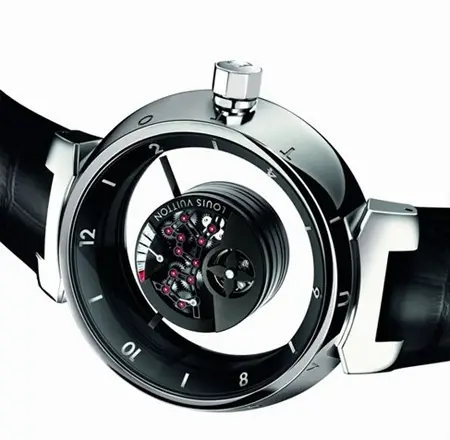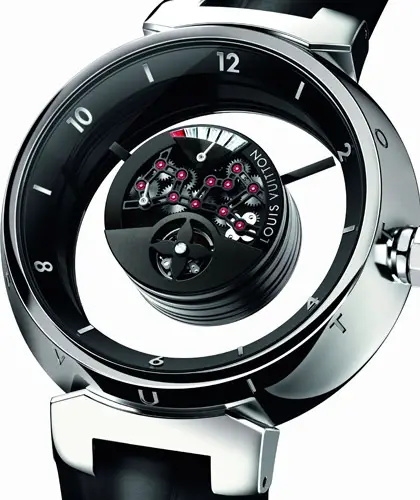 [Press Release]
Inspired by the brilliant inventions of Jean-Eugene Robert-Houdin in the 19th century, the Tambour Mystérieuse embodies peerless watchmaking genius: with the finesse of a conjurer, this Louis Vuitton montre à complication somehow completely conceals its own mechanism. The hands hover on an astounding system of transparent sapphire discs; no trace of the watchworks is detectable by the eye. Prowess beyond compare, causing time to float as if by some other-worldly bewitchment.
This is a first in the luggage master's history: a timepiece entirely created, developed, and assembled in the Louis Vuitton watch-making workshops in Switzerland. Perpetuating the prestigious institution of traditional craftsmanship, every element of the calibre "LV115" is rigorously handmade, a technical masterpiece of 115 components. The unprecedented power reserve, too, stands as testament to pure watchcraft virtuosity: 8 days – 8 hours. A tip of the hat to this lucky number, this timeless talisman. Three models have materialized: the first, a resolutely technical creation of clean, minimal lines; the second is classic, sophisticated, accented in brown or gray; the third, a supremely feminine model radiating an aura of jewelled artistry. Though such a triptych may cast the semblance of a silhouette, only the owner of the Tambour Mystérieuse holds the key to the true identity of the timepiece. For, to ensure each Tambour is unique in the world, Louis Vuitton provides a thousand and one ways to claim it as one's very own.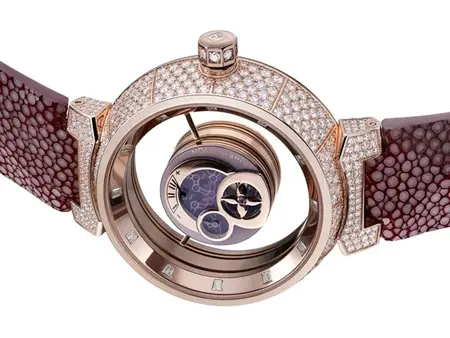 From a vast spectrum of possibilities, each personality summons its own reflection; yellow, white, or red gold or platinum…diamonds, rubies, or sapphires…brilliant or baguette cut… Reminiscent of a conductor nightly bringing forth a new symphonic spectacle with his baton, the owner of the Tambour Mystérieuse weaves a myriad of choices into an original composition, in which sameness and conformity shall never hold a place. And for the ultimate chic, the watch's oscillating rotor can be inlaid with one's own initials, golden marquetry on an unseen sapphire heart. It is far from a mere accessory; the Tambour Mystérieuse is the very breath of a lifestyle.
Lastly, as homage to such extraordinary watchcraft, Louis Vuitton has conjured a case that itself is pure originality: a genuine trunk, prepared exclusively for the Tambour Mystérieuse in the historic Louis Vuitton workshops in Asnières. All the traditional practices are honoured in its making, every standard that has meant the longstanding success of the brand. This tiny treasure chest can also be personalized, from the choice of leathers to the lining's colour; even the legendary LV lock, with a wave of the wand, can have a number matching that of other luggage pieces brought to life by their Monogram maker.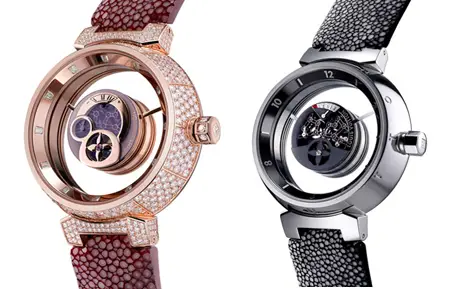 It is a passion for excellence that has drawn such acclaim for Louis Vuitton in the very exclusive world of fine watch-making. Only an elite few – chronometer connoisseurs and luxury timepiece aficionados – will capture the magic, the exceptional savoir-faire of the Tambour Mystérieuse.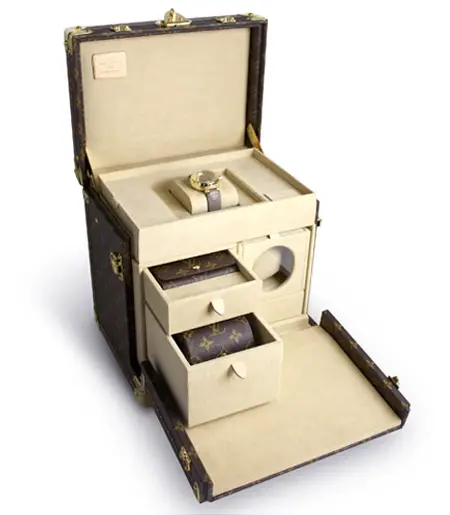 From : Louis Vuitton
---