Greencycle-Eco is a bicycle that explores the use of our current technology, instead of high and sophisticated technology in order to reduce the production cost. The result is affordable bicycle for farmers and other lower income demographic group in Third World Countries. At the same time, this strategic implementation can also be used for First World Countries to achieve greater sustainability.
Pre-fabricated Bamboo panel products have been chosen for the Greencycle-Eco design. With the increasing demand for using greener and more highly renewable materials followed by recent technology developed in India and China, research studies and material testing on Bamboo panel products have shown positive results in the quality and mechanical strength.
Designer : Paulus Maringka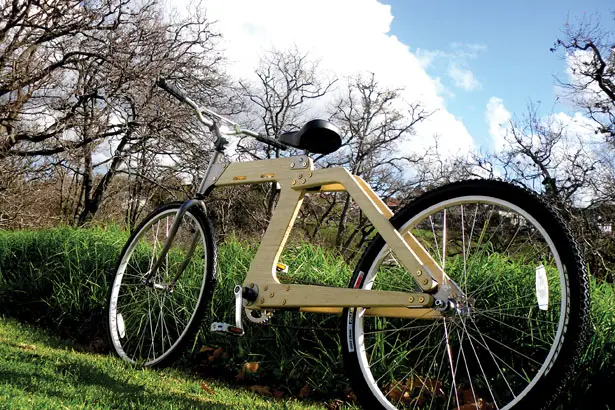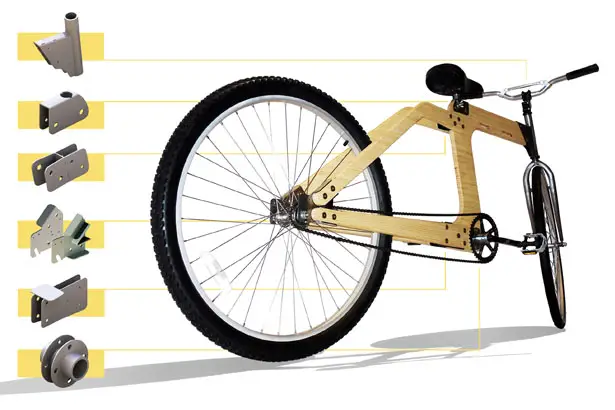 Taking into consideration production costs, the design pattern of Greencycle-Eco reduces the number of component parts to three different forms with two sets of identical parts being repeatedly cut out using CNC from a bamboo based panel product.
Standard bamboo panel measuring 1200 x 2400mm can provide enough parts for eight bicycle frames which can be cut out in a short amount of time and reduce the production cost considerably.
Using a pre-fabricated bamboo panel product as the main material for Greencycle-Eco offers a number of advantages including:
The product is made from a renewable material, abundantly grown and commonly available in Asian countries.
It has consistent good quality.
The overall bicycle can fit into a small flat-pack package making it economical to transport (reducing carbon footprint) if shipping is required.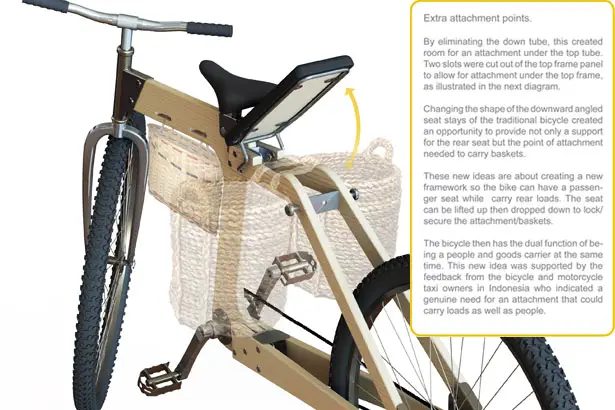 The steel brackets used as a joining component, will last and can be reused while the bamboo parts can be easily and cheaply replaced when needed.
To increase the bicycle's functionality and load capability, the following changes have been made as part of the design features of the Greencycle-Eco:
Frame length has been increased by 20% to create greater surface area to carry loads without compromising the stability, maneuverability and safety of the user.
Changing the shape of the downward angled seat stays of the traditional bicycle creates an opportunity to provide not only a support for the rear seat but the point of attachment is required to give the users a freedom. In this way, users can develop or customize their bicycle and turn this humble vehicle into a form of transportation which better suits everyone needs without compromising its functionality as a form of transportation or operational safety.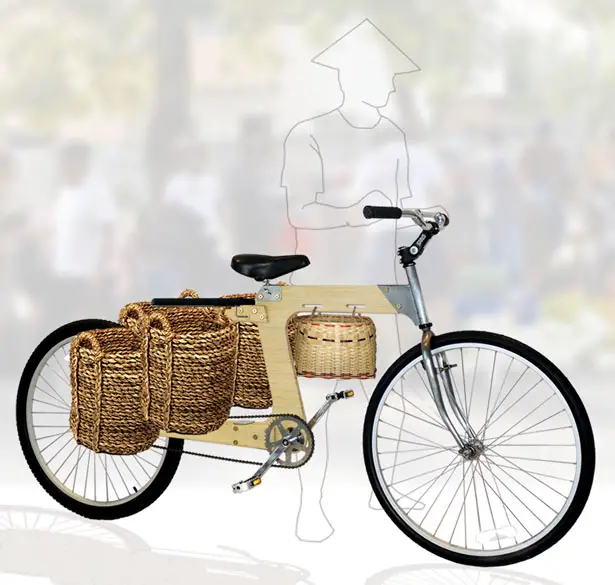 Tuvie has received this "Greencycle-Eco Bicycle" concept from our 'Submit A Design' feature, where we welcome our readers to submit their design/concept for publication.
---
Cannondale CERV bike is anything but ordinary. This concept bike is literally adjusting itself as you ride through different terrains. Forkless, chainless and adjustable, pretty radical concept in a sexy body, thank you to Priority Designs company that has managed to deliver stunning visualization of the advanced concept made by Cannondale.
The adjustable headset of CERV bike moves both fore-and-aft and up-and-down. The essential design lies in achieving those possibilities without altering the seat-to-crank height, thus putting the rider in an optimal position based on the terrain.
This system puts the rider in an optimal position based on the terrain. The headset translates forward and down for a clean, low-drag position when descending. When climbing, it moves up and back, creating a more upright position for maximum leverage on the crank. Doing all this with a traditional fork in place wasn't going to cut it, so a single-sided swing arm was proposed. Designing a forkless front-end has its own challenges, integrating it into a multi-axis adjustable system is another degree of difficulty altogether.
Designer : Cannondale and Priority Designs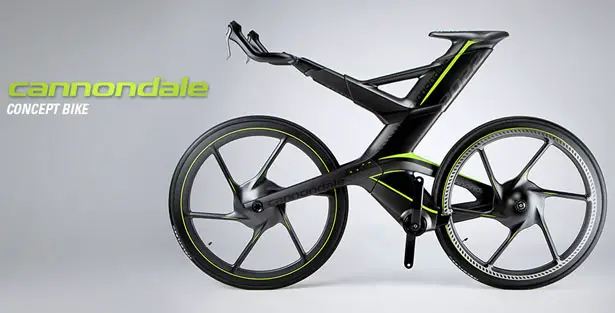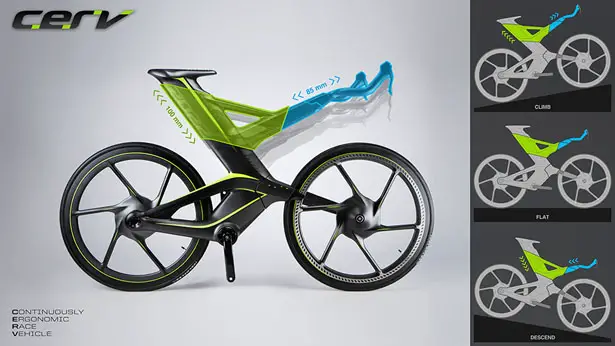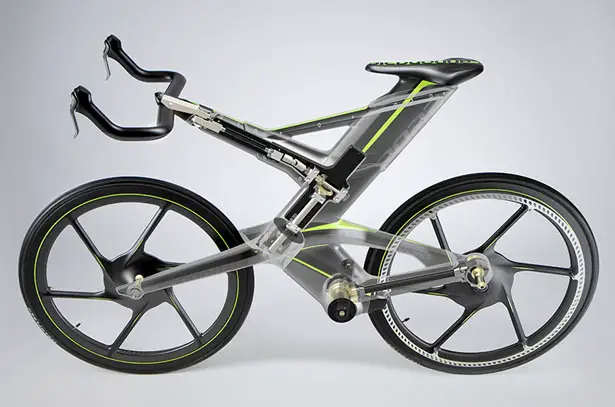 Tuvie has received "Cannondale Cerv Bike" project from our 'Submit A Design' feature, where we welcome our readers to submit their design/concept for publication.
---
Tonino Lamborghini releases Antares android smartphone for luxury mobile segment. This company is the sub-brand of the super sports car maker, Lamborghini, that's why you can sense the Italian design signature through its premium materials and performance specifications. Available in limited edition, you can pre-order your phone from December this year.
Combining Android platform and quad core processor, this smartphone features scratch proof Gorilla Glass screen with Italian craftsmanship. This legendary lifestyle and accessories group mention that each smartphone will be priced at around 4,000 USD, yes, definitely for high income people that see both looks and performance are equally important.
Designer : Tonino Lamborghini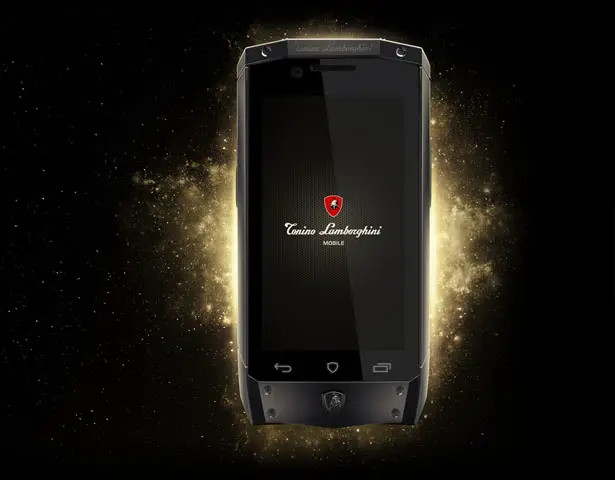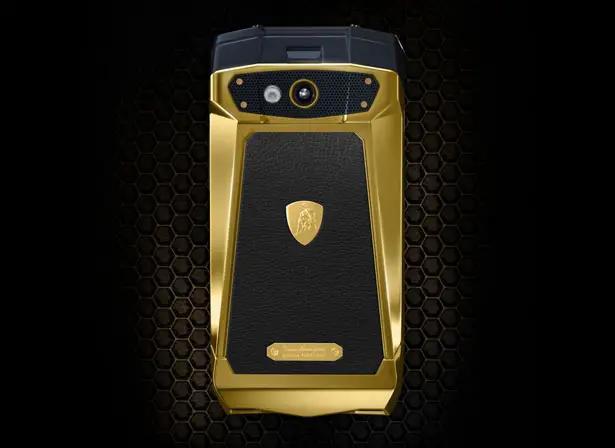 The quality of Antares android smartphone speaks for itself, the body is sculpted from leather and stainless steel to create vibrant and beautiful finish, the screen is coated with impregnable Gorilla Glass. There are several fascinating color schemes, thus, making it perfect for both men and women. Inside, this phone features quad-core 1.5 GHz processor, 2GB of RAM, 32 GB internal memory, and MicroSD slot with up to 32 GB (included). For the sound, it has built-in Yamaha amplifier and speakers. If you could afford one, you would enjoy 13-megapixel rear and 5-megapixel fron facing camera along with full HD video. The android 4.2 Jelly Bean platform used comes with complimentary interface designed exclusively for Tonino Lamborghini.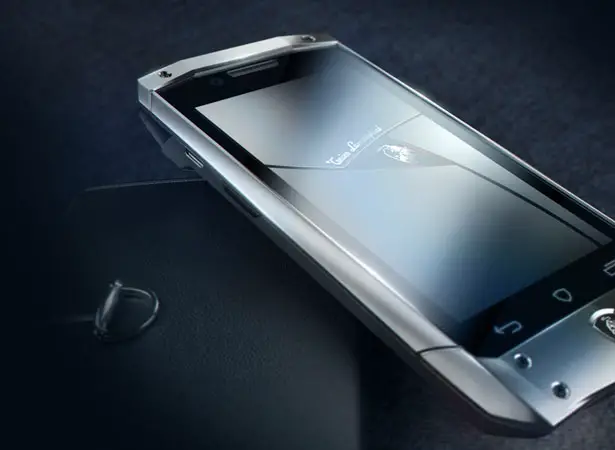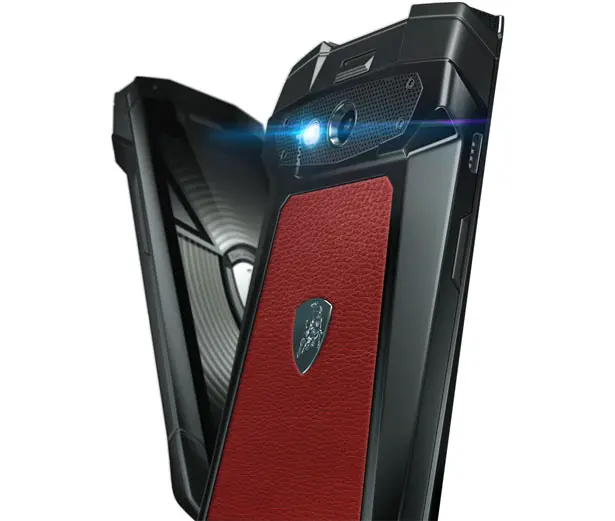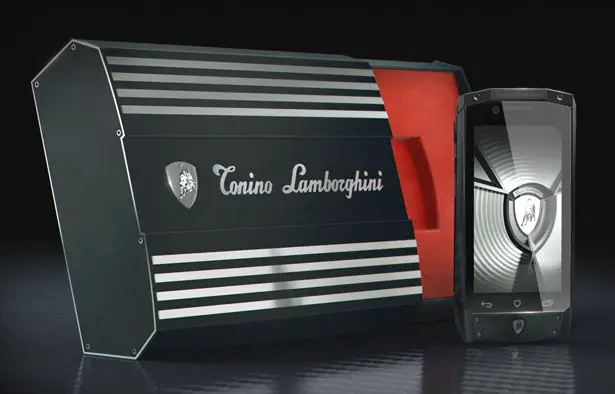 ---