Jurmol Yao has submitted his latest design to Tuvie: 70R-M01. It's a gaming mouse designed for the FPS game enthusiasts. It incorporates modern rifle elements as its main design language, tough and sophisticated at the same time. The modular design feature allows this device to be adjusted to meet the needs of both left handed and right handed gamers, even the body is adjustable to adapt to any user's preferences.
Designer : Jurmol Yao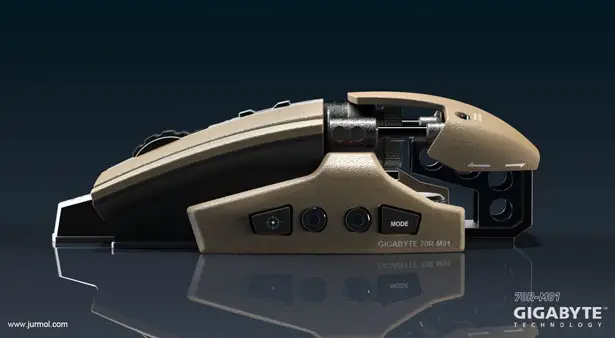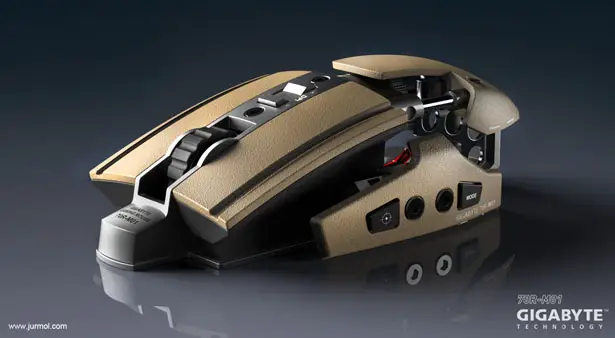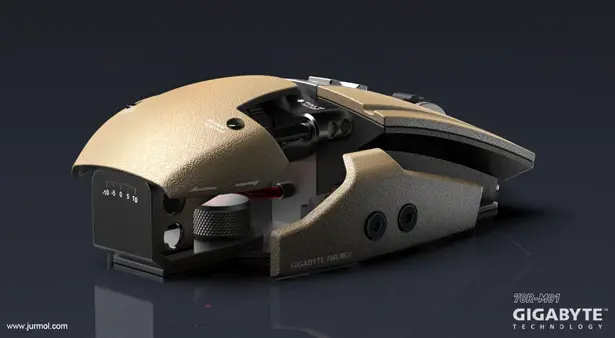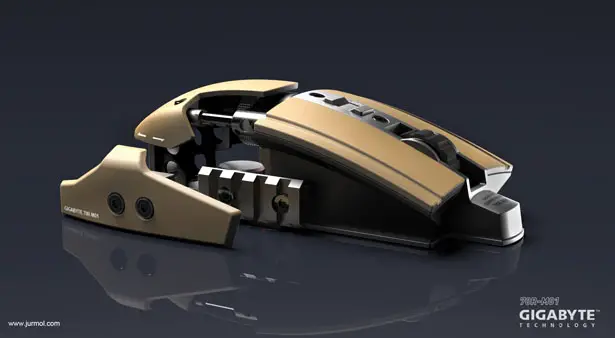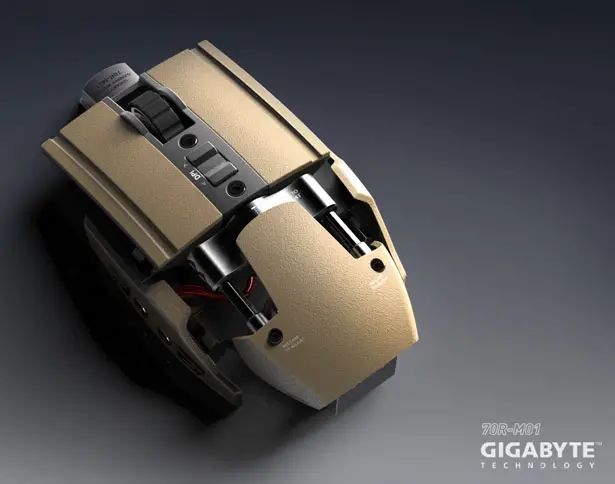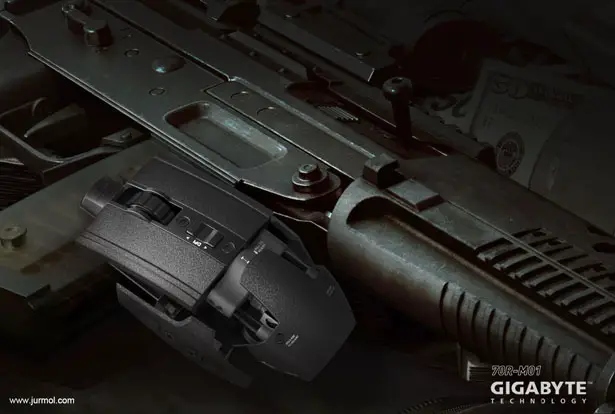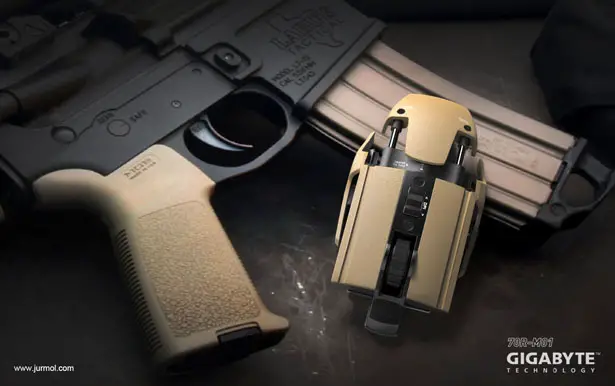 Tuvie has received "70R-M01 Gaming Mouse" project from our 'Submit A Design' feature, where we welcome our readers to submit their design/concept for publication.
---
Vite is a collapsible snow stretcher aimed to rescue the injured people in the snow within the quickest possible way. The backpack shell acts as a sled and allowing an injured to be carried easily. The design intends to be opened easily and quickly in order to lessen the setting up time of the sled. The products that are available in the market are deliberated to be used by two people. But these products became much heavier which resulting a lesser speed. Vite, on the other hand, is however not a professional level rescuer, rather this product would be ideal for people living on mountains and groups of expedition for emergency situations.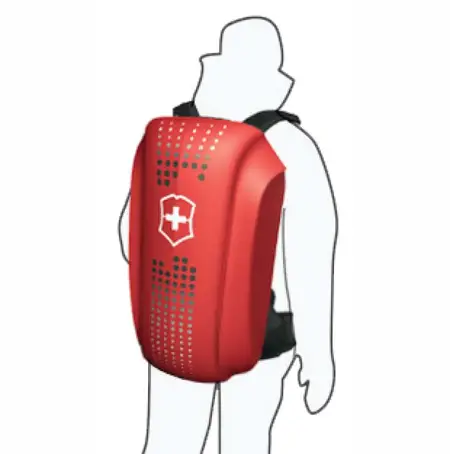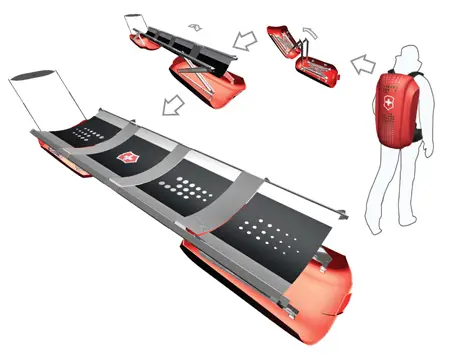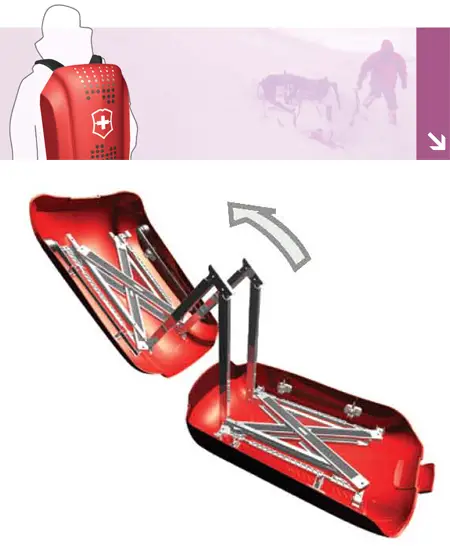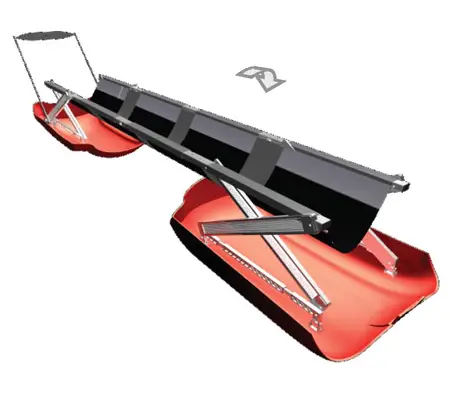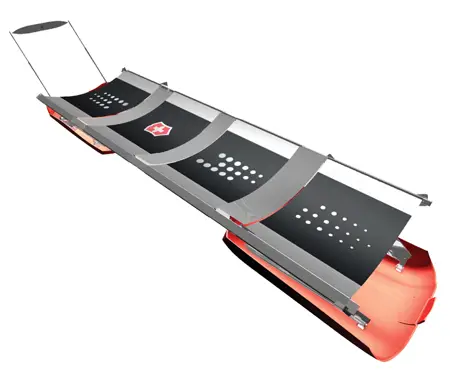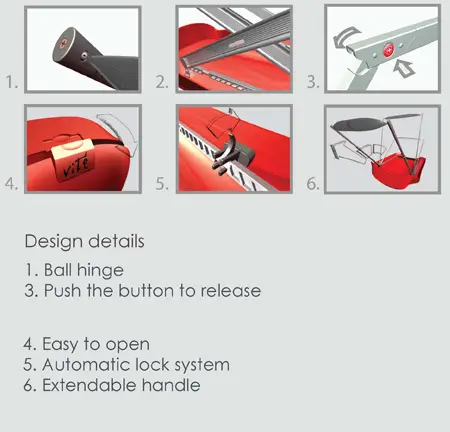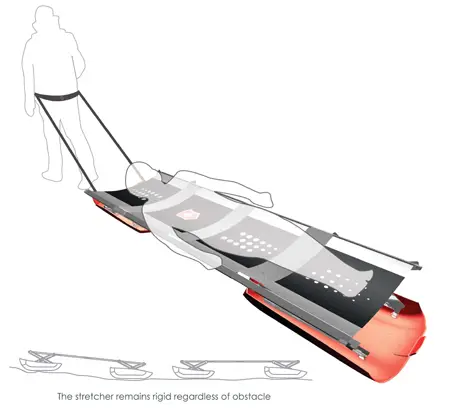 Designer : Soyun Kim, Jason Lin, Agustin Zea
---
TokyoFlash Kisai Rogue Touch offers you touch screen technology on your watch, no more pressing a button, it will light up on demand. Don't let the sophisticated appearance fool you, it's actually pretty easy to read the time. For you who've been longing to find futuristic watch that is able to display time 2 time zones, you should take a look at this watch.
The LCD display of TokyoFlash Kisai Rogue Touch offers 4 different colors: red, blue, green and natural LCD. Aside from being able to display 2 time zones, this watch also features audio feedback, an animation display, alarm, date, and of course touch screen operation. The watch face has 4 hot zones (top, bottom, left, right), simply touch the watch to read time, alarm, date, or light up.
From : TokyoFlash [Buy It Here]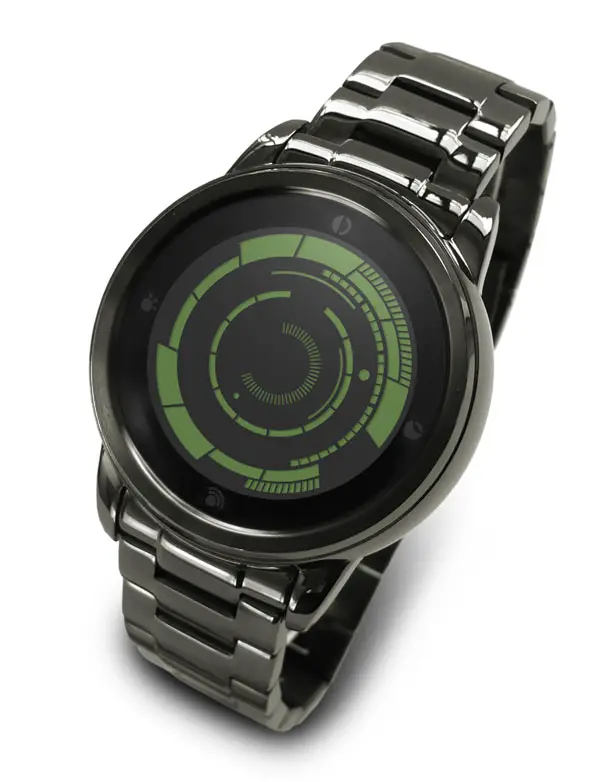 Here's how it works:
To customize this watch, you can hold your finger in place for a few seconds. For example if you need to set the alarm, you can hold your finger over the alarm zone. To set the time, you can hold it over the time zone. Pretty simple and fun to operate.
Don't worry about accidental input as this watch is programmed with a lock function that will active after 60 seconds (apart from using the light). A dot will appear on the screen to indicate your watch is in locked mode. You can swipe your finger across the screen from left to right to unlock. A video at the bottom of this article will demonstrate this for you.
One of great things about TokyoFlash Kisai Rogue Touch is the attractive and unfathomable display. It looks pretty complex with so many dials and lines, so confusing at first, but just like other TokyoFlash watches, there's a simple method to read the time that becomes second nature very quickly.
Around the outside of the display are 12 large blocks that indicate the current hour in the same position as hours on a regular clock. Just inside that are smaller dots for the minutes 1-60. The two center most rings show time zone 2: hours and minutes. [Buy It Here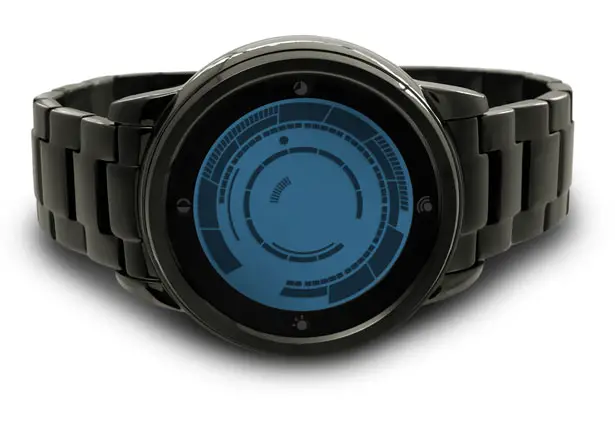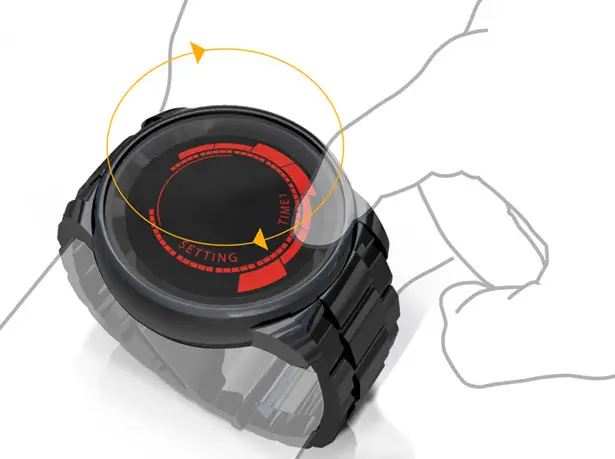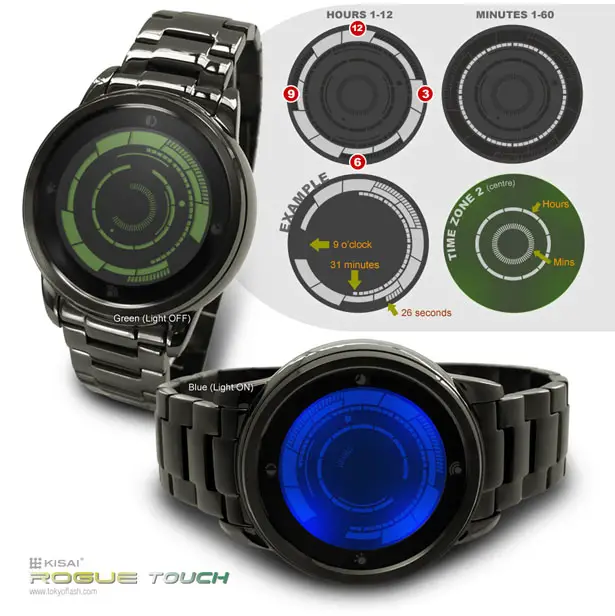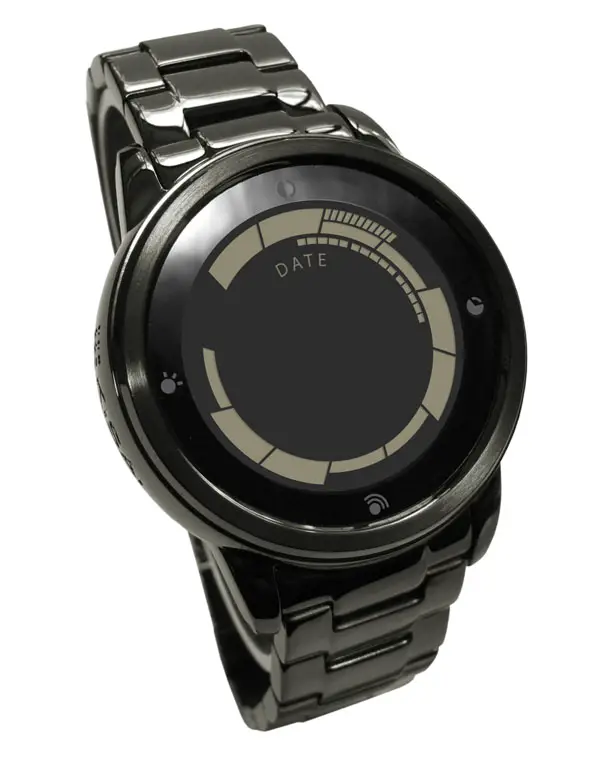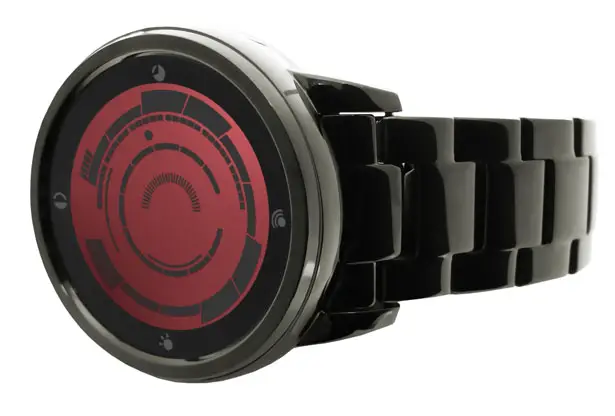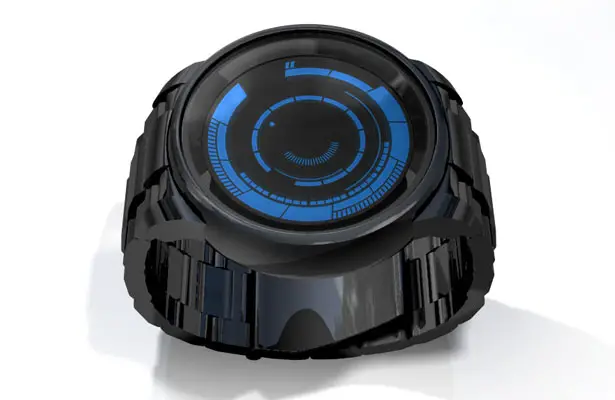 Tuvie has received "TokyoFlash Kisai Rogue Touch" from our 'Submit A Design' feature, where we welcome our readers to submit their design/concept for publication.
---