Do you know that in the USA alone, approx. 150,000 people die from stroke annually? Stroke is also the leading cause of serious long term disability. Around 1/3 of stroke patients suffer from hyperthermia which is an abnormal increase in body temperature. Otivia is a conceptual medical device specifically designed to cool down and stabilizing body temperature of stroke patients suffering from hyperthermia. It works by increasing blood flow in the arm while at the same time drawing heat from it. The blood flow in the arm alone is enough to cool down the entire body, avoiding abnormal fever and other dangers associated with it.
Designer : Bilal Zia Chaudhry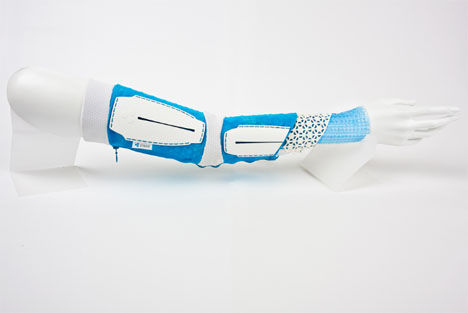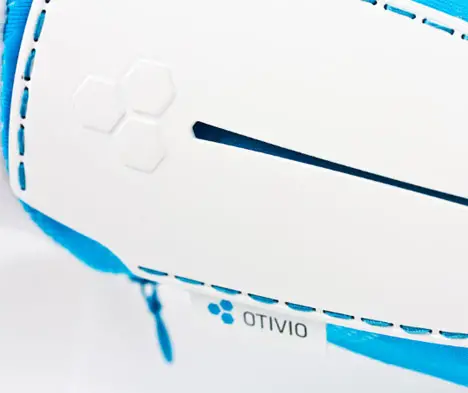 The arm unit Otivio prevents hyperthermia in stroke patients, reducing mortality and disability. This is accomplished by cooling down and stabilizing the body temperature over a 24-hour period after the stroke patient arrives at hospital. The unit consists of two main components: a disposable glove and an outer shell. Temperate water circulates in the disposable glove while negative pressure is generated in the outer shell. The pulsating pressure expands the veins in the patient's arm. This increases skin blood flow locally, while the water acts as an effective heat-transfer medium. Treating just the arm can cool down the entire body.
Patient rehabilitation is dependent on early physical movement, so flexibility is a necessary quality of Otivio. The layered disposable glove allows for a controlled amount of water to flow through a predefined pattern, which reduces the amount of water required and thereby reduces weight. The device also needs to be airtight and stiff enough to withstand the generated pressure, yet it must also allow movement. Otivio's mesh structure covered with a sealing textile satisfies these requirements.
Otivio is connected to an external control unit with two small tubes providing continuous temperate water flow. The control unit is also responsible for generating the pulsating pressure.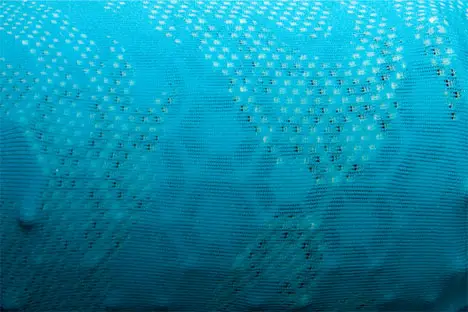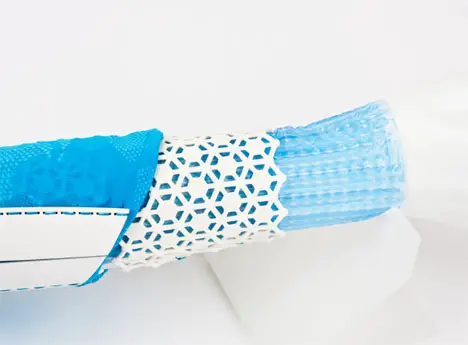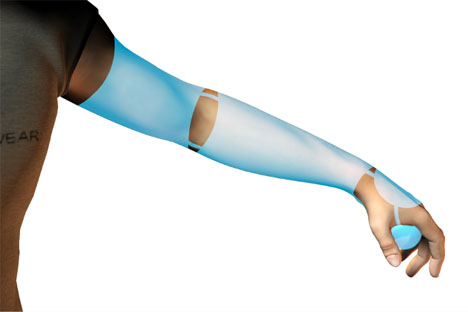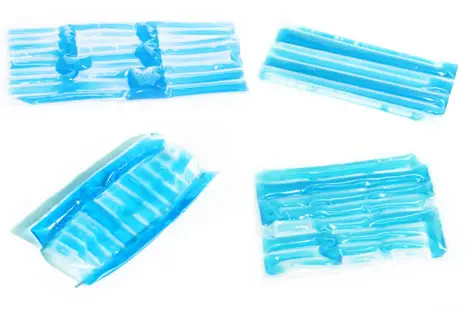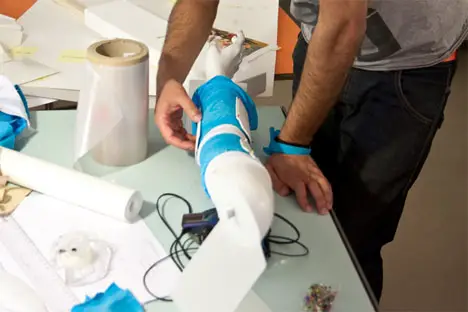 ---
Tokyoflash has released a limited edition Kisai Optical Illusion Watch that requires trained eyes to read the time. If you like a little challenge to read the time, then you probably would love to have this touch screen LED watch that displays time through a maze of high resolution diagonal lines.
Kisai Optical Illusion watch is an "always on" lcd display watch and just like its name, it utilizes optical illusions in a way that makes your eyes and brain to process only the lines that make up the digits. If your brain and eyes could team up, you'll be able to read the time (hours and minutes). However, there's a cheat button that you can press to reveal the time, just in case you fail to synchronize your brain and eyes. To me, it seems that my eyes and brain are messed up because honestly, I can't read the time without having to press the cheating button.
Designer : Tokyoflash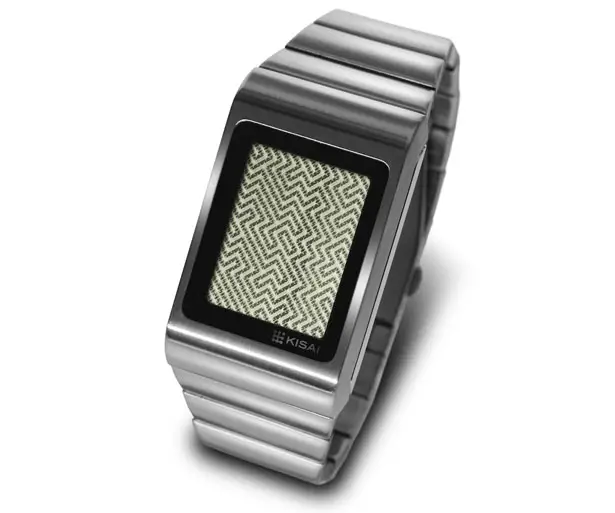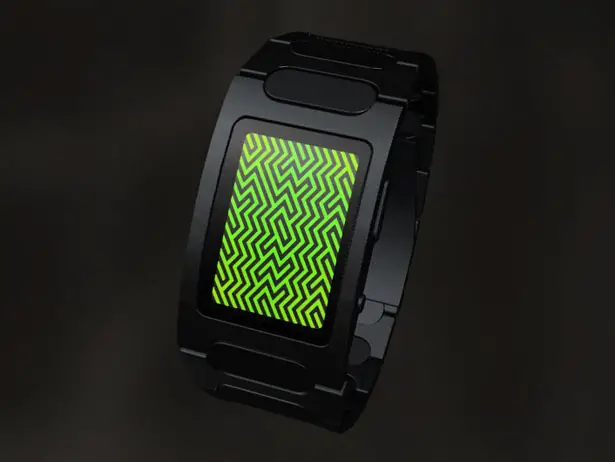 Aside from time, this watch also displays date, alarm and EL backlighting to illuminate the display that allows you to read the time easier in the dark. These functions can be controlled via touch screen technology which is divided into four different hot zones. Tokyoflash Kisai Optical Illusion watch also features an animation mode that automatically transition from puzzle mode to digital mode for every 20 seconds. It's pretty useful to catch people's attention to see at a glance your cool and stylish watch.
This watch collection is available in a stainless steel design, black or silver. The mineral crystal lens come in natural or green display.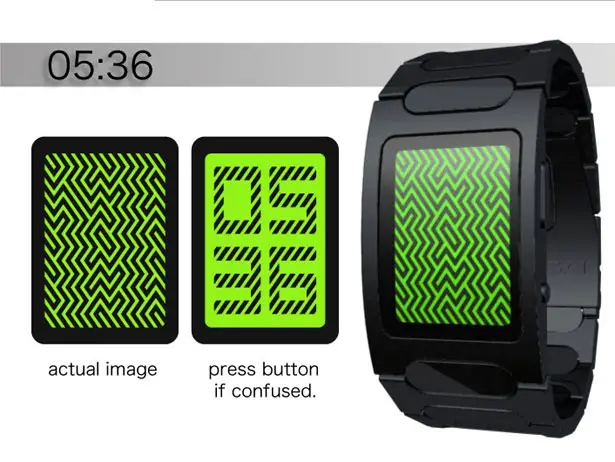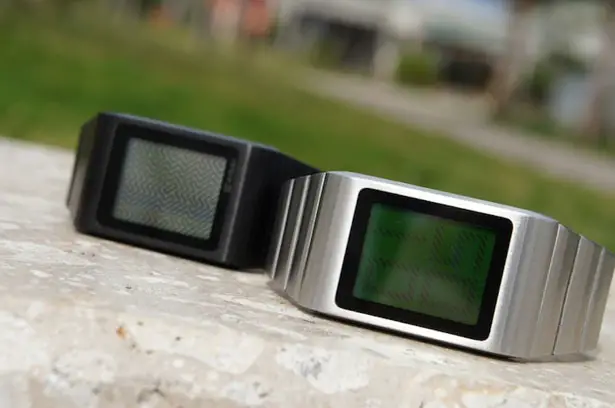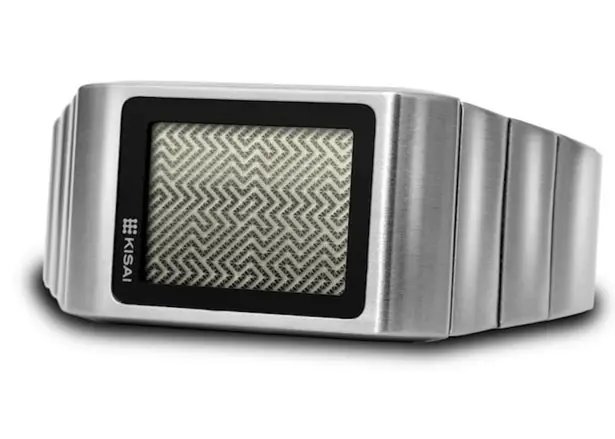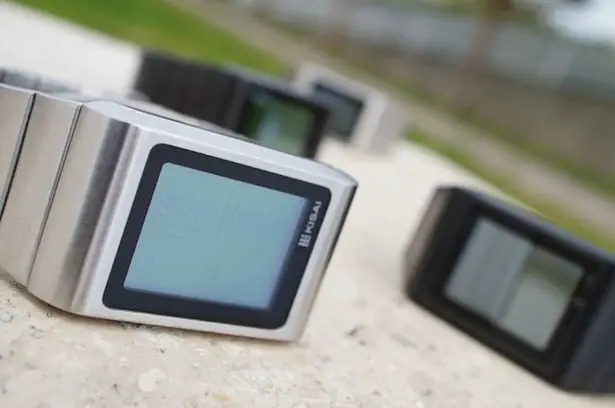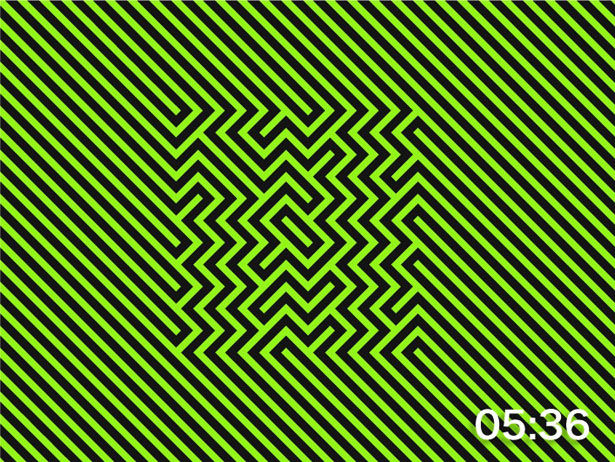 Tuvie has received "Tokyoflash Kisai Optical Illusion Touch Screen LCD Watch" from our 'Submit A Design' feature, where we welcome our readers to submit their design/concept for publication.
---
Polaroid Instant Digital Camera Z2300 is the latest model from Polaroid that features integrated printer with ZINK technology. You can capture your precious moments and instantly print it in a 2×3" full color photo. Do you want to share your photos to any social media platform? It's not a problem, this camera offers the ability to easily upload images to your favorite social media platform. The compact body design makes it easy to carry as well as easy to use. Currently, this digital camera is available for pre-order.
Polaroid Instant Digital Camera Z2300 features:
ZINK technology allows you to print with no ink, no hassles
10MP for beautiful and great color photos
3" LCD display
SD Card for expanded memory up to 32GB
Rechargeable lithium-ion battery
Speaker or microphone
Sleek and stylish body design
From : Polaroid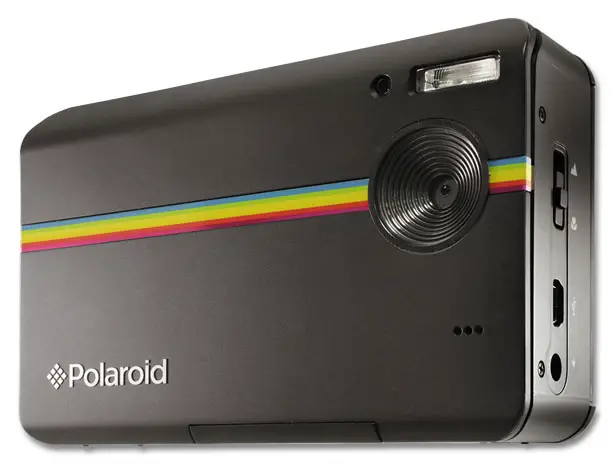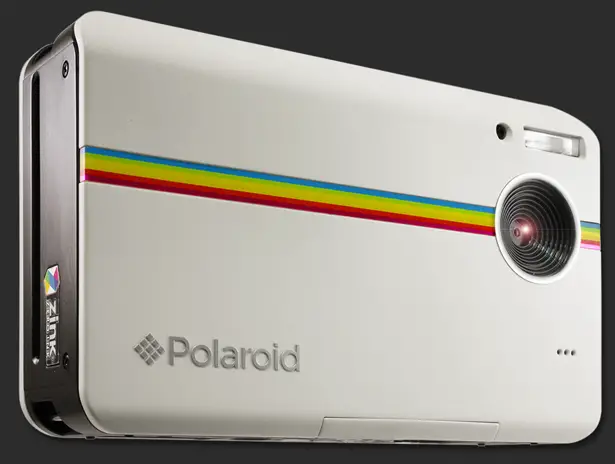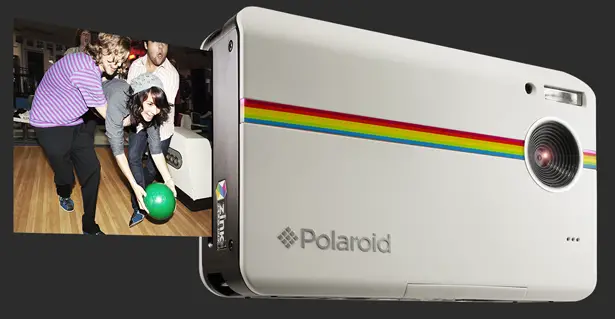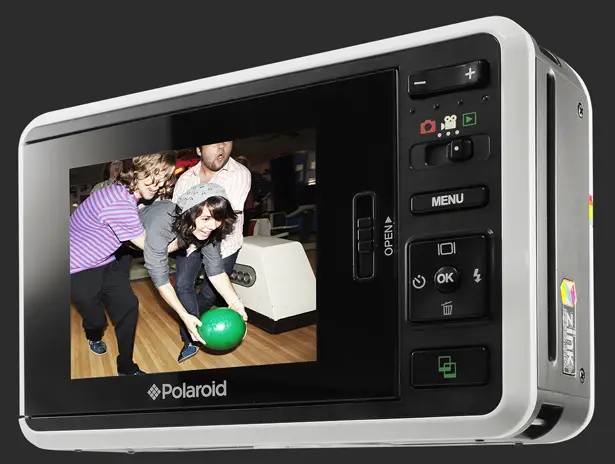 ---