Submitted by Park Chan-Ju, Spangle Speaker features triangle shape similar to Boombotix mini speaker, except that Spangle has hollow body.
Spangle is triangle shape speaker. I got inspiration from triangle instrument. As if the triangle makes a sound when its body is hit by the bar, the speaker is switched on making a sound when the mobile phone touches Spangle. Because it has the same interaction as the triangle, it provides analogue and fun user experience.
Designer : Park Chan-Ju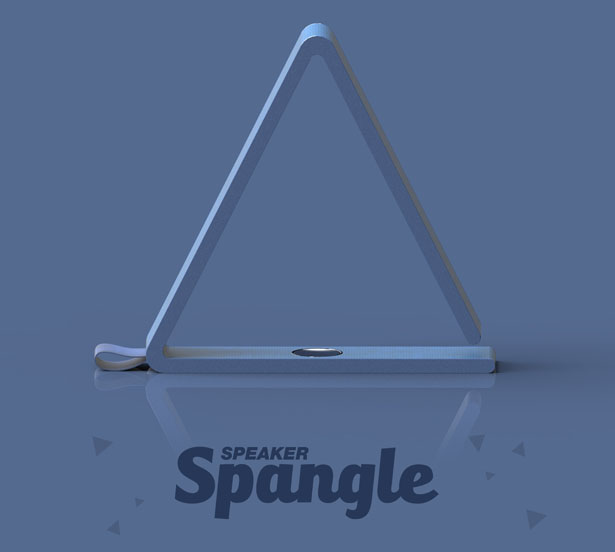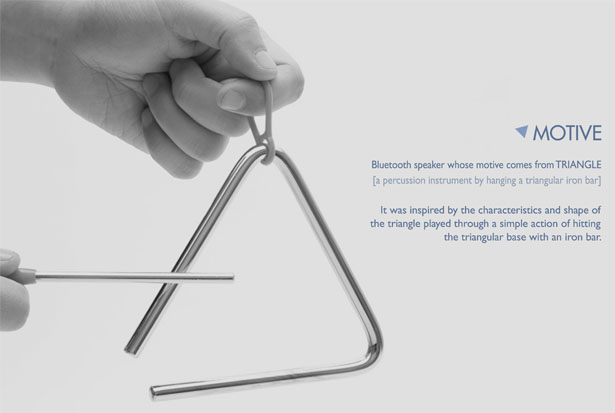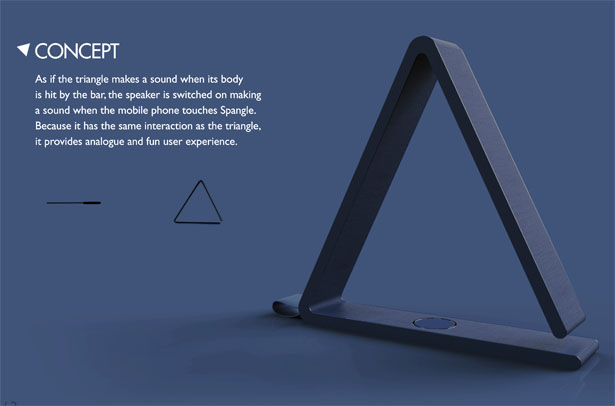 Tuvie has received "Spangle Speaker" project from our 'Submit A Design' feature, where we welcome our readers to submit their design/concept for publication.
---
How to improve our culinary experience? MVRDV designed Infinity Kitchen, a fully transparent kitchen to answer that question. This project is a part of a satellite event for the Venice Biennale.
Infinity Kitchen allows you to clearly see what's happening in the kitchen, it wants to create better cuisine, better food preparation practices, and raise awareness of the food making process. You can clearly see how much food that's been hidden away, how much waste is created, how clean the kitchen is. This project also aims to celebrate food and cooking. Everything is completely transparent, from surfaces, cupboards, shelves, to utensils. It's a smart project that gives a new insight into food production, a glimpse of all process that happen in our kitchens.
Designer : MVRDV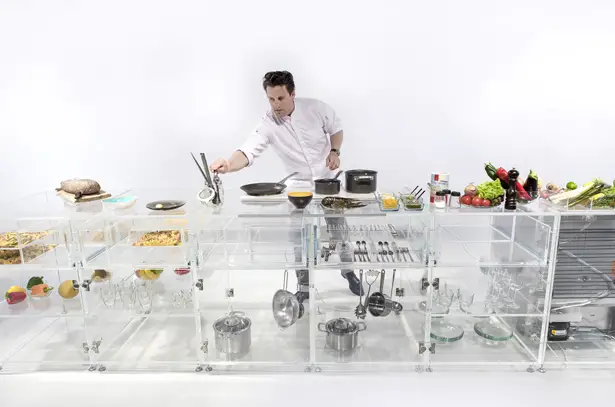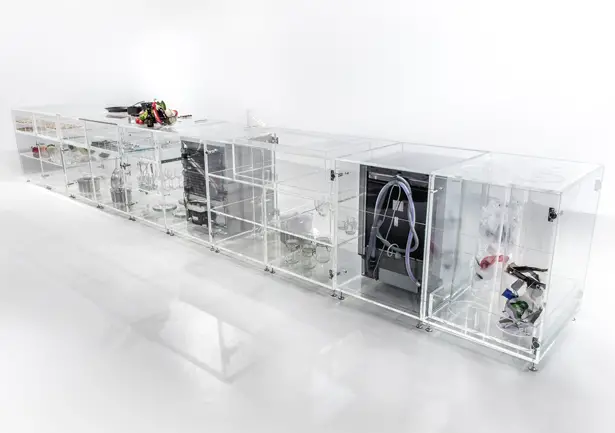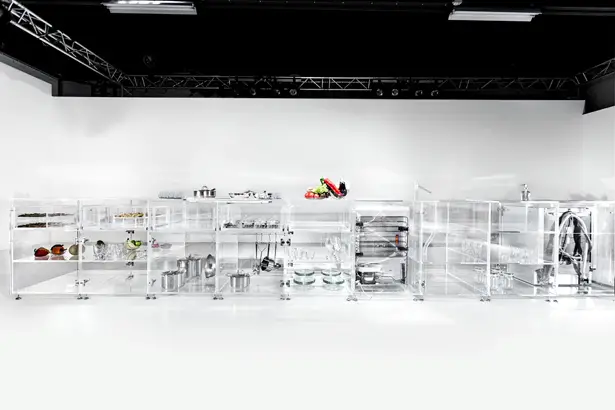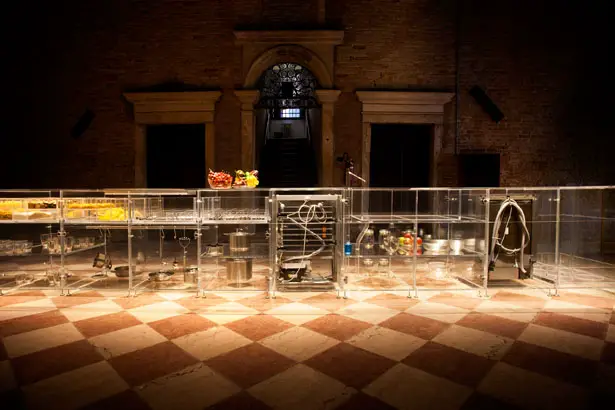 ---
What 's "Crab"? It's the personal concept of an artistic-technologic urban vehicle designed by Andrea Filogonio for the chaotic megapolis of tomorrow. Crab's design melts Art Noveau-inspired shapes to a real crab concept : Art Noveau for its elegance and sense of surfaces while a living crab for the freedom to move everywhere and in any direction. Moreover, its shell is very hard and protective.
Designer : Andrea Filogonio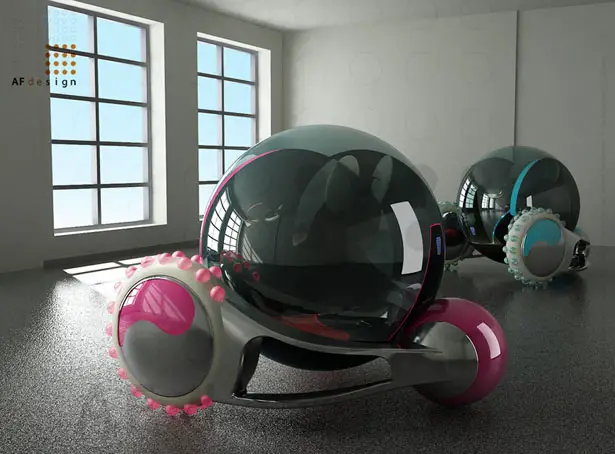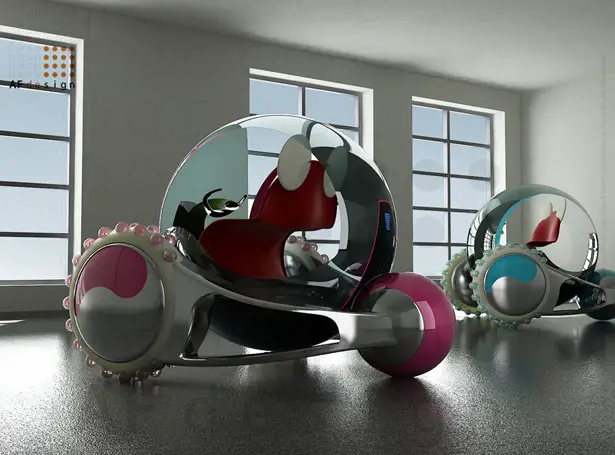 Now, leap forward and apply all that we've just said to the megalopolis of tomorrow: very busy, but with environmental awareness, luxury accustomed, socially involved and technologically advanced. "Crab" is elegant, shiny, customizable, comfortable, and safe. A small car for all the people with three wheels drive. The cabin is suspended and cushioned by an electrical field generated in the two chassis arms. So it's floating and not linked to the chassis, giving a soft response for better comfort. When the car is parked it's strongly attached to the chassis.
Each wheel has its electrical engine, linked externally to the suspension, so that every engine is at the same time: engine, suspension, brake, steering. All driven by wire. The large back sphere is the main steering device when the car is moving. In the parking-mode, the little spheres on the two front wheels allow you to move perpendicularly to the road.
When needed, the same system allows you to run light off-road increasing car height, to go to the beach, for example, using 3 wheels drive. You can adjust your car height and suspension stiffness, to increase its performance. "Crab" is very small, and we know the importance of space in the city. Besides, you can decide who's the driver without swapping your seat. The steering cloche, when the car is not moving, can shift from the left to the right.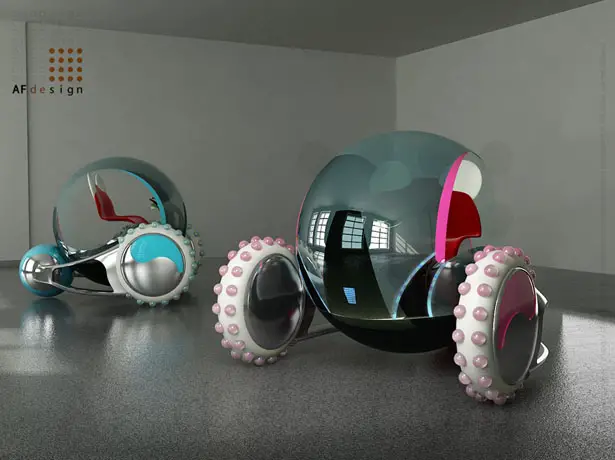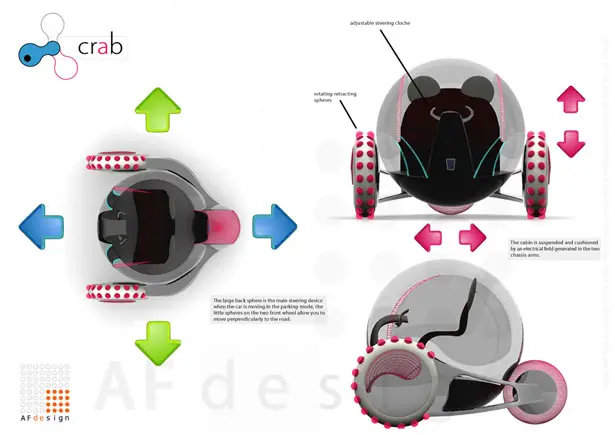 Click the above image for bigger view
"Crab": Copyright (c) afsmartdesign 2011. Any reproduction or use of this design project, images, logos or part of them is not allowed without Andrea Filogonio's written permission.
---