Hand Tree is one of gadget series of Tree concept, it's a proposed solution to deal with our polluted air. This gadget is your personal air purifier that you can literally carry anywhere with you by wearing it on your wrist. The rapid growth and development of cities cause the same level of rapid pollution in our planet, some people have difficulty breathing because of that. This designer sees the necessary action to develop a personal device which is light and compact to clean the air around us. It was based on the same principle as plants that absorb polluted air and emit purified one to create their own atmosphere. Imagine if everyone in this planet wore that device, we would all breathe easier.
Designer : Alexandr Kostin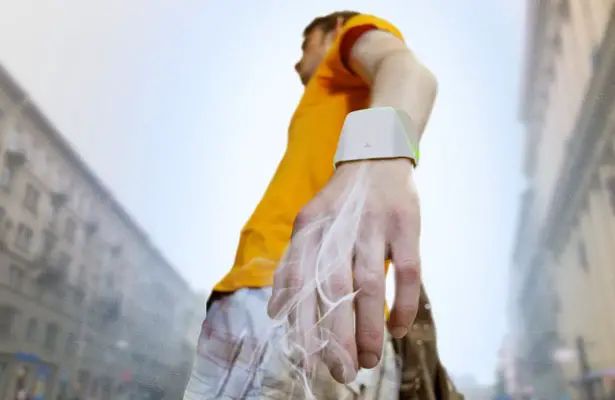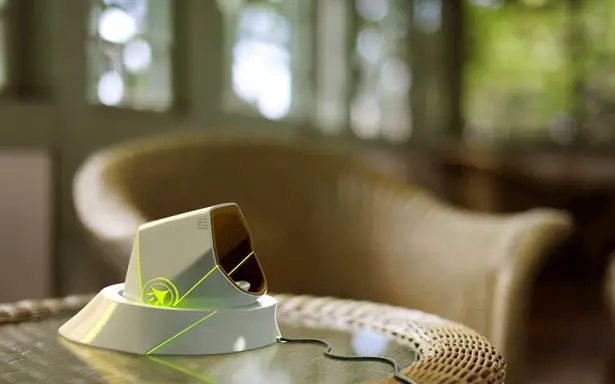 This concept is just one part of other appealing wearable accessories; this technology can be incorporated in a series of pendants, belts, bracelets, and many more. There are 2 modes in this system: automatic and manual. When user switches to automatic mode, Hand Tree would constantly monitor its environment and it will automatically activate the purification process once it detects high level of polluted air.
Hand Tree kit comes with charging kit, user can charge the battery of this device wirelessly thanks to the technology of Qi. The body material is made from eco plastic Biograde and meets all federal health standards. The color changes in the body indicates the pollution level, the battery power is displayed on the screen and menu. User can configure how this device works from the menu, simple and easy to understand.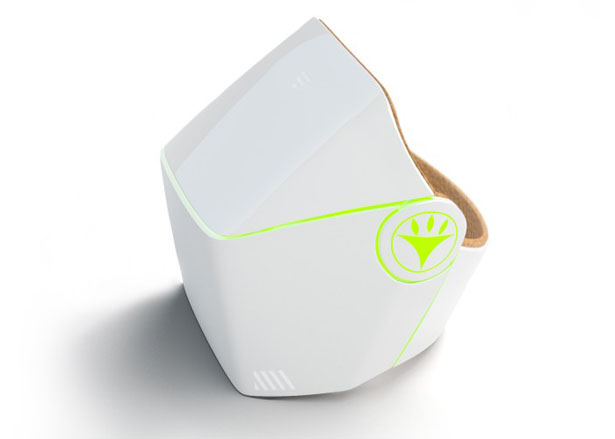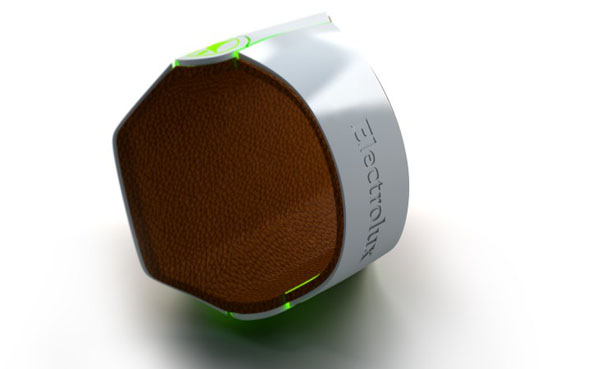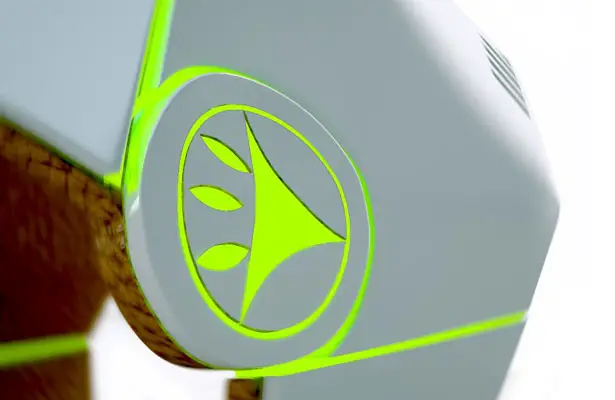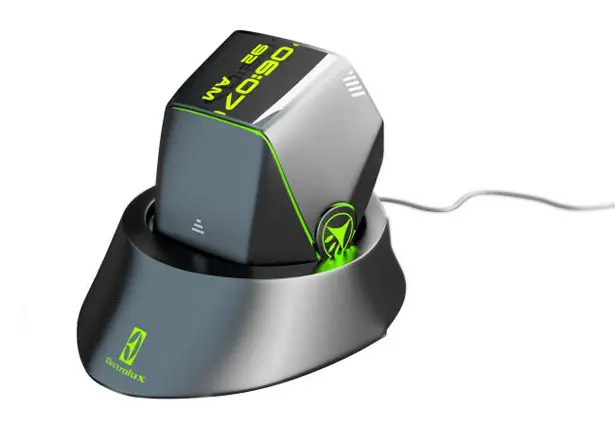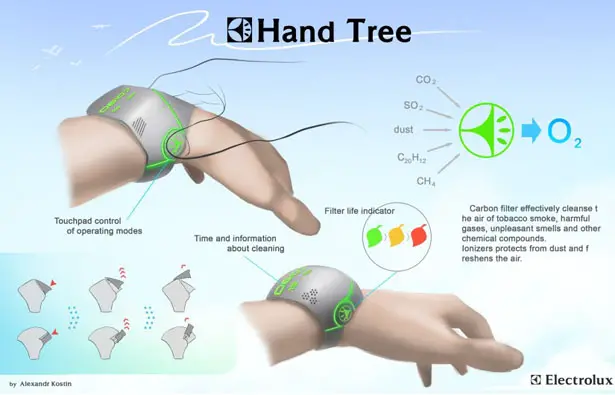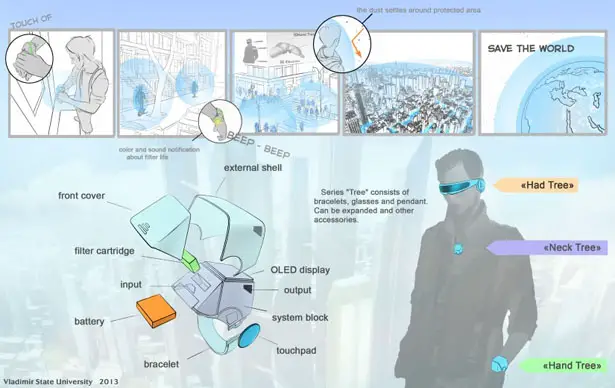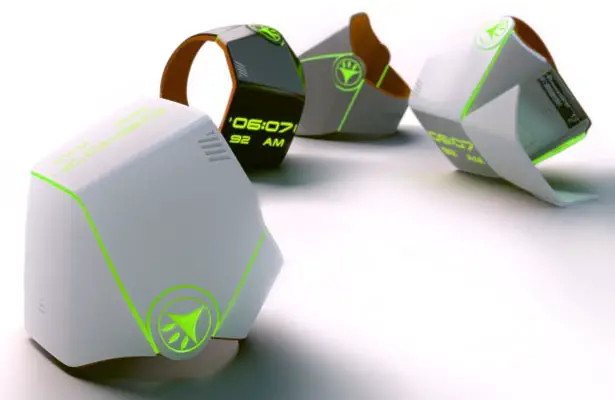 ---
SpeakerCubeDock (SCD) is a small and compact device that delivers big sound from the music in your iPod or iPhone. At first, you probably just see a square clock where you can dock your iPod/iPhone on it, but a simple slide reveals the speakers. SCD is a portable speaker dock that uses long-lasting lithium-ion batteries to satisfy your need to enjoy your music for hours, you'll be amazed with its unique vacuum bass design that provides surprising volume and bass quality.
SCD has been designed with 128GB storage capacity to allow you to download all your music, documents or photos and manage those files with a custom app. In this way, you don't always have to dock your iPhone/iPod to play the music, in fact you can control this speaker from your other gadgets thanks to its Bluetooth and Wifi technology.
Designer : Eliel Cabrera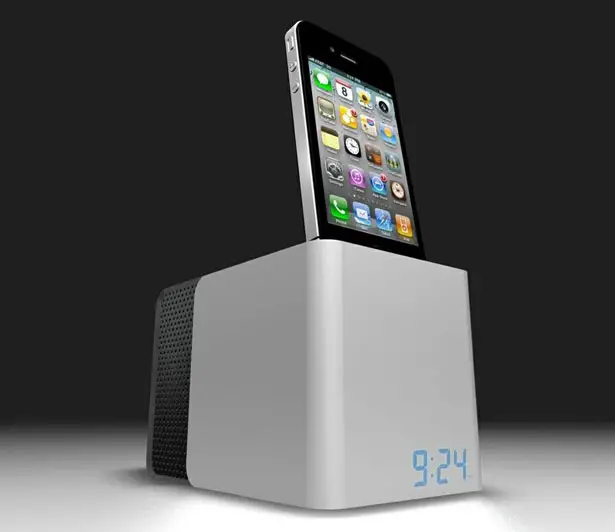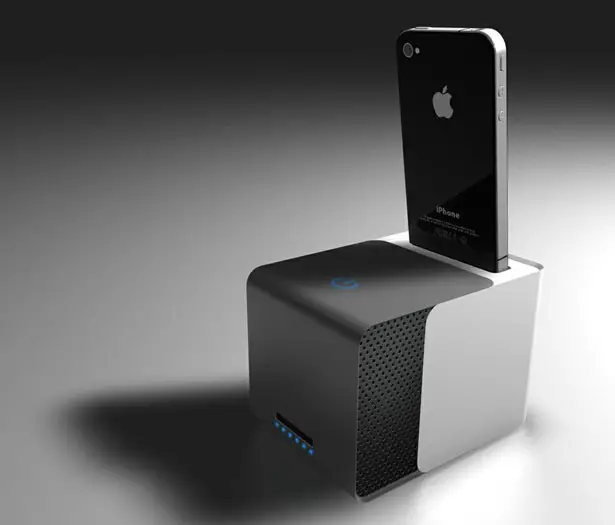 The both sides of SpeakerCubeDock are touch sensitive, its sensor identifies your gestures to control several functions such as raise or lower the volume, rewind, play, pause, change songs, etch. Pretty cool isn't it? It seems that the industrial designer has figured out some gestures for quick access to several functions. For example if you slide your finger on one side upwards or downwards, you will raise or lower the volume while do this on both sides will make you do a quick sweep of the song. Tap twice on the right side will advance a song while tap twice on the left side will recede a song. One tap on both surfaces at once will pause the song, then resume the song just tap the right side once. To completely stop the music, just keep your fingers on both sides for few seconds.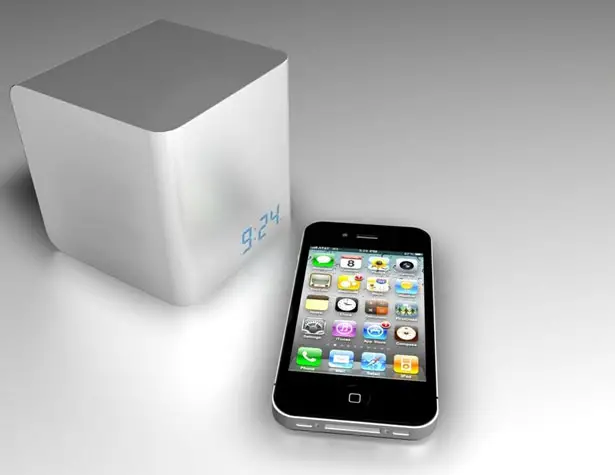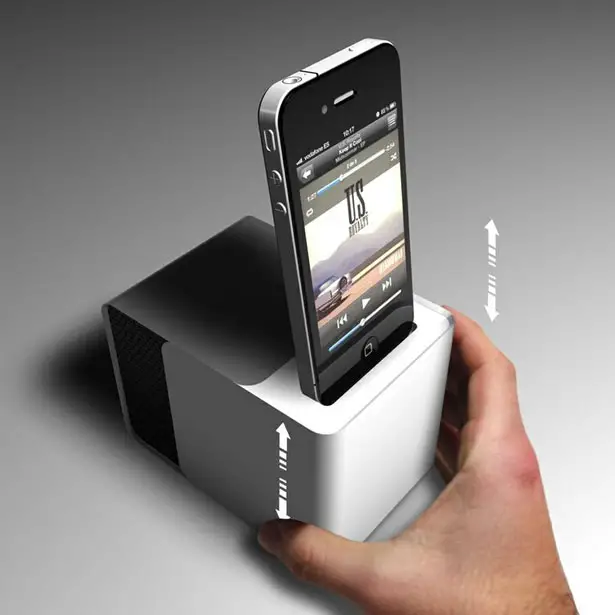 Aside from being a portable music player, SCD also functions as an alarm clock. The custom app allows you to program any music to wake you up. Simply slide your finger on the surface to read the time.
SpeakerCubeDock can also be used to recharge your iPhone/iPod, it offers ultra-fast charging up to 4 times better compared to traditional 500mAh batteries. To recharge this device, simply plug the USB cable to your computer. Measured 90x90x90mm when folded and 129x90x90mm when extended, SpeakerCubeDock is your iPhone/iPod dock, portable speaker, an alarm clock as well as portable hard drive.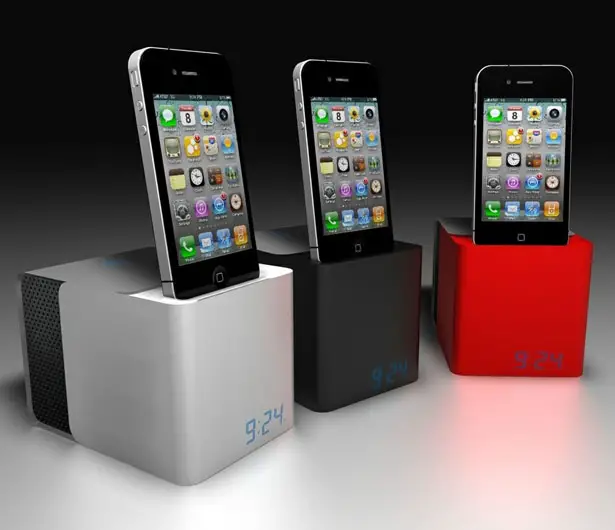 Tuvie has received "SpeakerCubeDock" from our 'Submit A Design' feature, where we welcome our readers to submit their design/concept for publication.
---
Post Foosball Game Table is constructed of salvaged pieces of historical buildings in Ho Chi Minh city, Vietnam. This game table was born out of the desire to preserve significant historical buildings. The designer team started to come up with custom designed furniture to create modern works of art out of those industrial pieces. They have worked really great to rapidly produce lighting, furniture or artistic pieces; one of them is this foosball table. It is made with recycled and reclaimed materials, reconditioned for a new use to reduce the flow of industrial waste.
From : abc home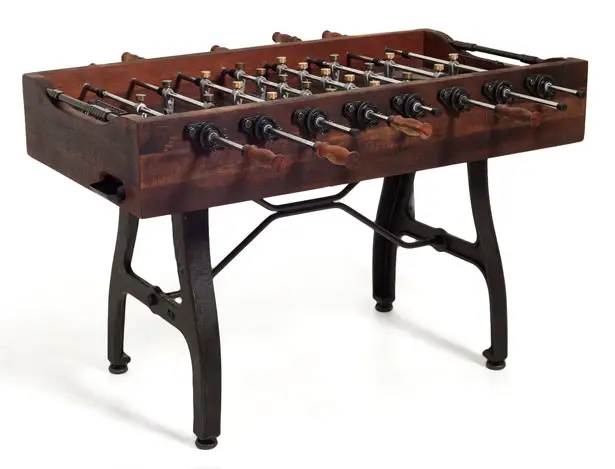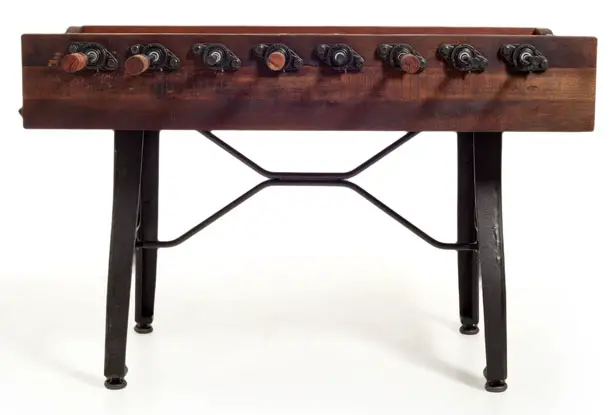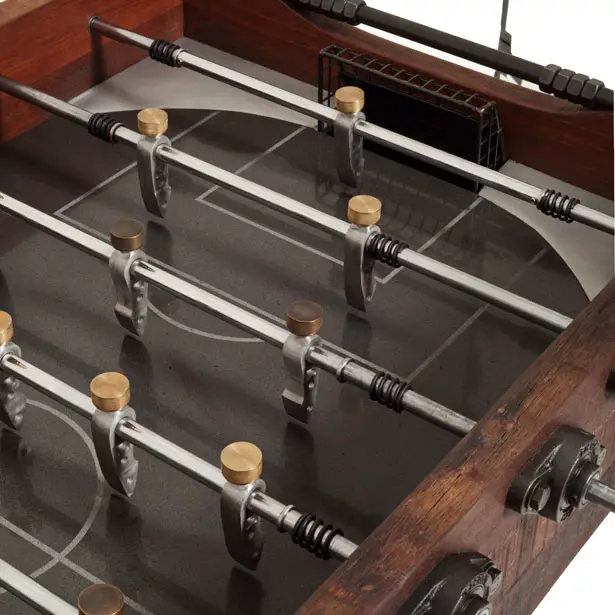 ---