Momenta is a neck-worn PC concept for Microsoft's Next-Gen PC Design Competition. Momenta can records everything in a rolling buffer and continues to record until you tell it to stop. Triggered by increased heart rate, it captures those hilarious or exciting moments that are usually lost forever. Whether it's an exciting sports experience, a funny social scene, the scene of an accident, etc. you can capture it and share it.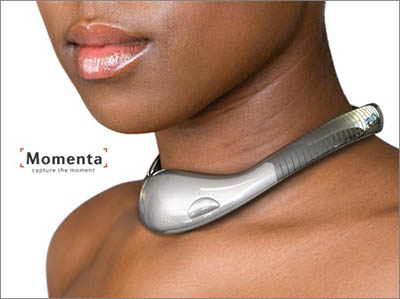 Using the new light-weight Microsoft operating system, SLIM, this PC travels with you effortlessly. The projected touch-gesture interface allows you to interact with your software wherever you are without requiring interface peripherals but its wide-coverage 700 MHz WiFi wireless allows both connection to the web and to performance enhancing peripherals.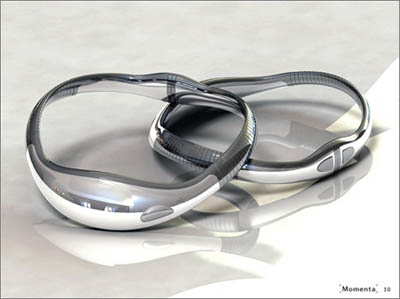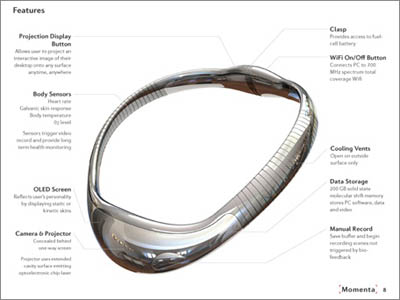 ---
This stylish ring is actually a gadget to help deaf people to sense noises around them. Vibering sensor helps them to notice vehicle's horn or someone's call at the back which often results in an unforeseen emergencies. Consist of two rings and a wristwatch, the ring can vibrate to alarm the bearer about specific noise and identify the information from the wristwatch window at the same time.
Vibering sensor not just an alarm unit for hearing-impaired, but also can be stylish fashion items with its stylish design of rings and wristwatch.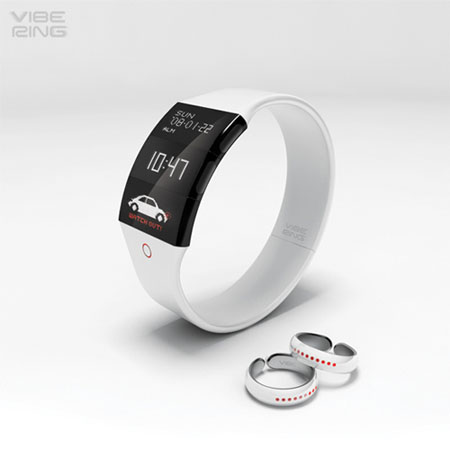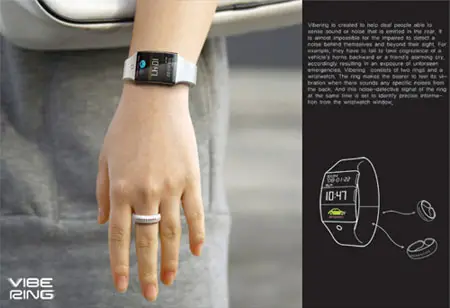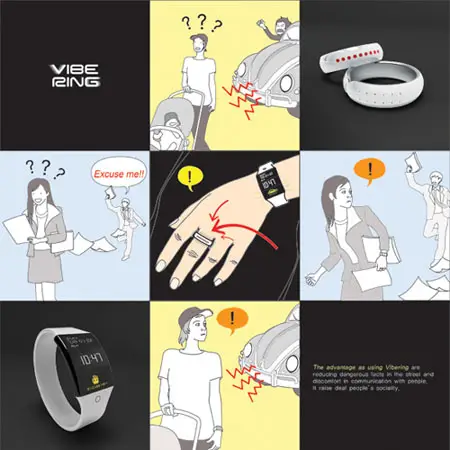 Designers : Jeong Kwang-seok, Kim Min-hee, Kim Hyun-joong
---
A new mountain bike is added by Mercedes Benz to its exclusive bike collection, called The Trailblazer. No need question about the materials, all is made with high-quality components and elegant design, perfect for serious off-road riding. The price tag is €2,790, really high in our opinion if you just use it for small ride in a park, but if you have so much money to spend, why not? The Trailblazer features a sophisticated four-link rear suspension that ensures outstanding riding comfort and excellent traction on difficult terrain. Mercedes Benz Trailblazer is available in two edition, sport edition and comfort edition, with a number of parts specially adapted to the different physiques of men and women.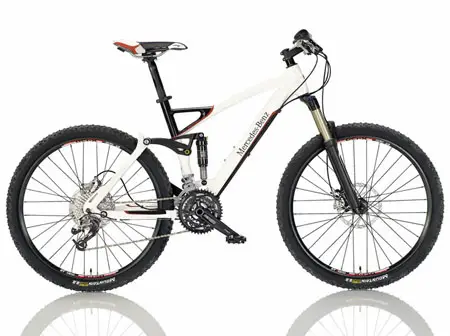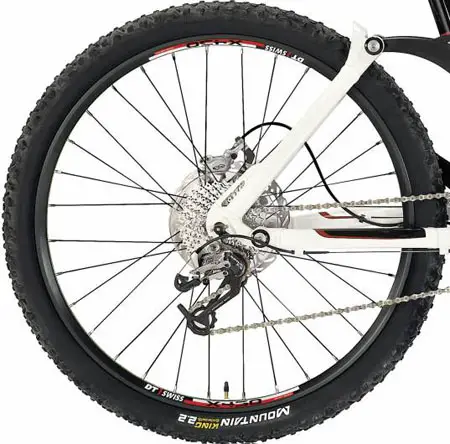 Official Press Release :
With the uncompromisingly high quality of its equipment, its premium craftsmanship and its modern design, the new Mercedes-Benz mountain bike fulfils the high demands of experienced cycling enthusiasts. At its heart is an elegant and functional full-suspension frame with a sophisticated four-link rear suspension. The high-quality aluminium design was developed in collaboration with premium German cycle manufacturer ADP Engineering GmbH, a company renowned for its exclusive, handcrafted Rotwild brand of cycles, who have already proved themselves reliable partners of Mercedes-Benz with other bike designs.
The exclusive Mercedes-Benz Accessories GmbH range enables customers to further tailor their bikes to their own requirements. The collection contains everything from an electronic bike computer with twelve functions, a practical pannier with a capacity of seven litres and an ultra-light mini-tool for repairs on the road to a handy mini pump, a useful hydration rucksack and a first-aid kit.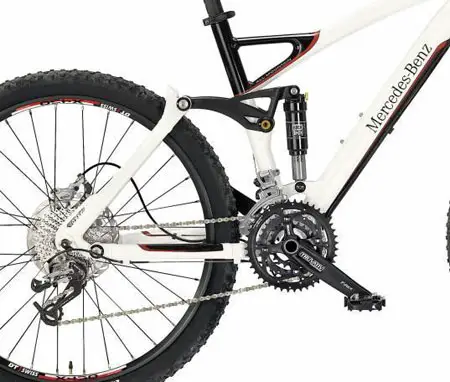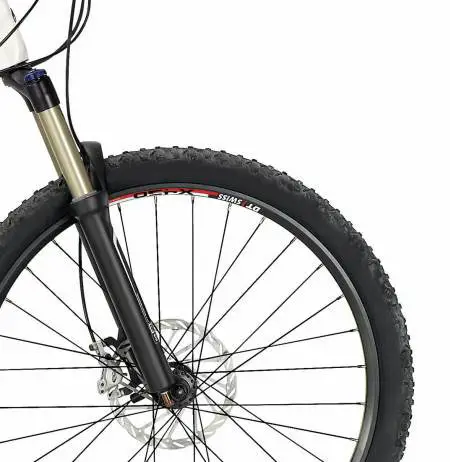 Technical data
Frame
Material: Aluminium 7005;
Colour: Sport Edition: anthracite
Comfort Edition: white with red and black elements
Size: Sport Edition: S (47); M (50); L (53)
Comfort Edition: S (45); M (48)
Rear-wheel suspension
Suspension/damping: Rock Shox Monarch 3.1 oil-air suspension strut adjustable rebound and compression stage
Travel: 120 mm
Front-wheel suspension
Fork: Rock Shox Recon 335 with aluminium crown
Suspension/damping: Solo Air/adjustable rebound stage,
Compression stage adjustable up to lockout
Travel: 120 mm
Drive system
Crankset: Truvativ Firex 3.3
Crank length: Sport Edition: S: 170 mm; M/L: 175 mm
Comfort Edition: S/M: 170 mm
Pedals: Wellgo, SPD compatible
Chainrings: Truvativ Alu 44-32-22T SRAM
Inner bearing: Truvativ Firex 3.3 BSA
Shifter
Cassette: Shimano HG 50; 11-32T; 9speed
Shift lever: SRAM X.7 Trigger
Front derailleur: SRAM X.9
Rear derailleur: SRAM X.9 long cage, 9speed
Brakes
System: Avid Juicy 5; 185 mm rotors front/rear
Wheels
Hubs front: H 220D
Hubs rear: H 400D
Spokes: DT Comp 2.0/1.8
Rims: DT SWISS X430 Disc 26″
Tyres: ContinentalMountainKing Falt; 26 x 2.20″
Removable parts
Stem: S 140
Sport Edition: S 75 mm; M 90 mm; L 115 mm
Comfort Edition: S 60 mm; M 75 mm
Handlebars: B 240
Sport Edition: 640 mm
Comfort Edition: 600 mm
Grips: Sport Edition: VeloLight
Comfort Edition: Ergon GP1
Saddle: Topeak Allay Racing
Saddle post: P 260; 31.6 x 350 mm
Weight
without attachments: approx. 13.5 kg
Designer : Mercedes Benz via BenzInsider
---