The new technologies of digital cameras have become more and more complex, which leads to creating more sophisticated parts and more complex disposable waste. Based on that issue, Bryn Seymour and Jon Rothapfel tried to help creating self powered eco friendly camera. Inspired by other contemporary self powered devices such as radios and lamps, the Twist Camera is a small portable digital camera that uses a winding mechanism for power and would be capable of taking several photographs per cycle of the mechanism.
The Twist Cameras features are minimal with the view finder being a simple hole in the body for the user to look through, a knob to wind for energy, one button for shooting a photograph and a multi colored L.E.D. (Light Emitting Diode) for the user interface.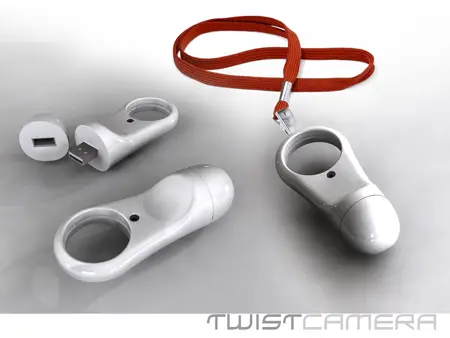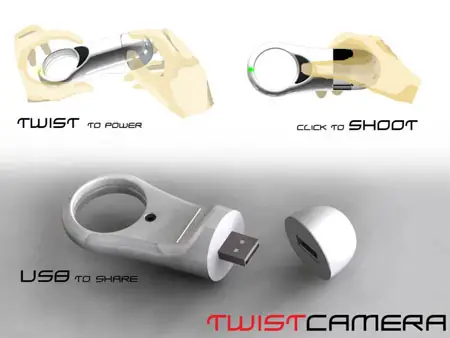 Photographs can be uploaded from the camera via a USB (Universal Serial Bus) plug that is hidden under the winding cap to a computer for further distribution and viewing.
It is intended that such a device could support resolution of up to 5MP with current technologies and find use in a range of diverse areas such as recreation, children's products and third world use.
The self winding mechanism is also intended to highlight how the latest technologies can live in a more harmonious way with us in our society and hopefully make people aware that energy does not just only come from a power point.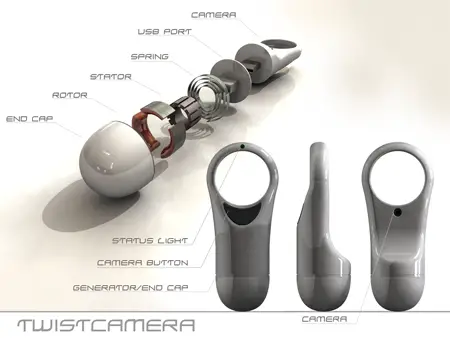 Designer : Bryn Seymour and Jon Rothapfel
---
You must have heard and read in stories about the magical gadgets that work on just a wave of hand or flick of tongue. You can have those magical gadgets, in fact, you can create them with the help of violet Mir:ror. It is a USB RFID enhanced reality gizmo that can alter the normal functionality of a gadget and make it perform some other tasks. For example, you will wave your hand before screen of your TV and it will display the weather forecast. Little Ztamps that you stick to the gadget creates all the magical output that can even be configured in various other ways, cool huh?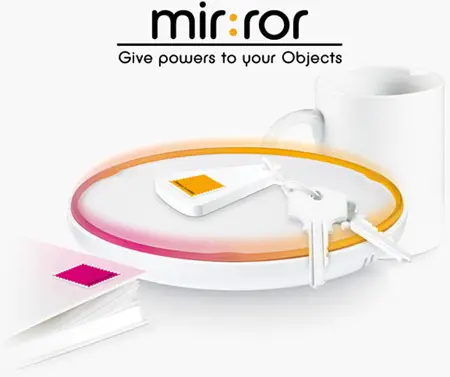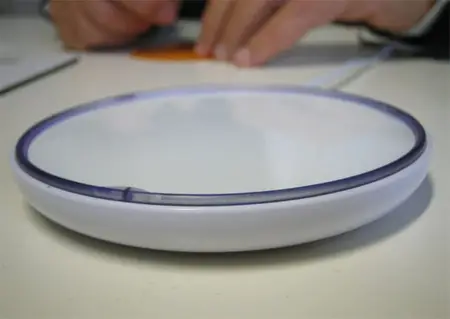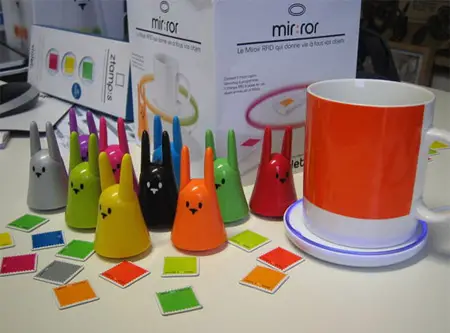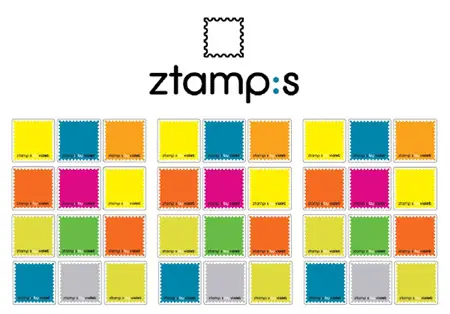 [ProductPage] via Gizmodo via Technabob
---
Introducing a new LED desk lamp called FRESH by Victor Vetterlein. The design is inspired by tall wet grass, where the water droplets amplify sunlight and the grass stems bend downward from the weight of the moisture. The stems of FRESH LED lamp are bendable in all directions to direct prismatic light as a group or individually. The lamp is composed of a rubber coated metal base, neoprene coated solid aluminum arms, and a dimmable LED light source with an acrylic magnifying lens. The power voltage converter necessary for operating the low energy light source is placed in the base of the lamp for additional counterbalance. FRESH provides a splash of color and a whisper of Spring to a home or office desk.
Designer : Victor Vetterlein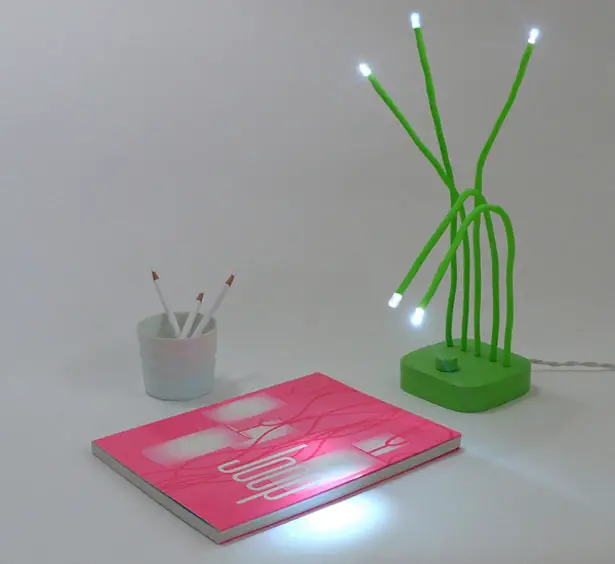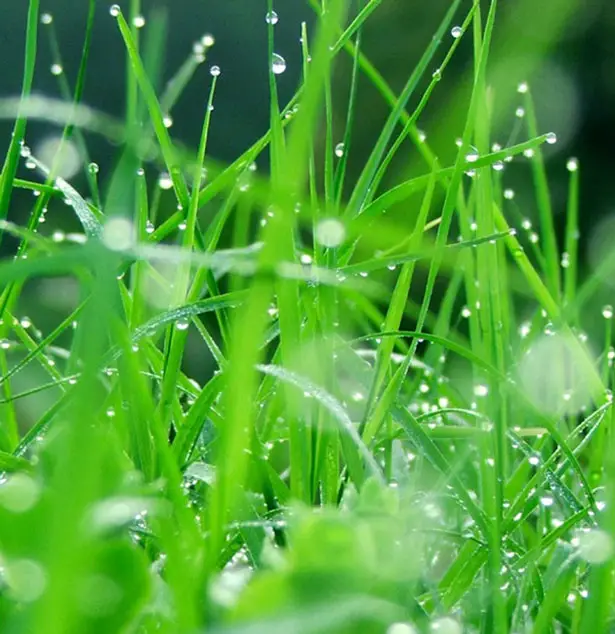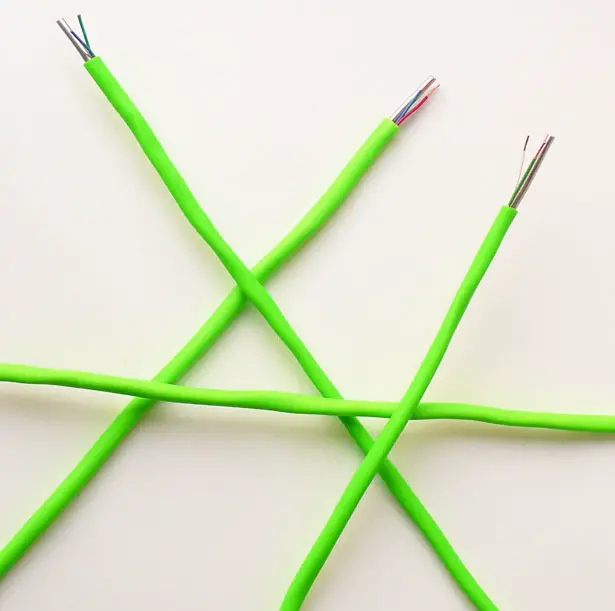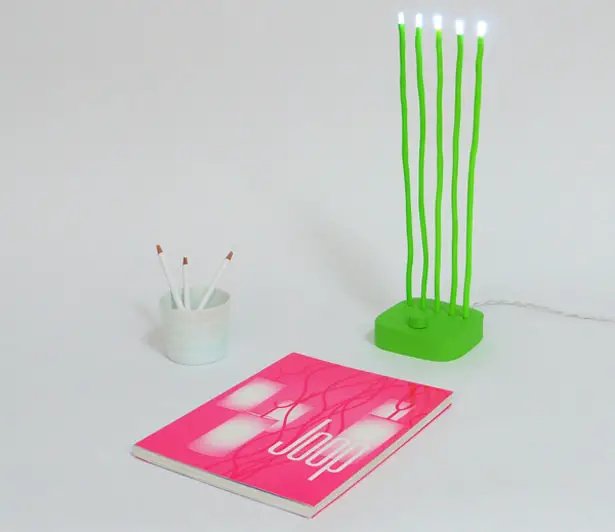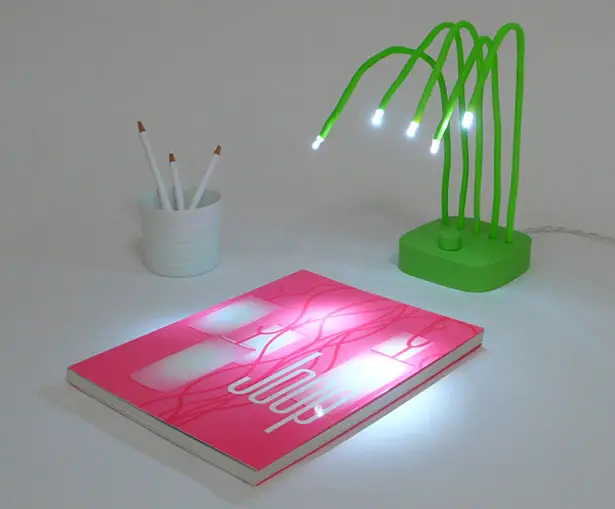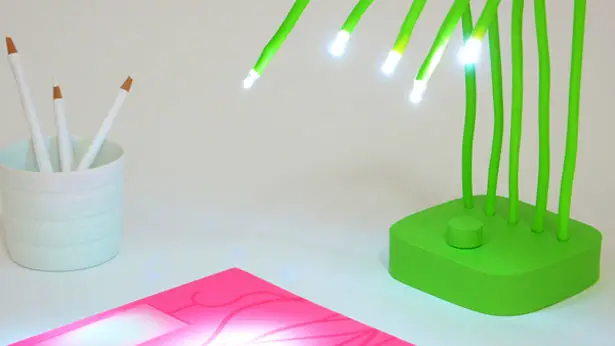 Tuvie has received "Fresh Desk Lamp" from our 'Submit A Design' feature, where we welcome our readers to submit their design/concept for publication.
---