Pedalboard is not your conventional skateboard anymore, it's a skate board bicycle hybrid. It is designed with the idea of combining free action of a board and geared advantage of a bike. You'll get the freedom to climb hills without having to push like a conventional skateboard, thank you to the special designed spring that is loaded with "half cranking action". A pair of large wheels and air tires will give the board capability to deal with dirt, rough concrete, or cracks in the pavement.
Designer : Nicholas G. Sawyers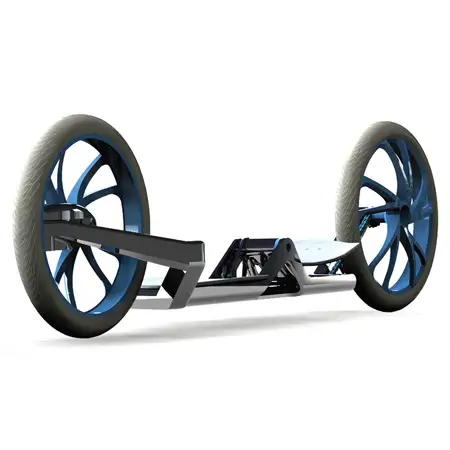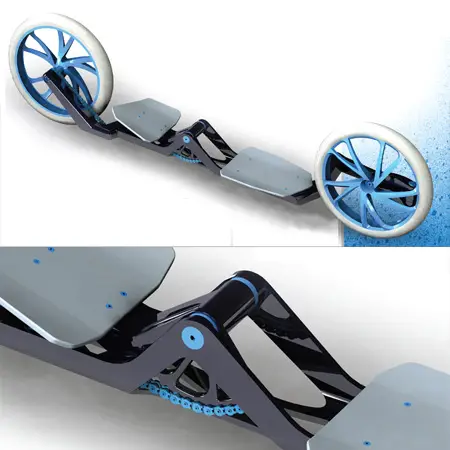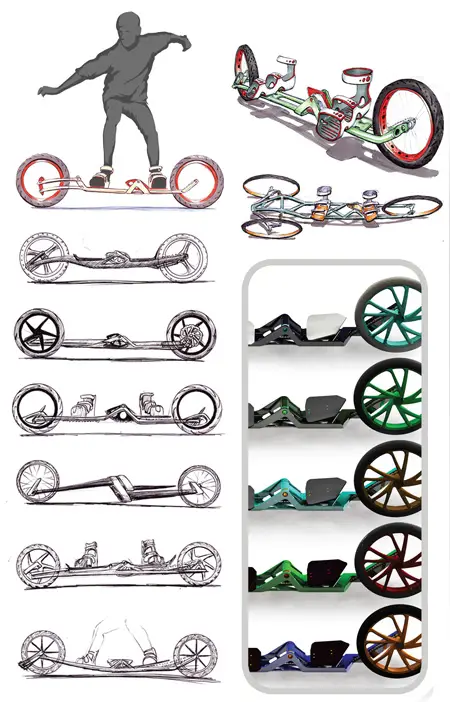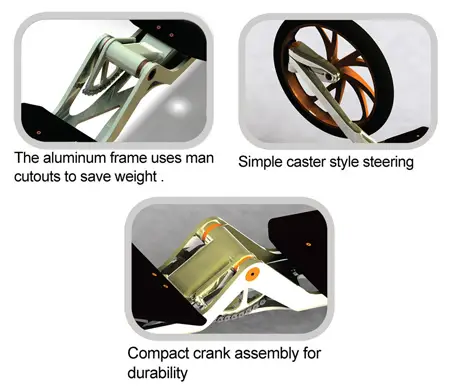 ---
The Mobi electric folding wheelchair is a powered mobility device designed to meet the lifestyle requirements of our aging population. Mobi reflects the future of products for an aging population. Stylish and convenient, it offers urban mobility alternative to bulky, generic electric scooters.
For added versatility, the design of the wheelchair features an innovative folding mechanism that allows it to be folded up and stored and transported in a vehicle without any need for disassembly. To encourage user independence and promote the user to be physically active, Mobi electric folding wheelchair is controlled similarly to a traditional manual wheelchair; the user pushes on the hand rims. However, force sensors in the hand rims detect the user's physical exertion and add additional power to the wheels. This means Mobi makes physical movement easier in a similar fashion to power steering in a car. Unfortunately, this wheelchair is only concept at this moment.
Designer : Jack Martinich (Monash Uni, Caulfield)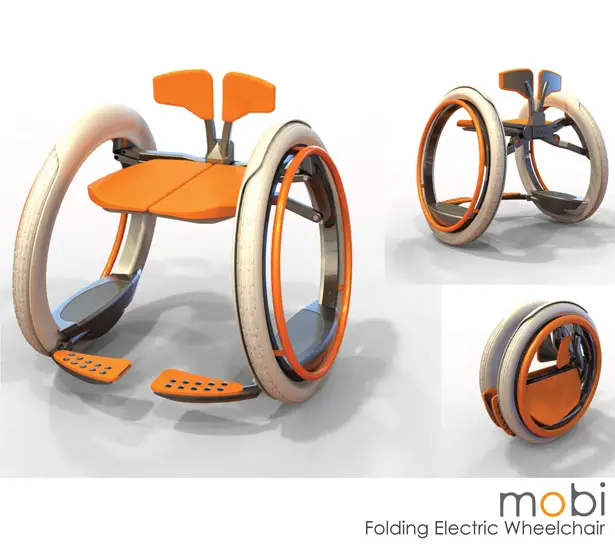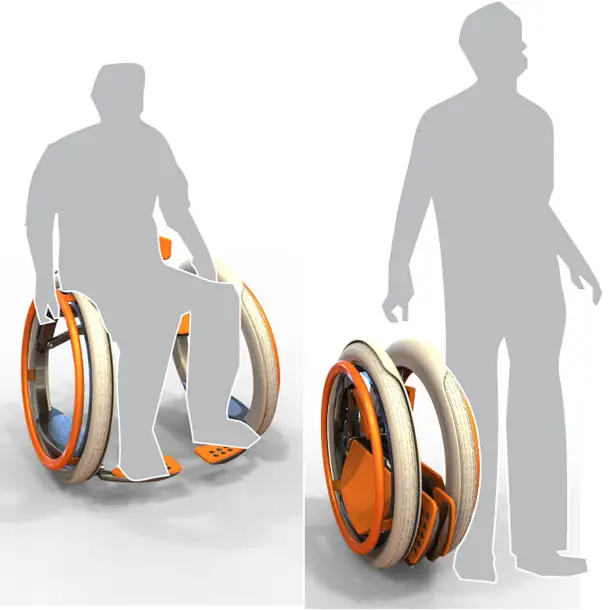 This electric wheelchair incorporates self-balancing Segway-inspired technology that positions that keeps the user in the centre of gravity while balancing on two wheels. The elimination of the need for castor wheels leads to more compact and manoeuvrable vehicle. Rechargeable lithium ion batteries power the electric servo motors located in the base of each of the hubless wheels, giving Mobi a range of approx. 20km with one charge.
Mobi electric folding wheelchair features other notable design innovations intended to make assisted movement a more pleasurable and confident experience. The wheelchair features bigger, 26" tyres for improved comfort. Integrated handrest/wheel guards protect the users's clothing from tyres. Wider ergonomic pushrims also allow an easier grip. To improve user confidence and safety automatic kickstands deploy when footrests are shifted upwards while standing out of or sitting into the seat.
Dimensions: 700x700x500mm.
Specified Materials: Aluminium Chassis, Polyurathane, ABS plastic.
Model Materials: MDF wood, acrylic paint.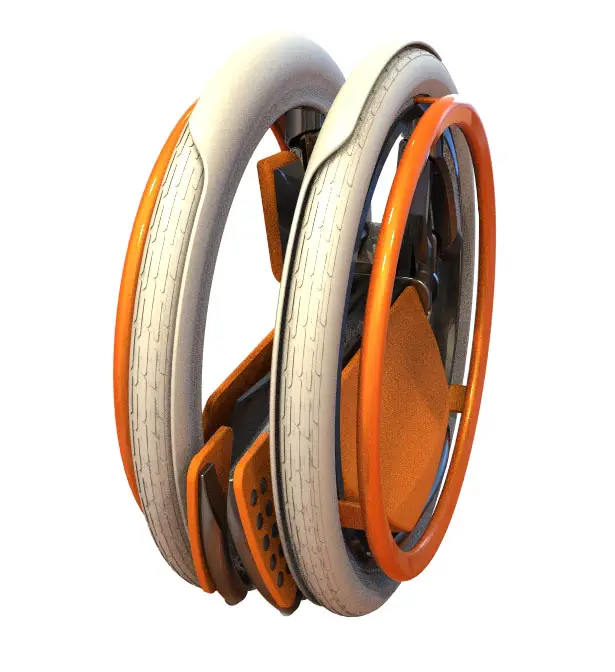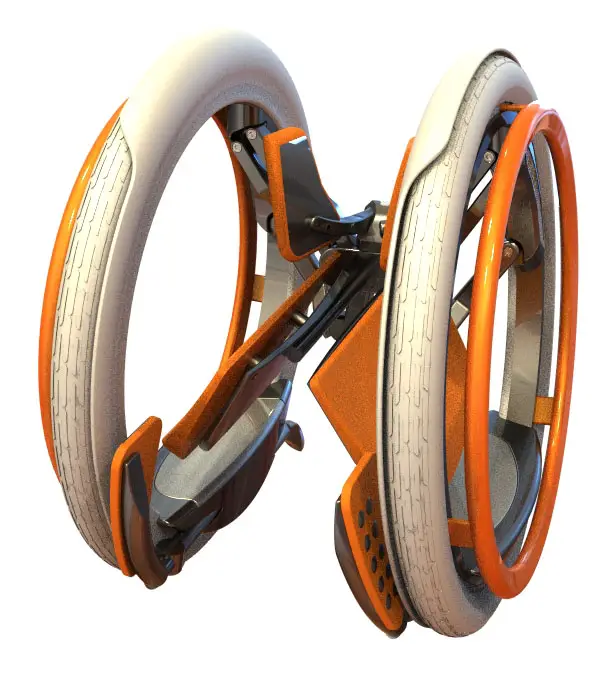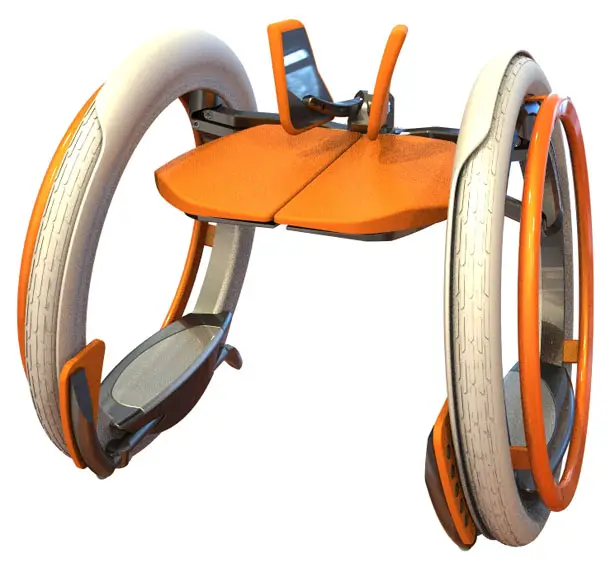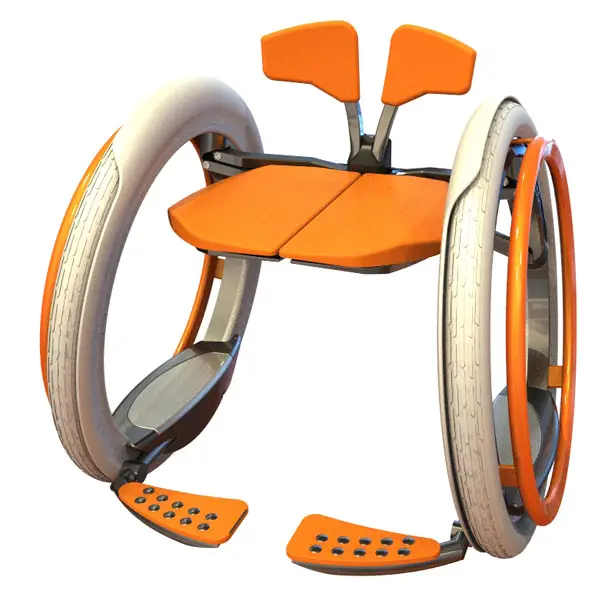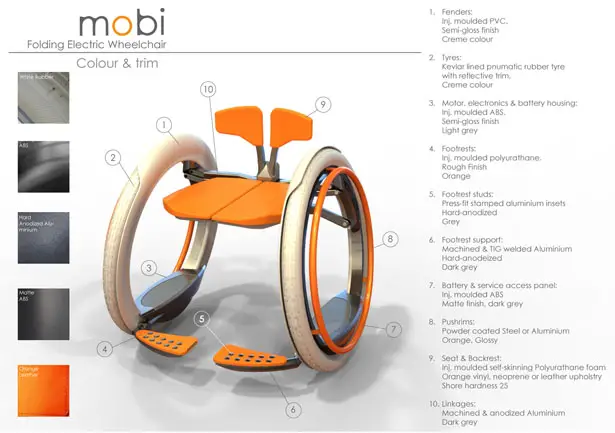 Click above image to get bigger view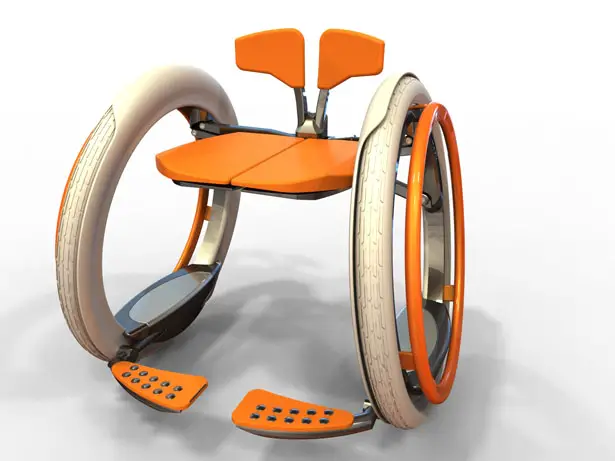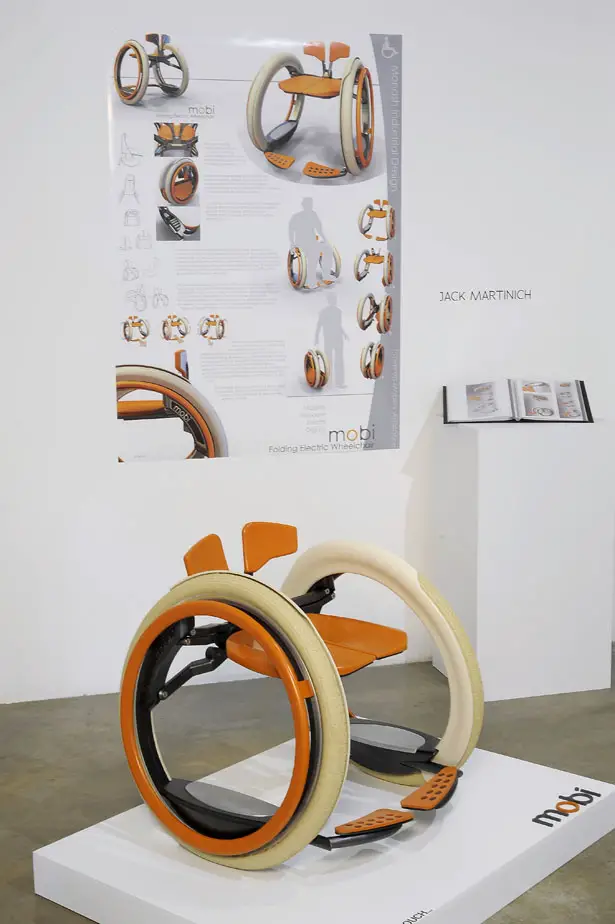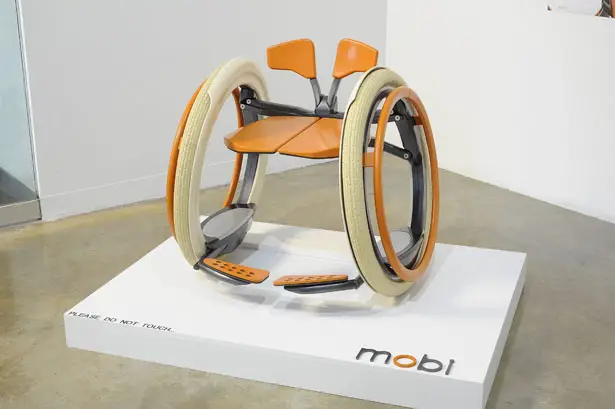 ---
Marshall Dicycle is a two-wheel electric motorcycle in which those wheels can also function as amplifiers when instruments plugged in. Marshall Amplification is one of the most recognizable music industry companies in the world. They are known for their own historic sound. While with new technologies such as digital modeling that are forever evolving, Marshall needs to be re-evaluated with the changing times.
Marshall Dicycle combines rock music in its design which is timeless and can be applied to a futuristic market. Marshall Dicycle preserves the analogue way to control the vehicle. It saves the luggage space under the seat, and offers optional curtain on the top grooves. The power socket locates at the back.
Live, Loud, Play is the essence of Marshall, Marshall Dicycle gives musicians a chance to have a gypsy lifestyle and feel free to have concerts on the road.
Designer : Yuhan Zhang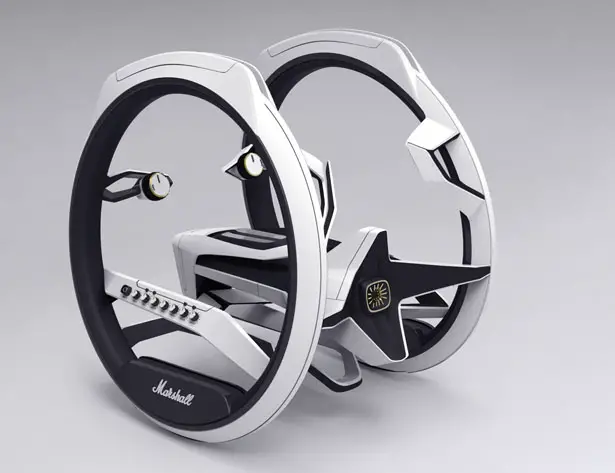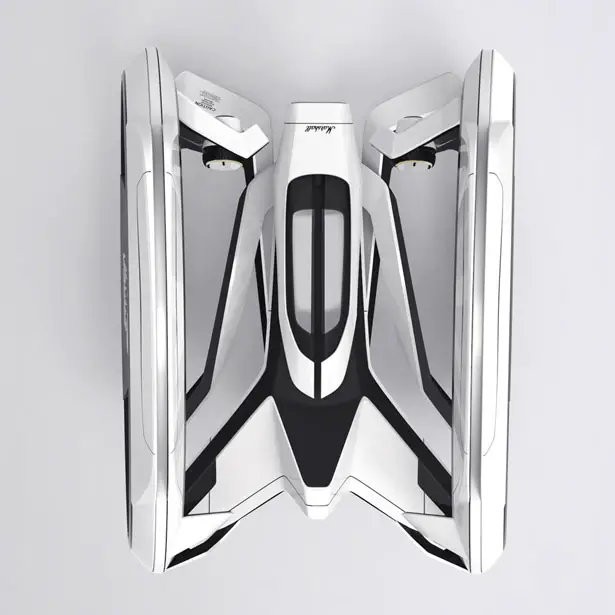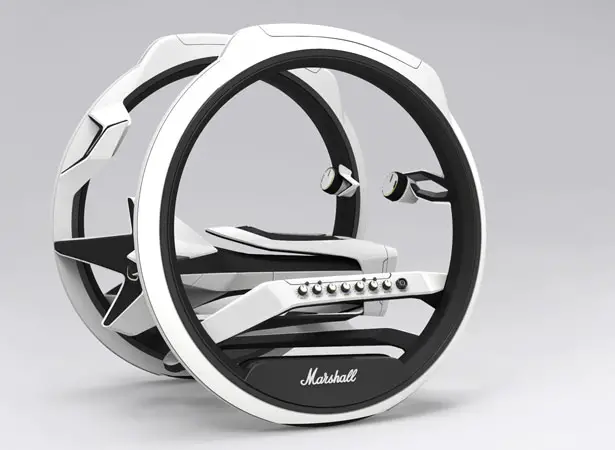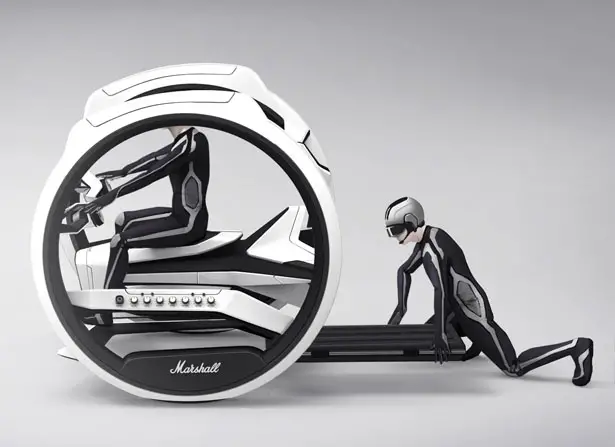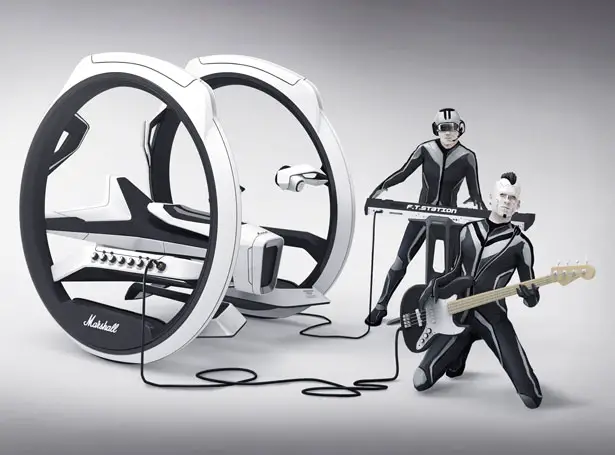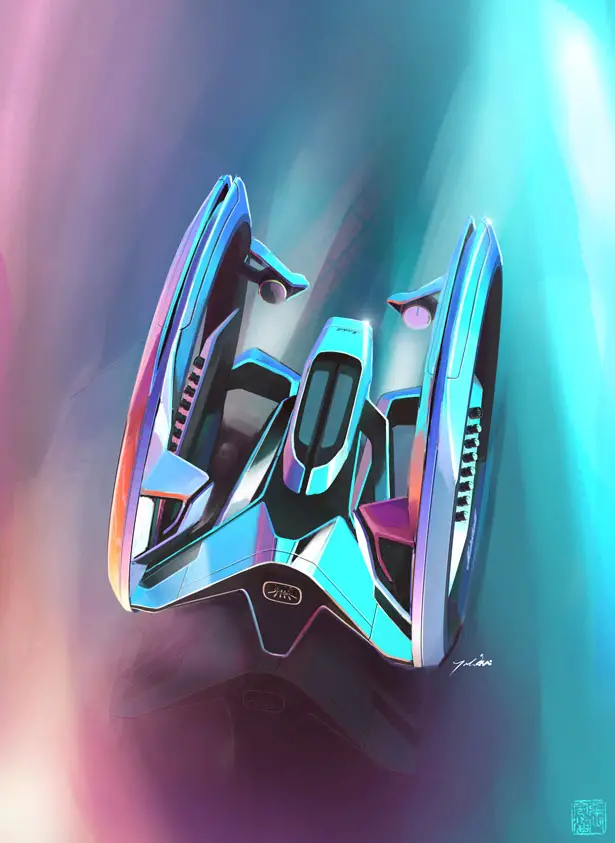 ---