The new Mazda Kazamai is sure a cynosure to the eyes. The vehicle will be unveiled at the 2008 Moscow Motor show. It's an SUV concept with the nature inspired styling cues. The literal meaning of Kazamai in Japanese is 'swirling crosswinds' which seems to have continued in the design with door panels having subtle lines which look like the lines created in the sand. The front and rear lights seem an extension of this inspiration. The glass roof is an extension of the windscreen and looks very stylish. It also comes with a 22″ wheels with a direct injection engine. Overall it is one hell of a looker.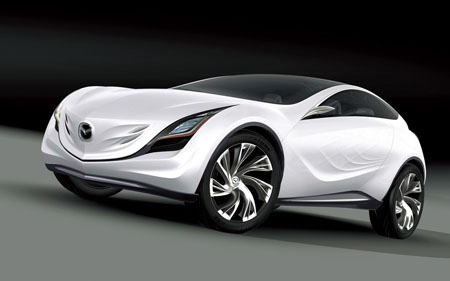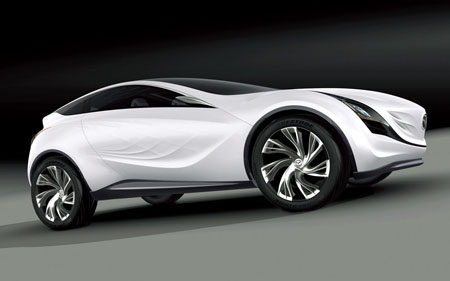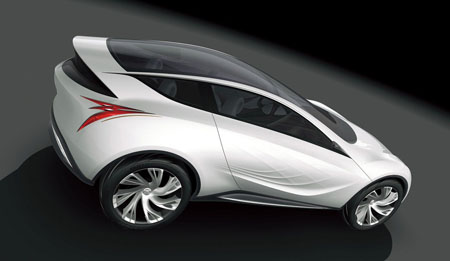 [Images via AutoBlog]
[Press Release]
Mazda Kazamai Concept to Premiere at Moscow International Automobile Salon 2008
HIROSHIMA, Japan-Mazda will unveil a sporty, compact crossover concept vehicle, Mazda Kazamai, at the Moscow International Automobile Salon (MIAS) on August 26. Kazamai, which means "swirling crosswinds" in Japanese, expresses the powerful yet nimble image of a stylish and compact crossover. The concept is based on Mazda's long-term vision for technology development, Sustainable Zoom-Zoom, which aims to provide a unique balance between sporty driving fun and superior environmental and safety performance. Kazamai will be joined at MIAS by the Russian debut of Mazda's CX-9 SUV, which was crowned 2008 North American Truck of the Year in February.
The Kazamai concept further evolves Mazda's 'Nagare' design language by fusing Nagare's 'flow' design cues with aerodynamic proportions. The design features panel lines inspired by crosswinds in nature which evoke visual lightness. Its bold five-point grille, accentuated front wheel arches and sleek roof line, combined with large 22-inch wheels, lend it high emotional appeal.
Sporty to look at, Kazamai is meant to be spirited and fun to drive, with compact dimensions. Kazamai's four-wheel drive powertrain will consist of a next-generation direct injection engine and a newly developed transmission. It is also aerodynamic, with an evolved lightweight body structure and enhanced the vehicle safety attributes. Were it to be built, Mazda's latest show car would deliver exciting driving dynamics, frugal fuel consumption and greatly reduced CO2 emissions.
The Mazda Kazamai promises to be another ground-breaking show car from Mazda Design, winner of this year's Grand Prix du Design in Paris. Created especially for the Moscow International Automobile Salon, it gives a good indication of where Mazda is going with a possible future compact crossover. And in Russia's growing automotive market, compact SUVs are the second-largest segment, representing about 13 percent of all new car sales.
Complete information will be made available immediately after Mazda's press conference at 10:15 a.m. local time, on August 26 at the Mazda stand.
---
With the challenges of global warming and rising fuel crisis, we need an alternative to fossil fuel-powered vehicles. Most Indians are still reluctant to change from fuel powered vehicles to electric one and this action has impacted the electric vehicle market. Future Personal Transportation System project has been designed to answer that challenge which hopefully can help the country in transition to more eco-friendly form of transportation.
Designer : Sanu K R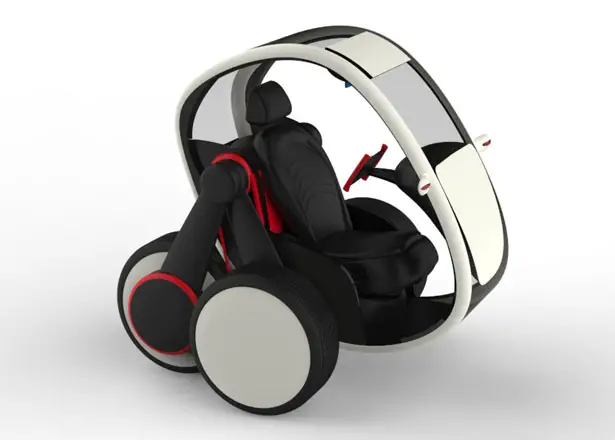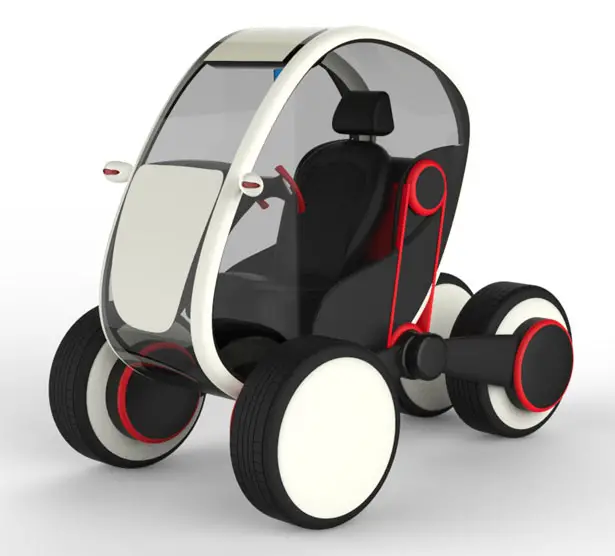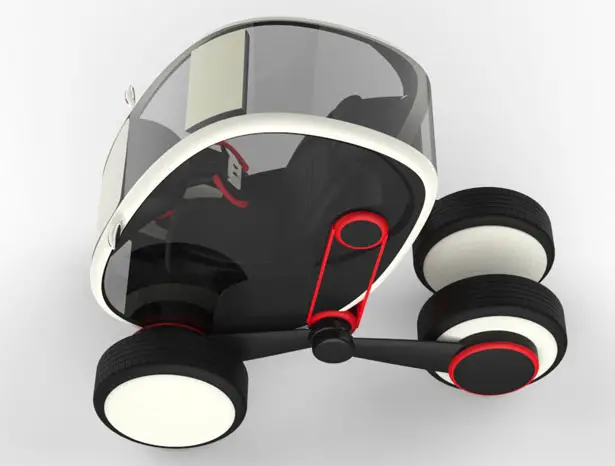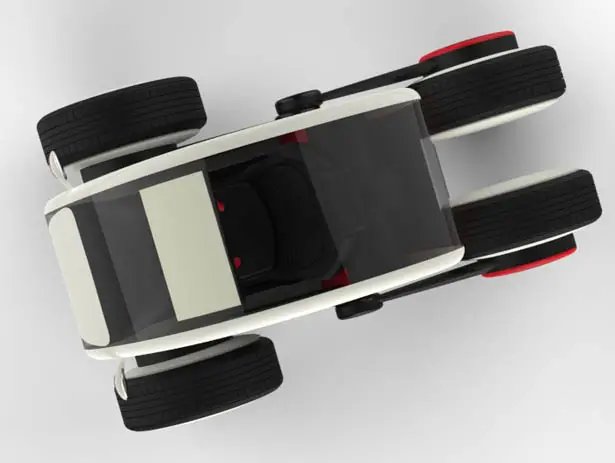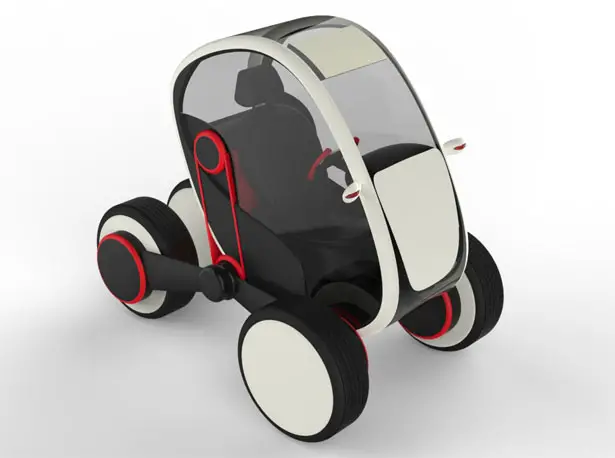 Tuvie has received "Future Personal Transportation System" from our 'Submit A Design' feature, where we welcome our readers to submit their design/concept for publication.
---
When people goes for a picnic, a car that can provide room for social gathering parked in an urban landscape is always desirable, which was the main inspiration of designing the Renault Picnic concept car. This car can become an urban furniture, where people can re-acquaint themselves with the surrounding natural environment with its various functionalities. It features LED-impregnated DOL that allows adjustable and customizable tinting patterns that will make the car's surface a public art. The easy access sliding doors allow convenient entrance. You can attach a bicycle with the rear bumper and can arrange some extra sittings with tailgate rumble seats that slides-out from the front trunk. The Renault Picnic features low-cost and minimalist dashboard with i-pod compatibility which is ideal for new drivers. The modular seating arrangement of this car ensures equal comfort to be enjoyed for all passengers either inside, on atop the rear bumpers or on the front tailgate.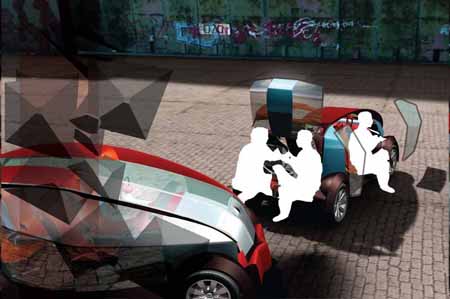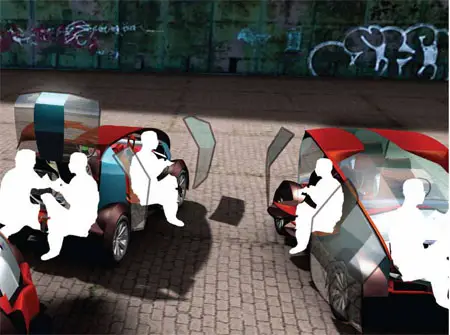 Gabriel says :
The Renault Picnic seeks to augment rather than detract from the health of it's surrounding environment. It is a Zero-emissions vehicle that provides a social function to the parked car within in the urban landscape. When parked, the Picnic transforms into urban furniture, becoming a social space for people to re-acquaint themselves with the surrounding environment. LED-impregnated, glass-coated polycarbonate windows project customized images when the vehicle is parked, transforming the vehicle into a form of public art.
Further considering the environment, the exterior panels are composed of hemp-based composites, and the vehicle is powered by Lithium Ion batteries and two rear-mounted in-wheel hub motors.
In order to reduce cost, complexity and weight, the simple interior is constructed of modular components, with four identical, soy-foam seats and an i-pod doc replacing most of the functions, including sound system and GPS on the dashboard.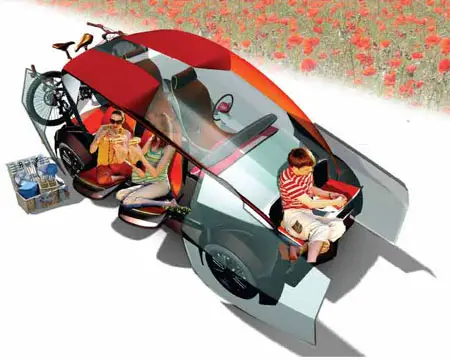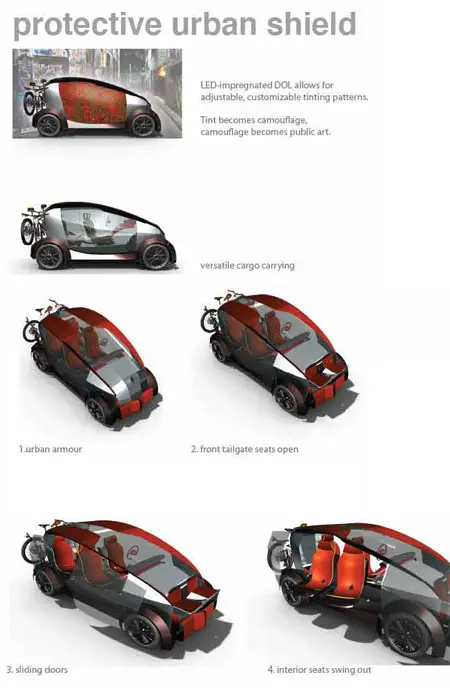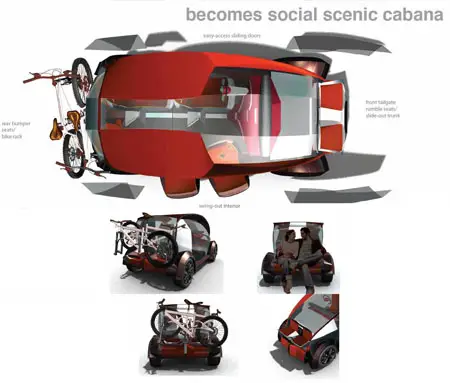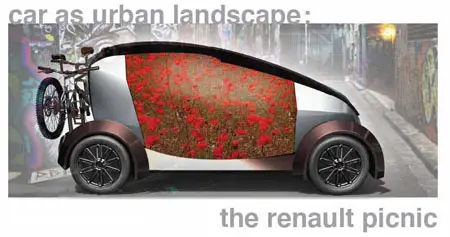 Designer : Gabriel Wartofsky
---