When all major electronic manufacturers try to design and develop new type of screens which are flexible and super thin, a research team from Hasselt University has come up with innovative flexible device called Paddle. This team has done extensive research to bring you a step further to a futuristic device with compact mechanism inspired by 3D puzzles. It is so flexible that you can easily transform from a small phone to a game controller or a tablet. Inspired by Rubik's magic puzzle, this device has been designed by keeping the similar engineering principles in mind, allowing you to switch from one shape to completely different one in only simple steps. It's like having a smartphone, tablet, game device in one, without having to carry big and heavy gadget.
Paddle can be used as a compact phone, make a phone call by browsing your contacts, or when you need to read an e-book or bigger screen, simply fold it out for larger surface. Prefer to wear it as wristband? Yes, you can do so as well. It's a comfortable device for wide variety of tasks.
Designer : Hasselt University Researchers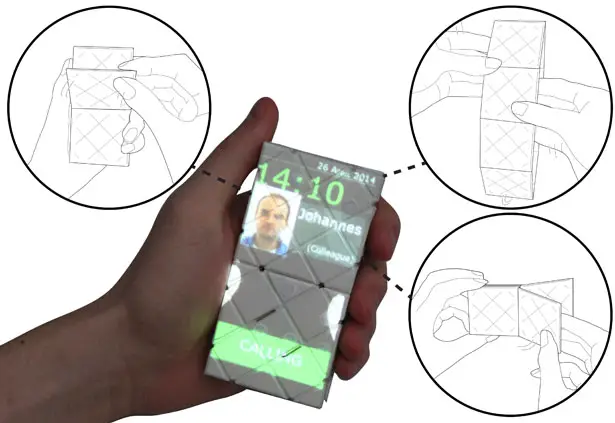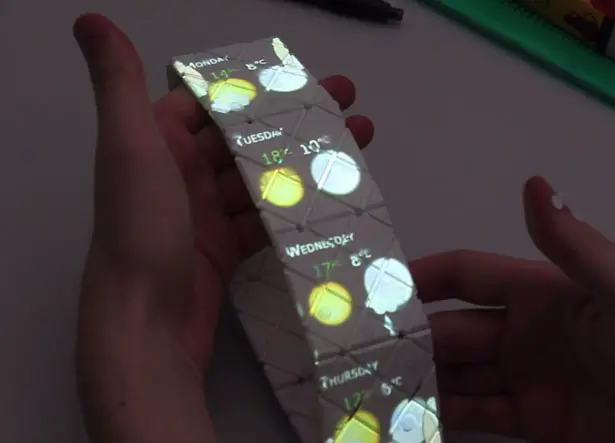 Paddle shape-shifting smartphone's topology is tracked with an optical tracking system along with a projector for visual output. It's impractical, yes, but hopefully in the next 5 to 10 years of development, it would be possible to manufacture an entirely self-contained unit with built-in tiny integrated displays. All these displays can be integrated seamlessly into the design with special wires which might also replace fish wires used for the hinges of Paddle.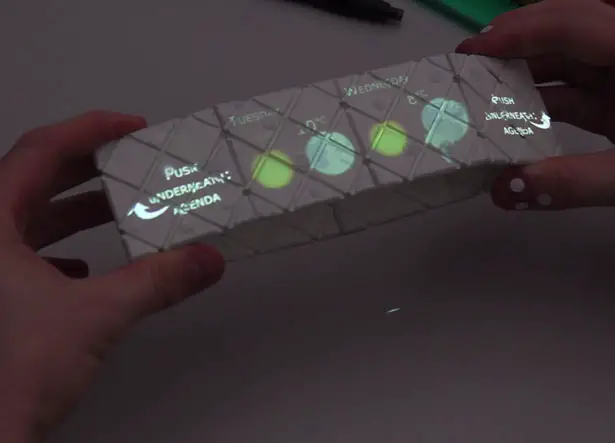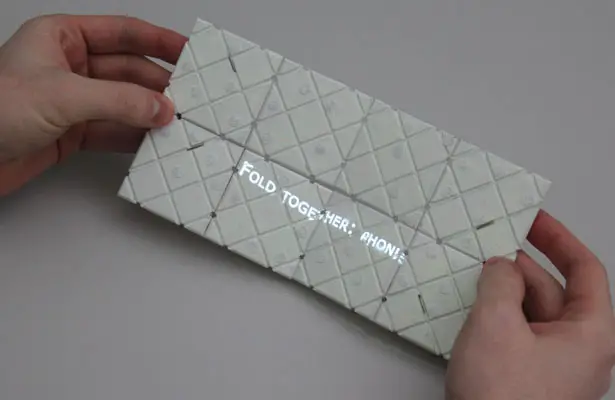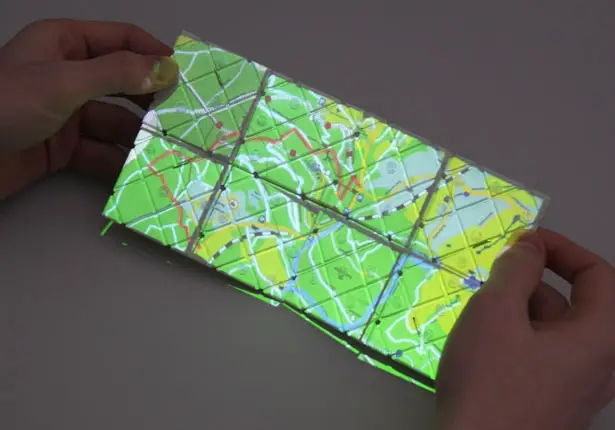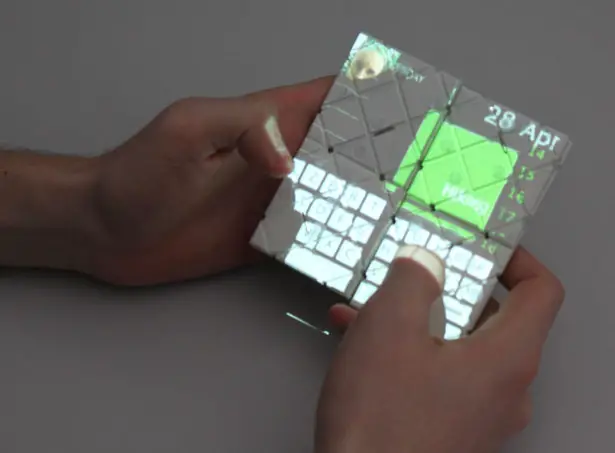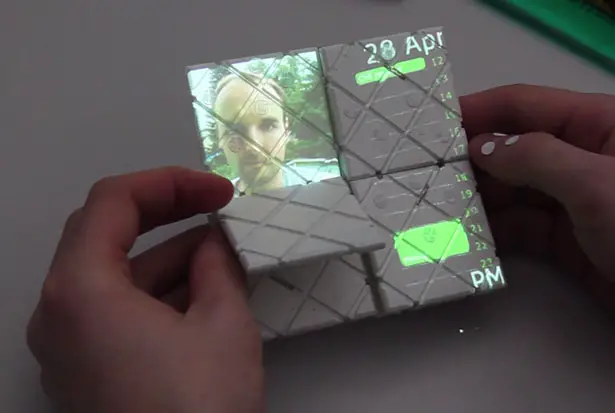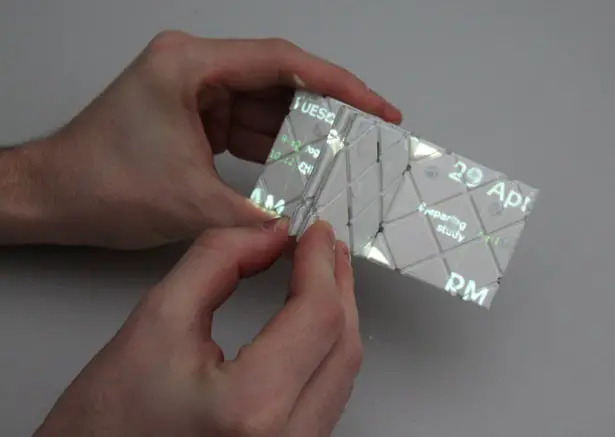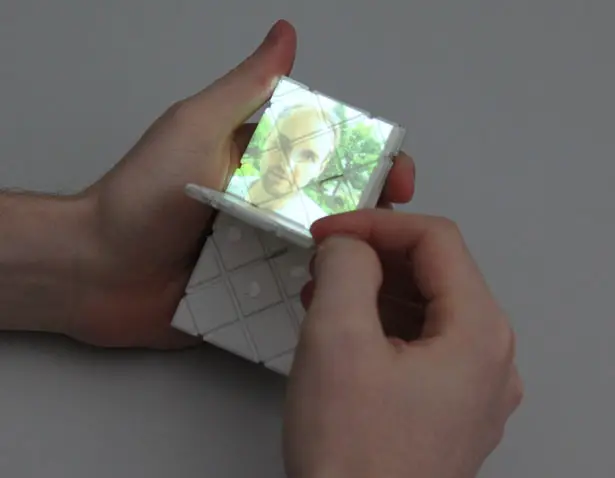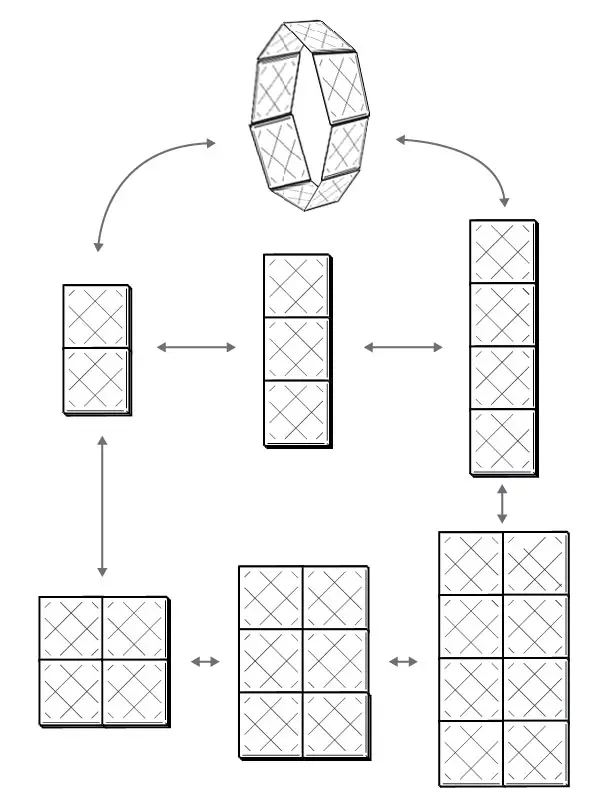 We really love the flexibility, you can transform Paddle into a clamshell phone, you know, old-school flip phone, or a ring to browse and scroll through a list of agenda, or a tablet to watch a movie. Any physical controls will be replaced with touch interactions for every application but hopefully this futuristic device also offers a sense of physical qualities like real world controls.
Thank you to Raf Ramakers that provide us with all this information, we believe Paddle smartphone could be our next generation smart device. Currently, the research team is planning to investigate deeper to develop a system that assists in training user's muscle memory to do Paddle's transformation fast, because obviously people don't like to do any transformation when the interaction with that form is only done for few seconds.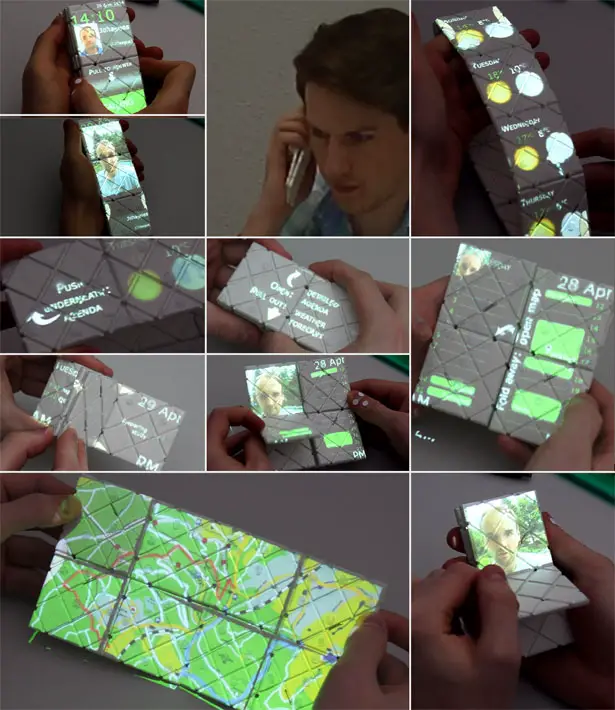 ---
Have you ever heard a joke where a wife keeps complaining that her husband talks behind her back and pushes her around, well, the husband says "what do you expect? You're in a wheelchair". Yeah, that's why Side by Side concept extension handle is a smart idea. It's actually a simple extension handle for wheelchair but it allows caregiver to walk alongside the person seated in the chair instead of walking behind. In this way, they both can have eye contacts, face to face conversation, this is really important especially when taking care kids with special needs, they need to communicate with their surroundings and guardians. All this is made possible with an extension handle designed by Tammy Kalinsky, the concept handle design was influenced by children's bicycle, it also features a horn and flash light so that children can also take part of the walk and have great interactive experience.
Designer : Tammy Kalinsky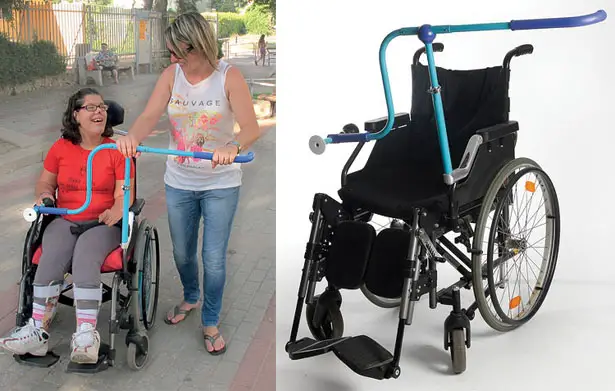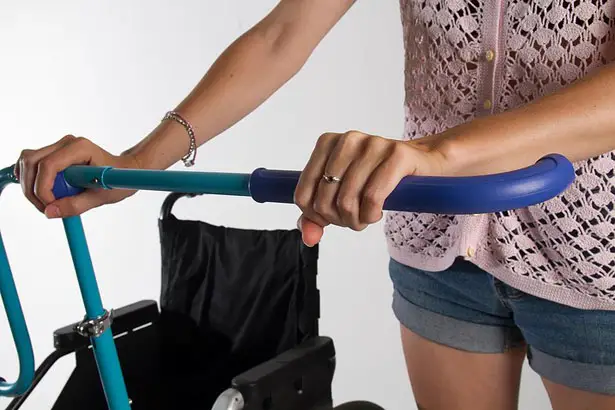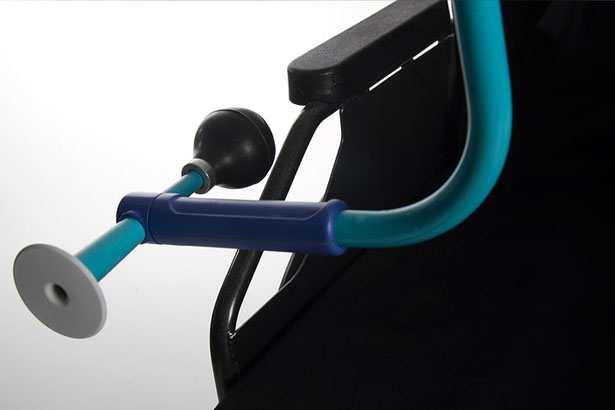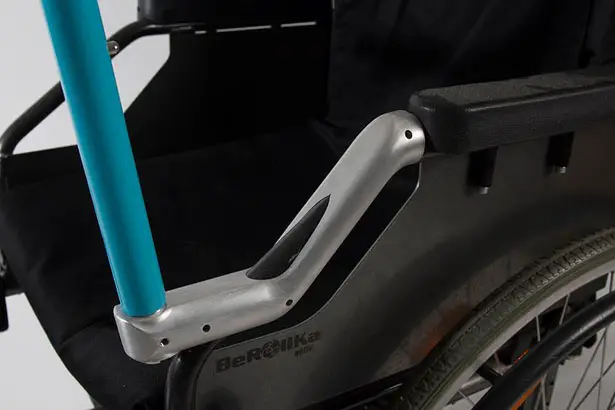 ---
I've been trying to find a way and tool to keep my earphones from tangling when not in use, but no luck so far. This semi-wireless mp3 player seems like a good idea. It's a compact mp3 player with integrated earphones to shorten the need of earphones wire as much as possible. It features retractable earphones. When you place one of the earphones on your ear, you can retract the other one for the opposite ear.
Designer : Mohsen Saleh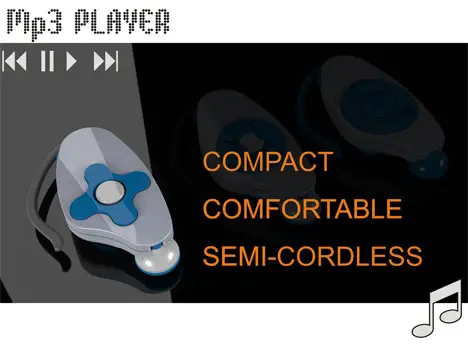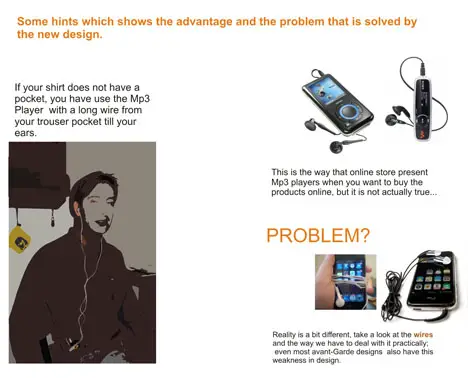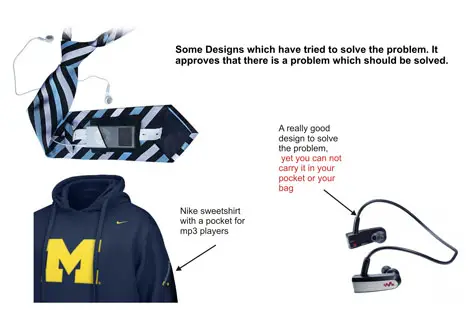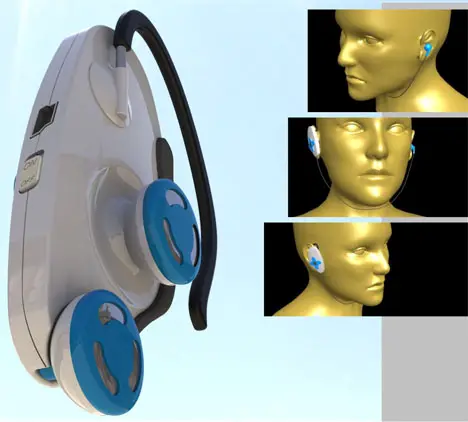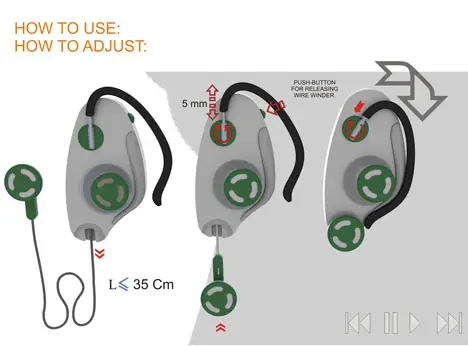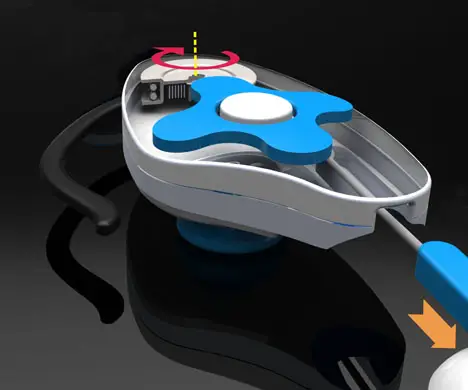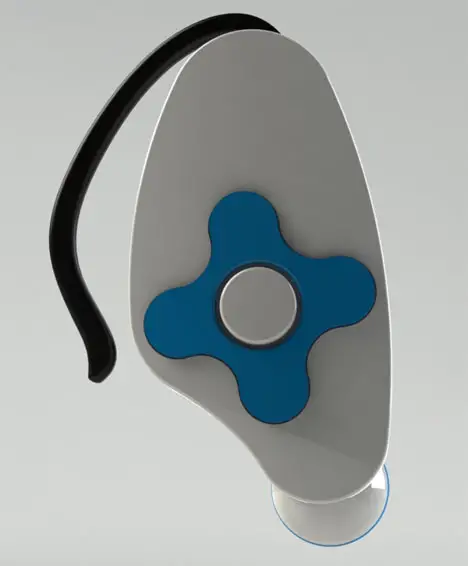 ---