Polaroid PoGo instant mobile printer is a portable gadget that let you instantly print and share photos with your friends whether you're on vacations or just hanging out. This device comes with 2×3 borderless, sticky-back prints and rechargeable lithium-ion battery. From now on, it doesn't matter if there's any internet or phone network connection, just print the photo you want to share in a minute. The results are not cheap photos, in fact, you'll get smudge-proof, water-resistant, tear-proof and fade-resistant photos. You don't have to deal with ink cartridges anymore. [Buy It Here]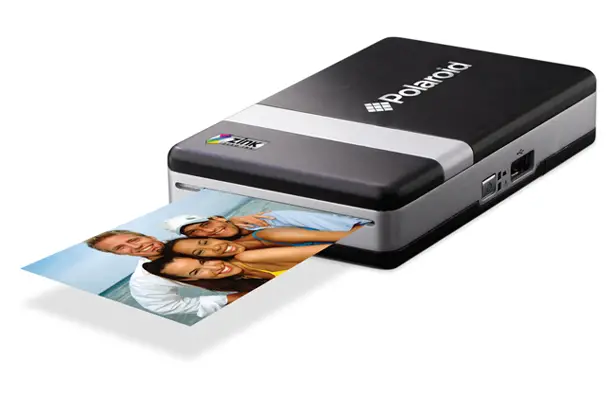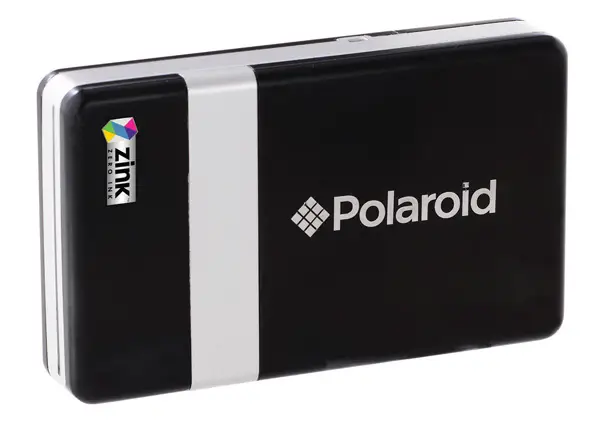 If you work in environment that needs you to view or print documents anytime, anywhere, this could be the gadget that you should carry everywhere. Polaroid PoGo instant mobile printer provides you with wonderful prints fast, all you need is just paper. However, please remember that this portable printer is battery operated and uses no ink at all, don't compare the result with professional printing service. The fact that this little gadget provides wonderful detail and color is already amazing. The cost of photo paper can be a bit steep, but if you buy in bulk, the price for each sheet it's not expensive at all, very cheap actually.

PoGo printer is not designed to be connected to the computer, therefore, make sure your cell phone has Bluetooth or PictBridge when connected via USB to your digital camera. The USB cable is not included in the box, you need to purchase it separately.
Take this handy little gadget with you at parties or any special events, take a picture and print on-the-spot, the removable backing allows the photo to be used as sticker, cool heh? Basically if you are looking for high convenience and easy to use portable printer with decent quality, we highly recommend Polaroid PoGo instant mobile printer. [Buy It Here]
---
"Cheers" is an innovative personal mobile phone concept with the shape of a wine bottle. This device is powered by a green Alcohol-Cell which allows saving battery's energy in a more efficient way. There is a cap-shaped quick function switch on the top of the phone that allows accessing the phone's interactive functions easily. This phone concept doesn't have any physical buttons, rather, when required, the big touchscreen display becomes a full functional qwerty keyboard. With the slim and stylish design along with various handy features, you will just feel like enjoying a wonderful wine when using this phone.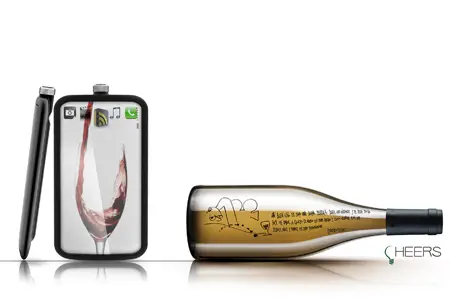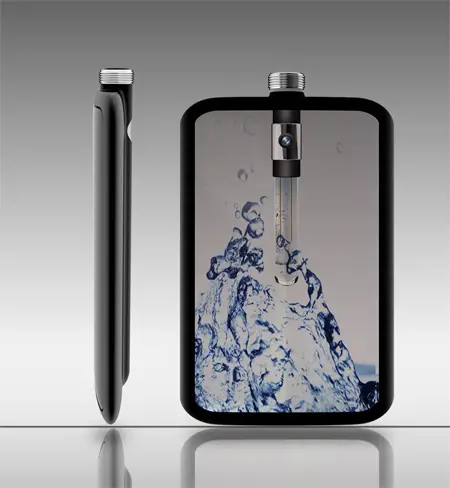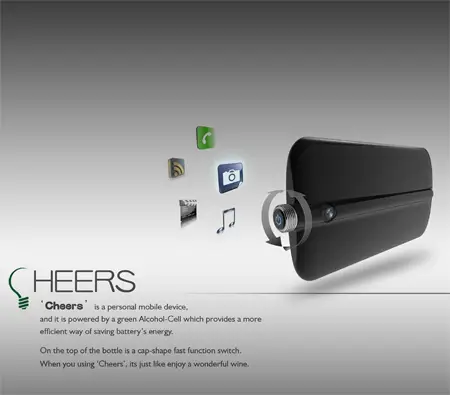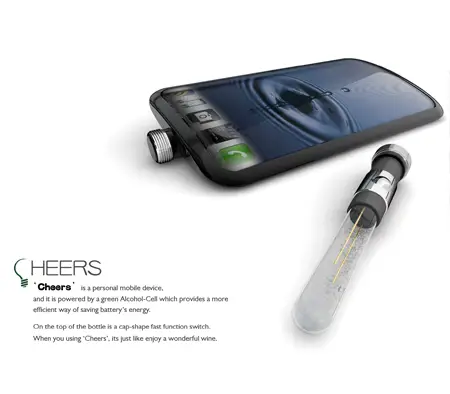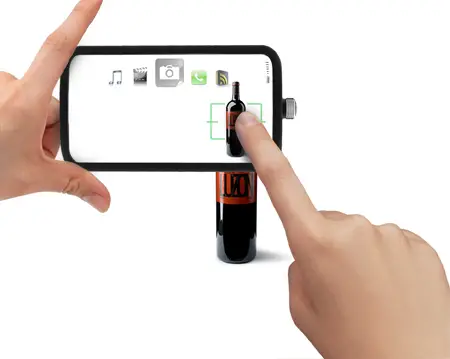 Designer : Tryi Yeh
---
Svepa bike is made up of unique combination of plywood and aluminum giving an elegant and eye-catching look to the bike. This innovative design of Par Blanking from Sweden is a multi purpose bicycle. It can be used as a normal bicycle or used by two people. One person as easily sits on the back seat and other person can stand on the rear footboard. The wheels also differ in size to make a balance. The smart use of a metal framework topped by plywood panels in this bicycle has come up as the most practical design you would have ever seen.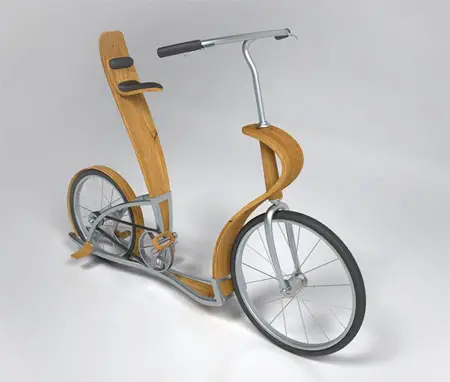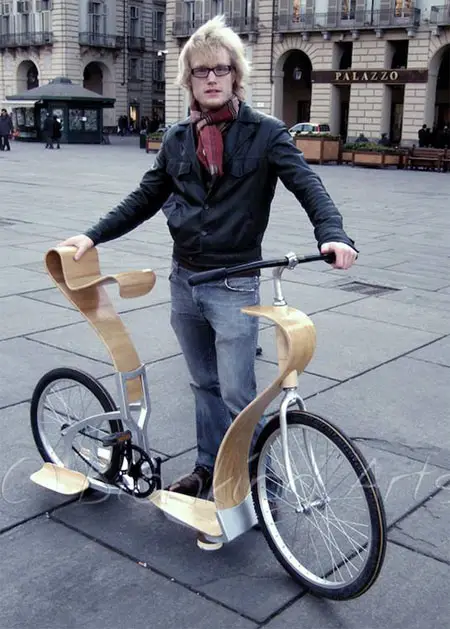 Text from designer :
The bike is designed taking eco-commuting to the next level. The research and prototyping was built upon cleaning (fishing bikes from) the river Po' in Turin, Italy, to get material for the first prototype. Cheap and as fast as possible. In the same time it directed the project towards the "No Oil" manifest and the integration of nature and it's material in the bike. Laminated wood and aluminium was chosen for the frame. This gave the bike chock-absorbing character, and integrated fenders into the frame. The bike has it target among a hi-end, trend sensitive public, looking for fun while commuting short distance. You can carry a second passenger behind you, and the "surf deck" between pedals and front fender allows you to use it as a kick-bike. Very useful crossing streets and in crowded places were pedaling is difficult or even dangerous.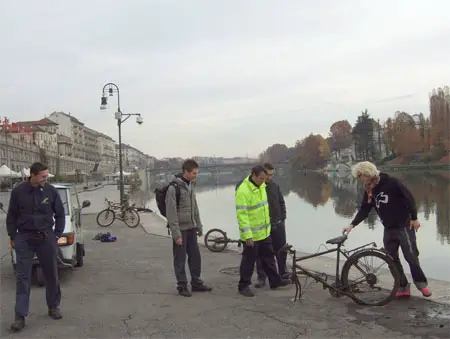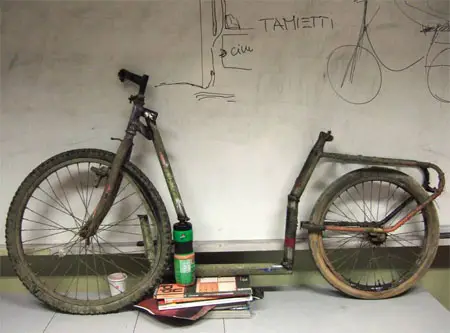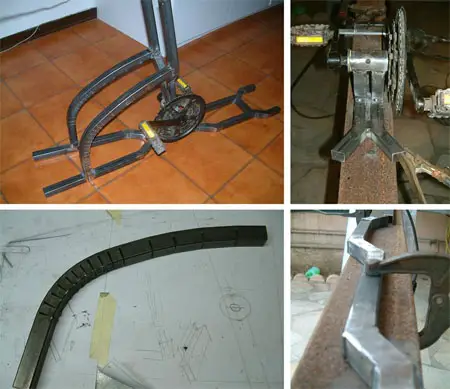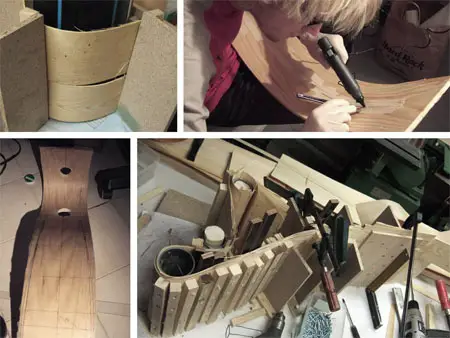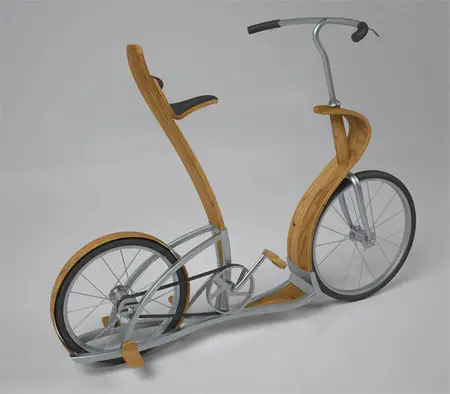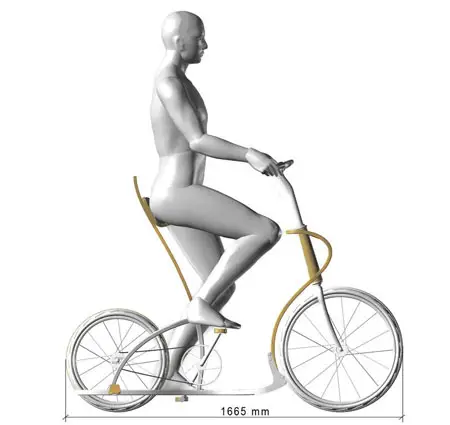 Designer : Pär Blanking
---