Outdoor enjoyments are a real fantasy, provided you have all the necessary things with you. But, what if your gadget runs out of power? This can make you geeky. Well, worry no more! Power your gadget right away with the new PowerTrekk fuel charger. This small and handy fuel charger acts as a lightweight charger and serves its purpose especially during instances where people are away for their home for long periods. The device is ideal for people who wish to camp but want to have their music player going. The charger consists of a two-part system and features a hydrogen fuel cell together with a battery pack. The portable battery pack serves dual purpose of acting as a storage tool for the fuel cell or can be charged on its own. The device features a USB port that can charge any gadget that requires a USB port for power. The only constraint is that you need to carry the charger cables with you. With a novel fuel pack and water, you can keep the fuel cell in working condition. The price is still unknown. Hopefully we can do hands-on review of this cool portable gadget.
Designer : Powertrekk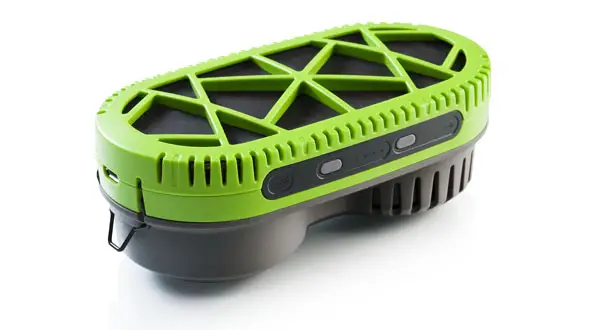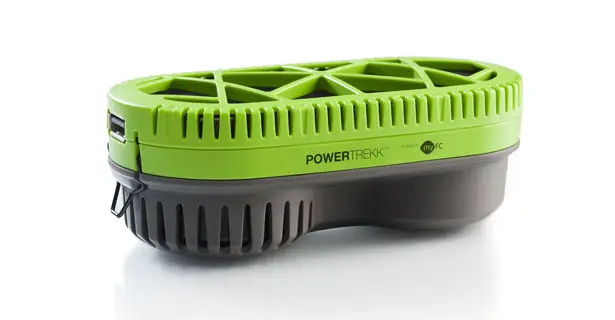 [Press Release]
Portable Fuel Cell Charger Provides Instant Power Anywhere PowerTrekk is a fuel cell driven power source for mobile phones and other electronic equipment. Unlike other portable chargers, PowerTrekk provides instant and reliable power anywhere, making it ideal for outdoor enthusiasts and business users in emerging markets. Stockholm, Sweden – February 11, 2011
– PowerTrekk is a pocket size, lightweight charger for users who spend time away from the electricity grid. Providing instant power anywhere, PowerTrekk uses advanced fuel cell technology which cleanly and efficiently converts hydrogen into electricity. With its rugged, waterproof casing and robust technology on the inside, PowerTrekk is designed to match demanding requirements.
PowerTrekk is a 2-in-1 solution that is both a portable battery pack and fuel cell. The portable battery pack can be operated on its own as a ready source of power or storage buffer for the fuel cell. The fuel cell enables instant charging from a depleted battery state without ever needing a wall charge. Users simply insert a fuel pack and add water. To charge portable devices – for example mobile phones, cameras and GPS devices – users connect a device to Power Trekk via a USB port. "PowerTrekk has a competitive edge over traditional portable chargers. Fuel cell power is generated immediately and charging is not impacted by weather or the position of the sun, as for solar panels. Compared to battery powered travel chargers, PowerTrekk offers reliable charging as the fuel packs do not deplete as batteries do," said Björn Westerholm, CEO at myFC, the company behind PowerTrekk.
myFC is a Swedish fuel cell technology company that develops solutions for powering portable electronics. Having secured numerous patents around proprietary shape-flexible fuel cell systems with record high power density, PowerTrekk is the first commercial portable charger using myFC technology. Since the hydrogen fuel can be supplied from several alternative sources, the system is "flexifuel". The chemistry process is safe and eco-friendly, and the only by-product from the fuel cell is a little water vapor.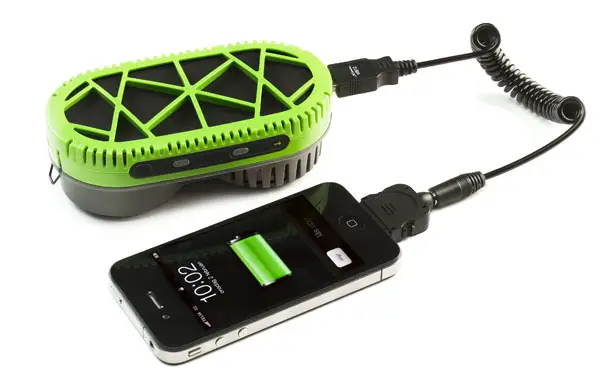 ---
Rain Soft project is a waterfall-inspired shower design to bring you the experience of showering in the nature into your home. The waterfall sight in the nature attracts everyone, watching or showering under it creates a relaxing felling. Keeping this in mind, these 2 designers attempt to simulate the relaxing scene of the waterfall inside houses and apartments, so that, you can also experience the joy of taking shower under the waterfall at the comfort of your own home.
There are two types of splashing in this design. First mode: The density or concentration of the water is in the middle and you can wash body. Second mode: The water is poured vertically and forms a ring that surrounds you where you can shampoo and wash in the center of a water wall. This rain wall can be lighted using different of colorful LEDs embedded in the ring.
Designers : Naser Nasiri & Taher Nasiri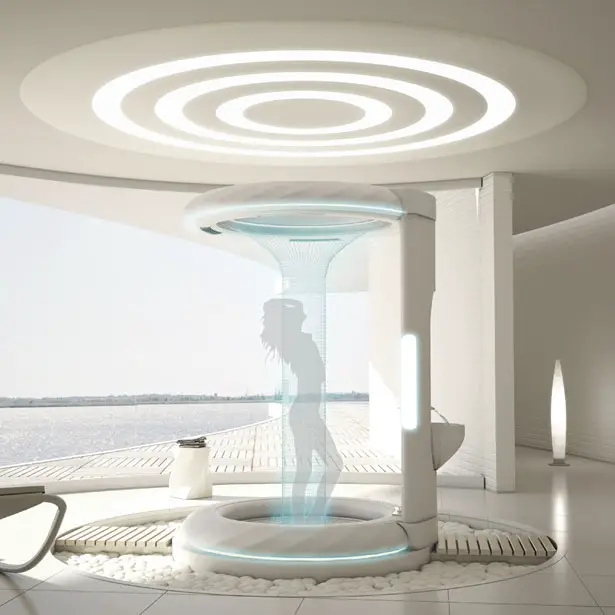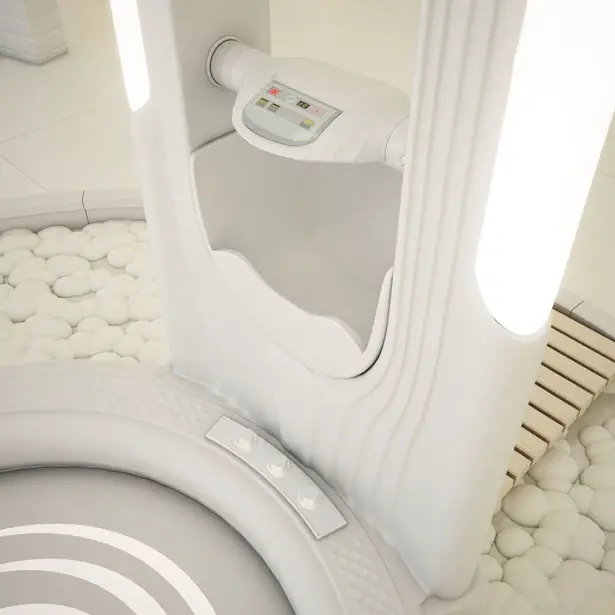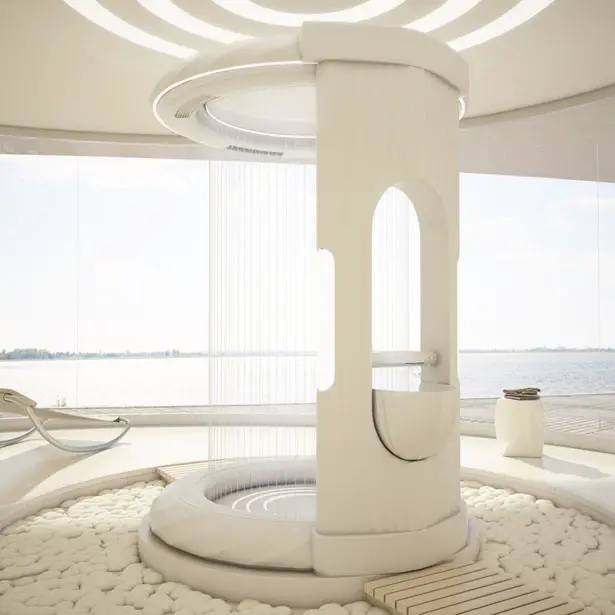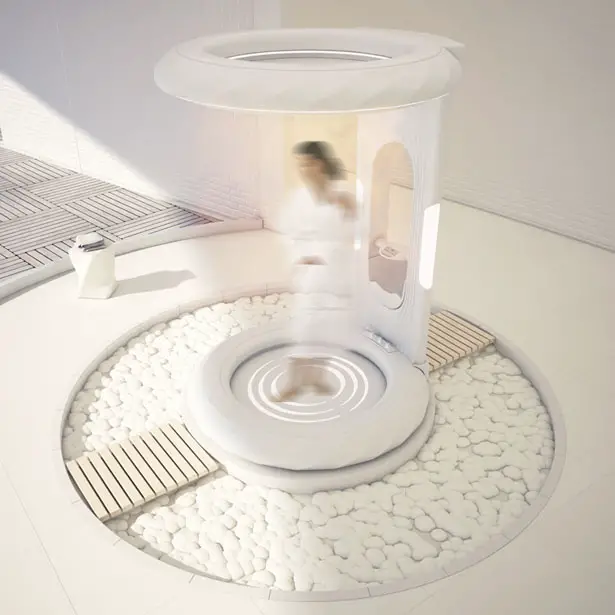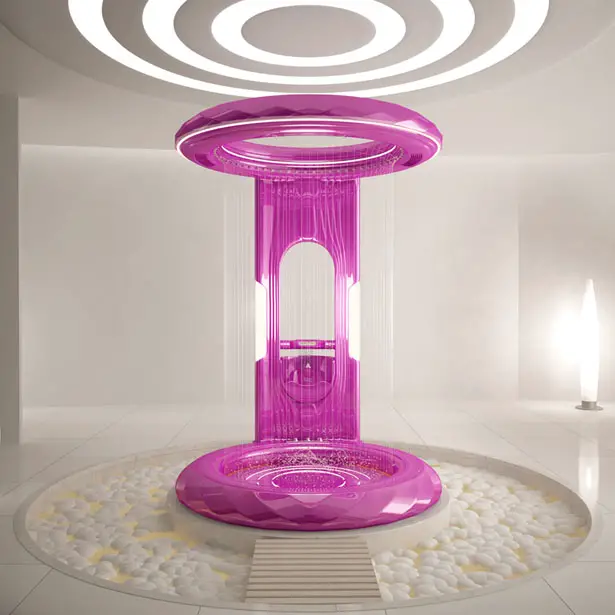 Tuvie has received "Rain Soft" project from our 'Submit A Design' feature, where we welcome our readers to submit their design/concept for publication.
---
A public toilet next to Tiananmen Square in Beijing has been designed by Michael Young. This modern toilet design was developed to suit the existing environment which was de-commissioned due to ill repair some years earlier. Traditionally, all neighborhood would depend on these facilities since the local housing was built without toilets that gives context to the historical significance of this site.
The location of this toilet is near one of China's most important cultural sites, Tiananmen Square, this toilet is also around the classic stone work of basic local housing. The architect has come up with concept that reflects these 2 extremes.
There are 2 crucial challenges in building the structure, one, interior has to be solid and functional and second it has to have minimal foot print. The architect has developed a series of 4 units that offers the user both privacy and stimulation. You need to remember the classic toilet usually has 5 holes in the ground with no flushing or partition, in this structure, it's really important to improve user quality of life through additional drainage and privacy (some public bathrooms in China don't have doors). The interior offers user easy cleaning, great air flow, and management of the industrial aspects that are housed such as power terminals and drainage.
Designer : Michael Young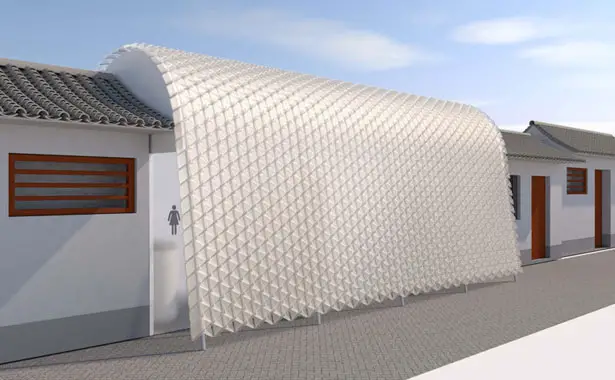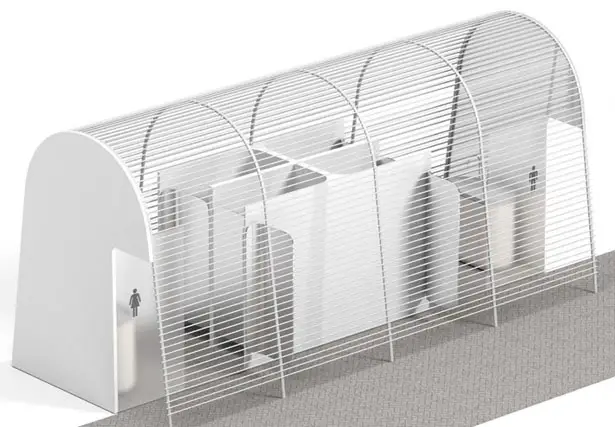 This Public Toilet uses glass tiles framework, a nice covering that's not over-designed and easy to construct in limited space, at the same time, they don't compete visually with the building. These tiles have been designed to deflect both light and rain, the material provides great insulation to help with extreme temperatures which usually happen between summer and winter.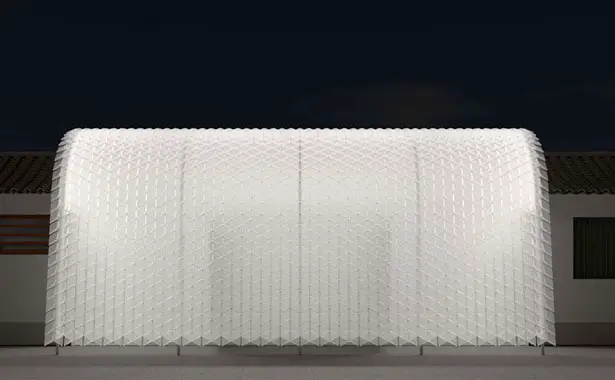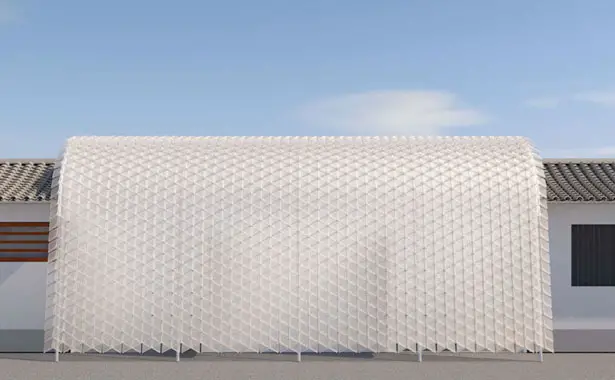 ---