Tempus Electric Bikes was a company founded in June 2015. They are a manufacturer of electric bikes, currently in its early stages. An electric bike (e-bike) is a bicycle that is powered by an electric motor, rather than just by pedaling. You can either use the full electric feature which uses a throttle, requiring no pedaling, or use pedal assist for exercise. Electric bikes are a healthy medium between a bicycle and a car. They remove the problems of a car, such as parking, insurance, gas, traffic, and they allow the rider to get to work on hot summer days, sweat-free.
The two founders of Tempus are Ikenna Ofoha and Xavier Chan. These two have a vision of bringing back the fun into commuting in a unique style, which has not yet been seen in the world of bikes. On the roads today, bicycles and e-bikes lack a certain level of style. Both founders are 19-years-old and have always had a dream of starting their own company. Ikenna is the engineering mind, always thinking of improvements and design, and Xavier is the business mind providing the much needed structure. They saw an opportunity to fulfill their dreams by starting Tempus.
Designers : Ikenna Ofoha and Xavier Chan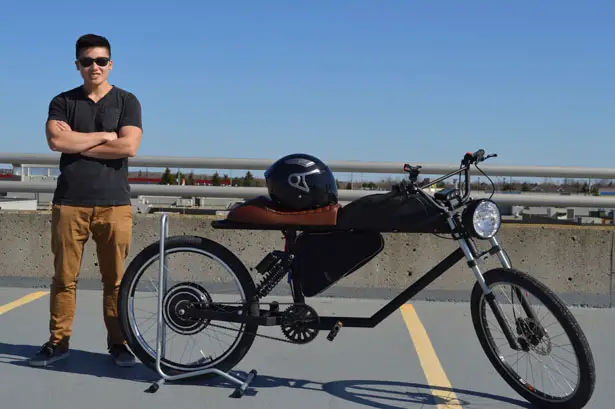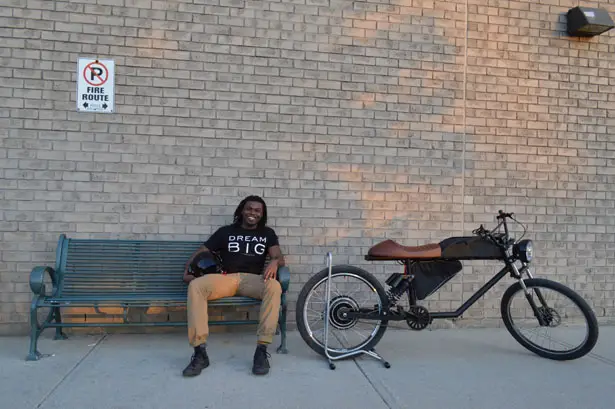 Ikenna, formerly an engineering student at Ryerson University decided to leave school after his first semester, to focus his undivided attention to building Tempus' first product. He has a passion for building things, and has been teaching himself how to build and wire RC cars, electric guitars, and a high-speed electric bike from a young age. Xavier currently studies at the University of Guelph, completing his bachelor of commerce in Economics and Finance. He has an interest in the finance industry, and would like to travel the world one day.
Unlike any other e-bike currently in the e-bike market, Tempus' is different. It's design was inspired by a 1960s cafe racer motorcycle, which boldly brings together the newest battery technology, with a stylish design of the past. Tempus will be launching a crowdfunding campaign in mid-June, in which they take pre orders for the first models priced at $3600. The company boasts the high quality of its bike, which is built of aircraft grade chromoly steel, and is hand built in Canada. This type of build quality rivals the higher end e-bike models that range from $5000 – $7500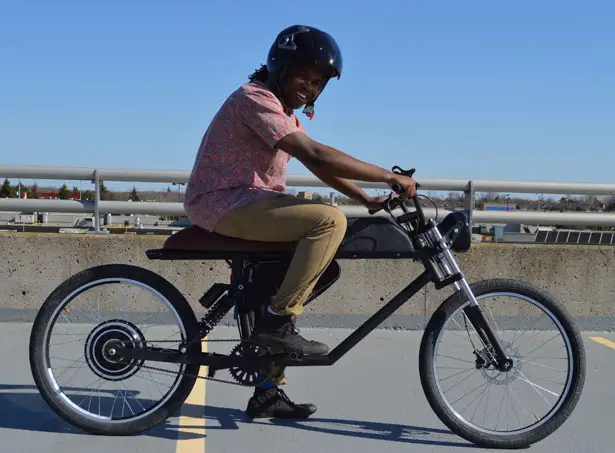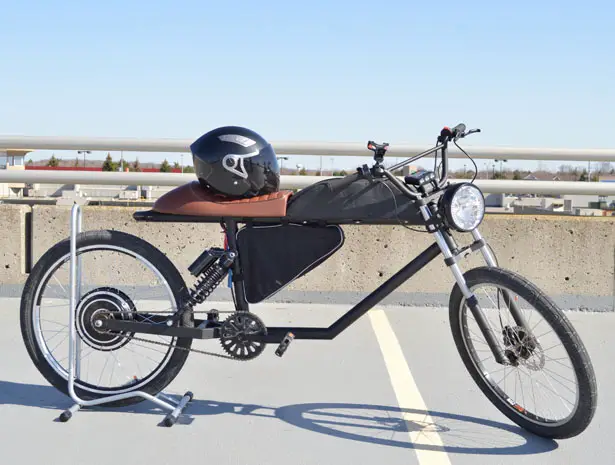 Tuvie has received "Tempus Electric Bike" project from our 'Submit A Design' feature, where we welcome our readers to submit their design/concept for publication.
---
In winter, lakes and rivers usually freeze but only on the surface, allowing fish to survive beneath the ice. However, as winter progresses, oxygen levels begin to drop as well as food, yes, fish can learn to adapt to survive, but not all of them can do that. We could create holes to save the fish, but people also might accidentally fall into the ice hole, so, keeping this in mind, Fish Hole is created.
It is a weighted double-layer column which can be placed in lakes or ponds before icing up to create safe, uniform ice holes. Once the column is frozen in place, you can remove the inner tube to allow the oxygen in. at the same time, it can be used for fish feeding or fishing. The bright colors of this unit offer a nice warning about the presence of holes in the ice.
Designers : Jian Zhang (Prof) and Wanli Yang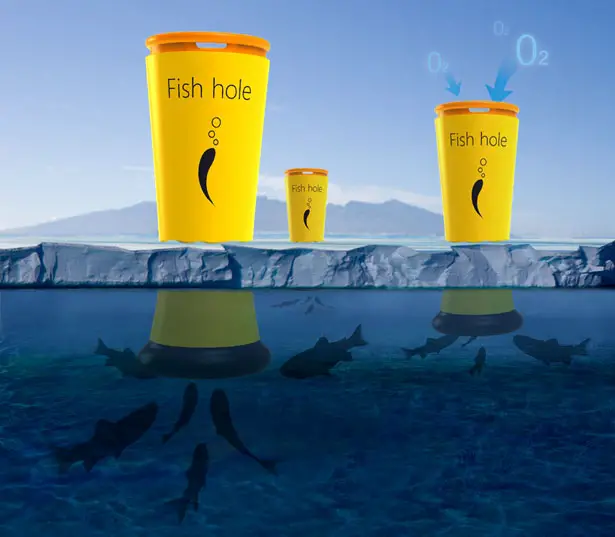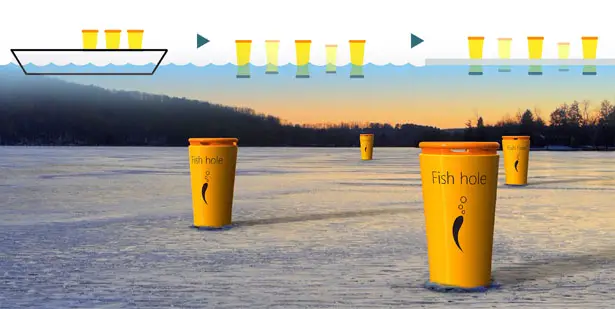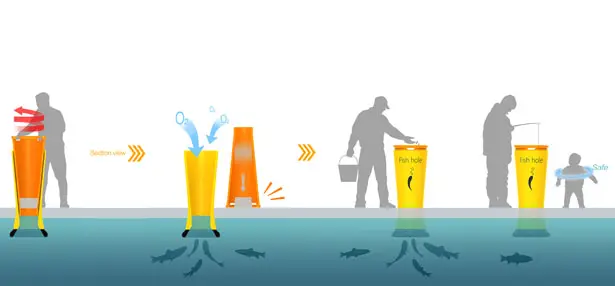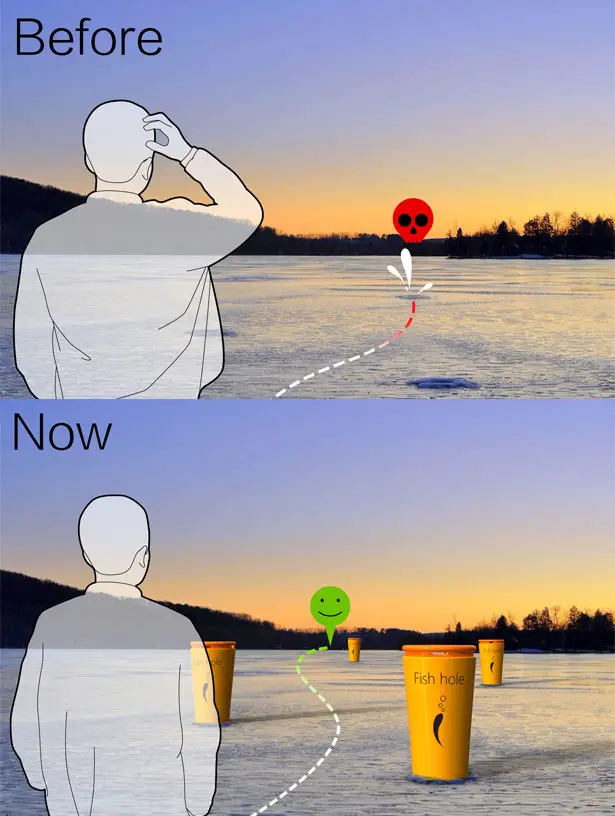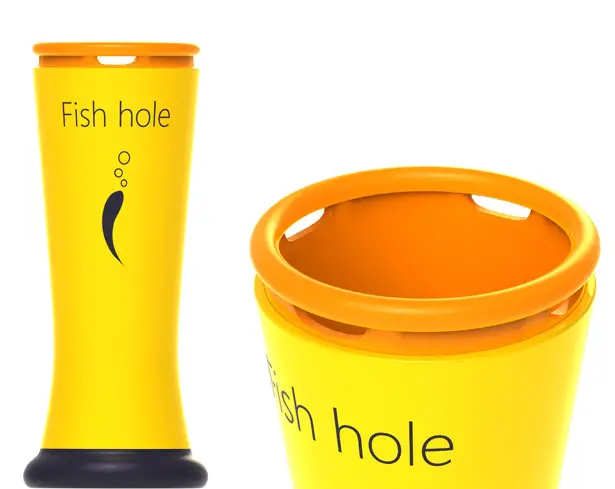 ---
This product represents a combination of modern as well as traditional features of a telephone. Icono has been designed to offer a unique experience to its users. The design is based on the hand gesture that people use to represent the telephone. There are two parts of this handset, one is earphone and another one is microphone. Therefore, the user has to use the iconic gesture while using the telephone. The modern part of this device includes the touch screen that shows the animated path to the user for dialing the numbers. Overall, this two-piece design is sleek, impressive and creates a touching interaction between the phone and user.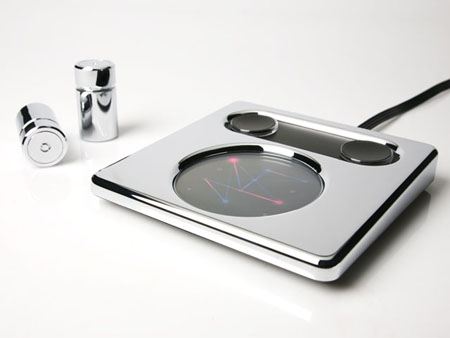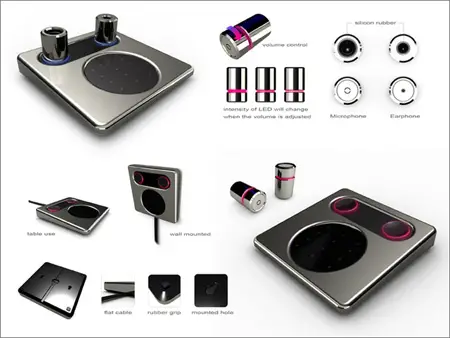 Text from Zinc Chan :
The Icono has created a new experience for the telephone, which is a very traditional product. I have based my design on the iconic hand gesture people use to represent the telephone. The handset is divided into two parts, earphone and microphone. This invites the user to use the iconic gesture when using the phone. When the user dials the numbers, an animated path is shown on the touch screen. Therefore, people start to remember the person by their unique pattern rather than the numbers. This, together with the two-piece handset creates a more emotional interaction between the phone and the user.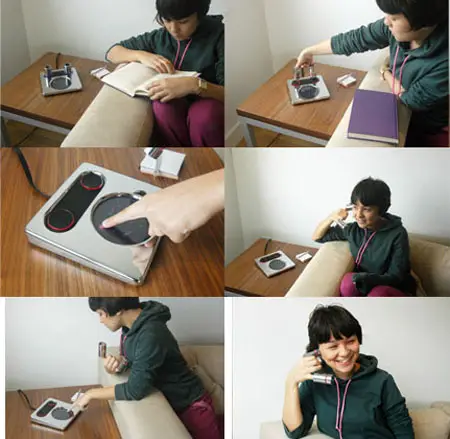 Designer : Zinc Chan
---