Swissvoice L7 Telephone by Kiwi & Pom features timeless design, playful, and practical. It sets new standard for home telephone design, with great attention to details, this cordless phone blends bold personality and user-friendly functionality to offer you incomparable telephone experience.
Swissvoice, as a brand, includes some design signatures that represent classic Swiss values. Together, this company and Joel Blair, the art director of Kiwi & Pom, and composer James P. Cooper, have designed and developed iconic home cordless communication that should be the gold standard in next generation design.
Designer : Kiwi & Pom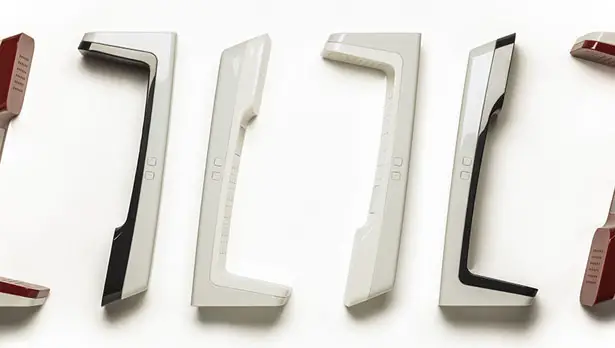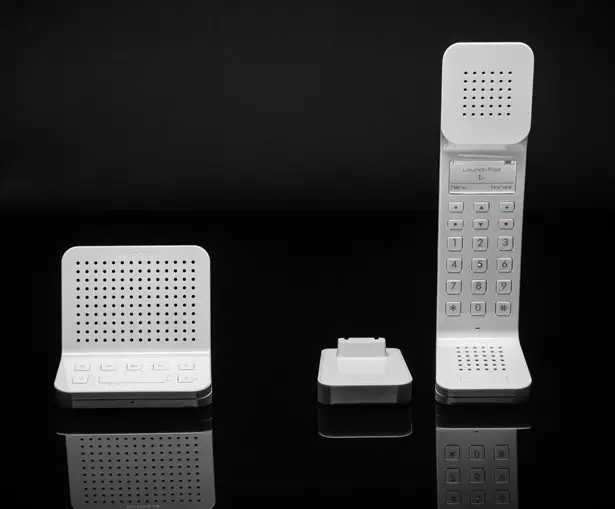 L7 boasts robust construction with high quality components, a product that's built to last for generation. Since most people use mobile phone nowadays, home phone has been poorly designed and cheaply constructed. Swissvoice wanted to change that by designing home phones that connect to the home they inhabit.
Swissvoice L7 Telephone consists of 3 piece phone packages: upright handset, minimal charging dock, and stylized base station. Every details are carefully designed and tested, right down to the interface, screen icons, and typeface. Some inspirations were drawn from old spy movies and science fiction shows, making this phone both classic and refined while remaining playful and distinctive.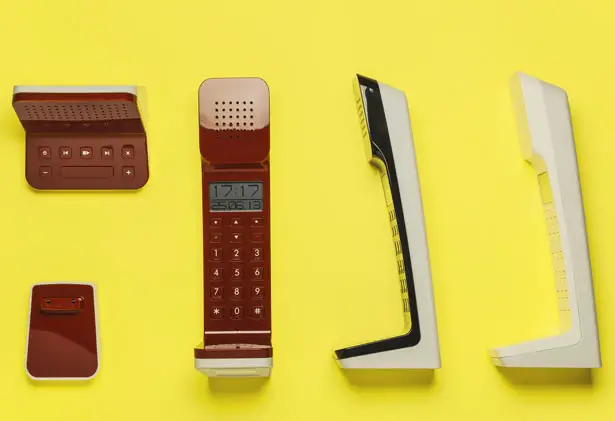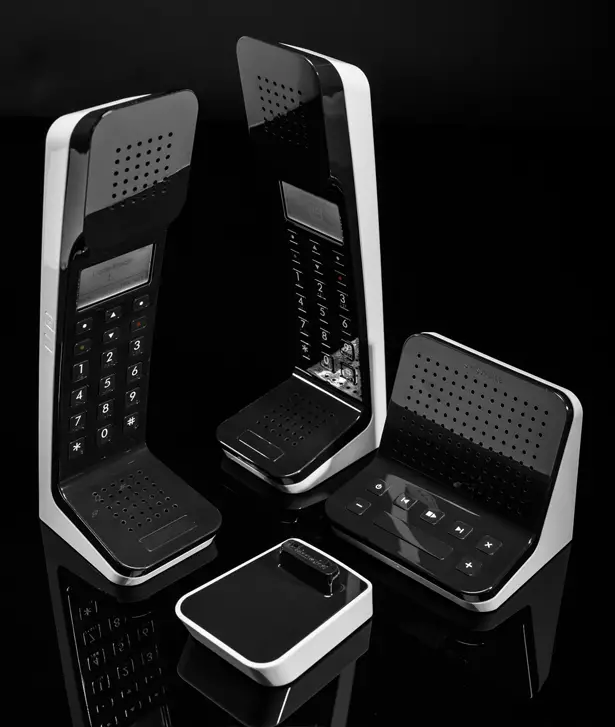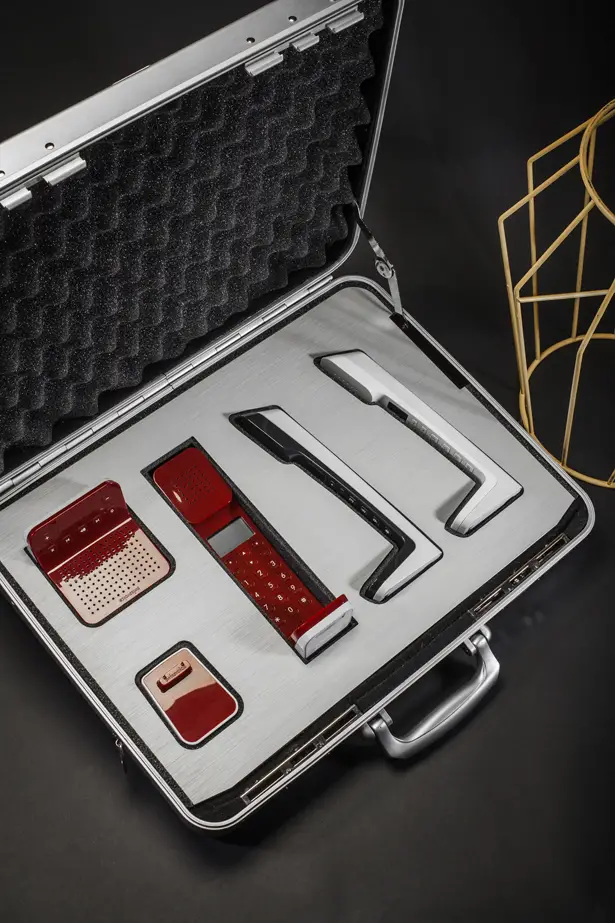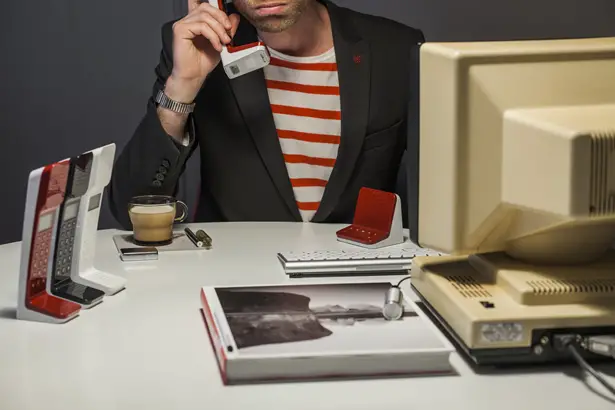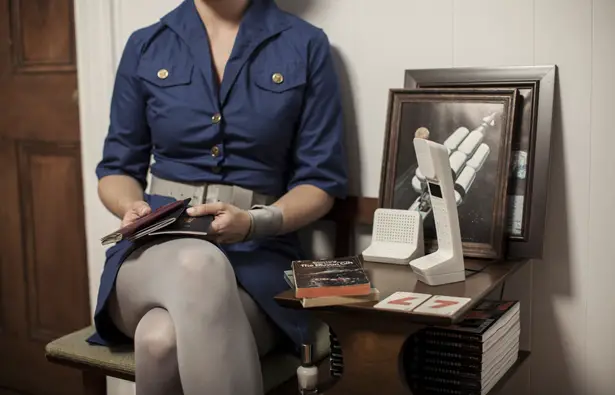 Tuvie has received "Swissvoice L7 Telephone" project from our 'Submit A Design' feature, where we welcome our readers to submit their design/concept for publication.
---
Alpha is a concept car that creates a link between a regular car and a lighter vehicle such as bicycle or a motorcycle. Due to its compact size (3000 mm length,1500 mm width, and 900 mm high ) this electrically powered single-seater vehicle would be ideal for a dynamic young population living in continuously growing cities of the future. The uniqueness of this car lies in its wooden chassis. Designed by Rustam Schogenoff, you can read his explanations about this futuristic car below.
The idea here is to replace all the complex and heavy engineering components of a vehicle by technical properties of the natural materials. One of these materials is wood. This simple material has a number of excellent building physics properties. The main ones are: strength, hardness, lightweight, elasticity, toughness, decay-resistance, and strength. It aims to smartly installed wooden limbs so that it could replace conventional chassis with complex elements such as suspensions, axles and dampers. The construction would even already incorporate all the functions of those elements. The number of technical devices used in a vehicle would be reduced, which would automatically reduce the total weight, energy consumption, the ejected gases, the energy in the production and of course the price).
Designer : Rustam Schogenoff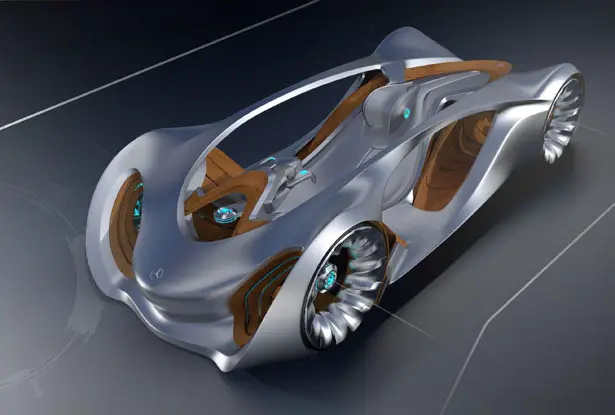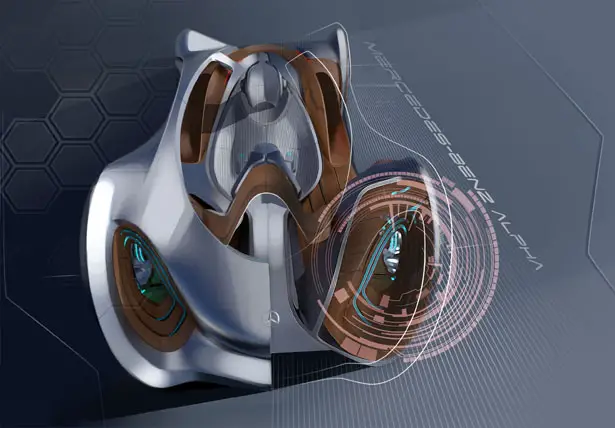 The wooden chassis could be formed of two wooden modules, which consist of several wooden elements and are connected to each other at a few points. Few connection points give each item clearance and thus lead to greater resilience of the overall structure. This allows the construction to have important property of deformability. The multi-body system can deform in accordance with the physical forces acting on it so that it can adapt to road bumps without additional technical components.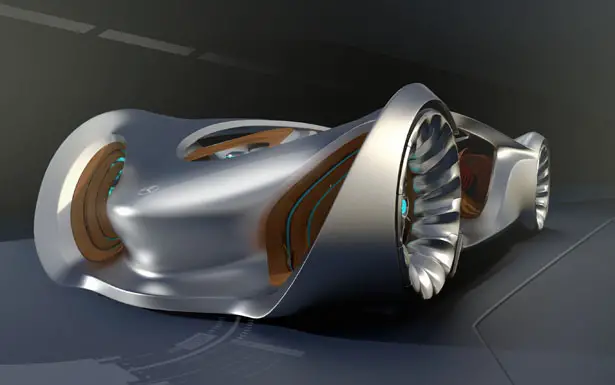 The flexible system of wood has been designed to be able to handle physical forces without any joints, transfer them, and also absorb them. It does not deform not due several fixed components driving this, but because the main material is pretty elastic. The wooden frame can effectively absorb the impact energy because of its light and digested fiber structure compared to rigid and immobile constructions. In addition, the construction does not have wheel-axis, which additionally reduces the total weight of the vehicle.
Due to the wood elasticity, light eight and ease of manufacture, it will be more cost-effective and eco-friendly than the current landing gear.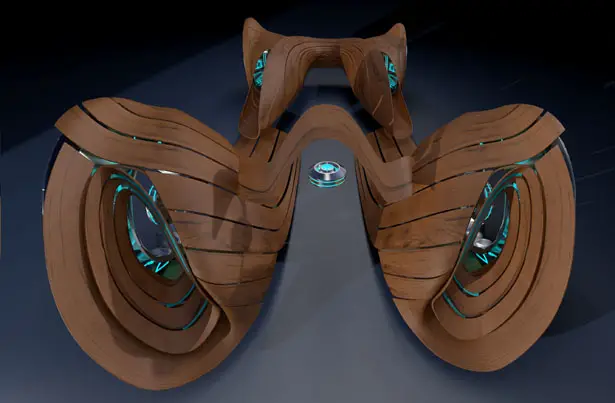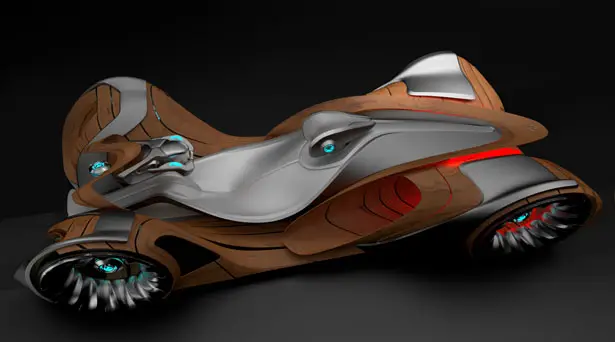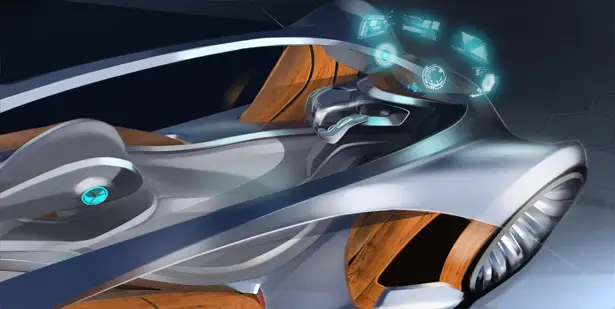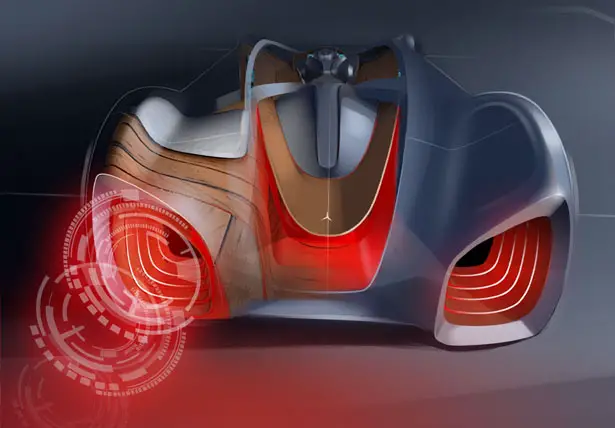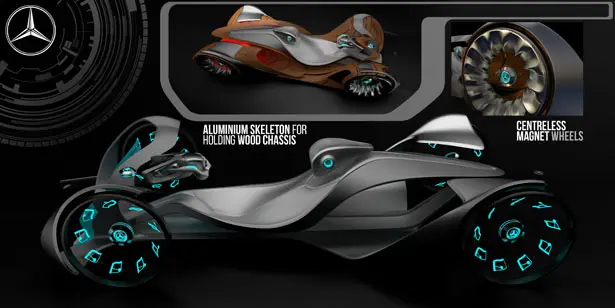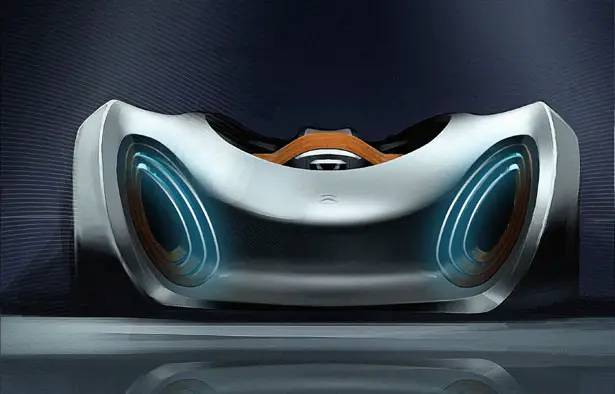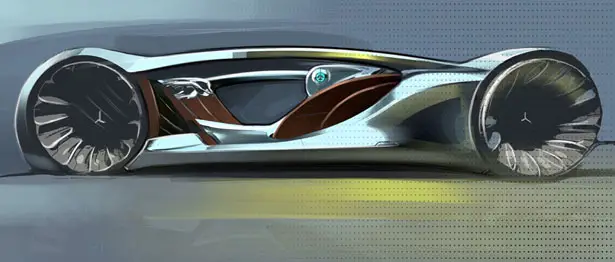 How such a construction will be produced?
Mankind has often managed to take advantage of nature. One of the most great examples for that is the technique called "Tree shaping" which means a tree can be shaped into any specific form. The most famous user of this technique was an American farmer named Axel Erlandson who could give his trees any shape he wanted. This technology is based on the ability of trees to grow together through the grafting.
With this technique, the nature itself becomes the cleanest, most efficient and most rational manufacturer of various objects without any artificial and polluting production processes. Theoretically, automotive industry could use the "Tree shaping" technology for the production of this "wooden chassis modules" instead of using expensive and polluting production facilities.
There could be some special forests, where the components of new generation could be "grown". This technique is still unexplored, most likely because trees grow very slow. In fact, the slow growth of trees limits the ability of humans to use nature as a source of its products effectively and quickly. However, experiments with the wood genes give us hope to solve this problem.
The gene manipulation method is still causing some discomfort to the majority of people – that is also not without justification. Dealing with genetic engineering in the food production has brought this technology a bad reputation. In contrast, wood is a raw material that people don't use directly, and which at the level of genes can not affect people. The prospect for accelerated growth in trees has been already given, therefore, it was confirmed by some successful experiments carried out by scientists at the University of Manchester, who managed to make the trees grow faster and bigger. The xylem of trees consists the xylem cells, they increase the division of stem cells in the cambium. The formation rate of xylem cells relies on the rate of the cell division in the cambium and depends on the genetic and environmental factors.
Scientists were able to successfully influence the genetic factor, by manipulating genes in poplars, which are responsible for the growth of trees.
These genes are called PXY and CLE. In a gene overexpression the trees grow twice as fast, higher, wider and have more leaves than normal non-manipulated trees.
---
We've seen Pluck Yolk Extractor which allows you to separate the yolk from egg white effortlessly, now we've found another tool that gives you the same benefit. It's actually a whisk with a twist. Separating yolk from egg white can be easy for Martha Stewart, but for me, I usually end up creating a mess in the kitchen. Cracking egg carefully and then pouring the yolk and egg white from one half shell to another, this is what I usually do. But this whisk concept seems making the process easy. This project integrates 2 functions in one, separating and stirring, a whisk with yolk separator, pretty smart idea, don't you think?
Designer : A'postrophe Design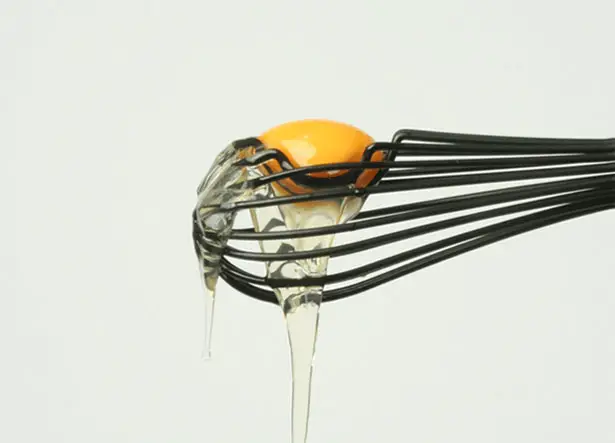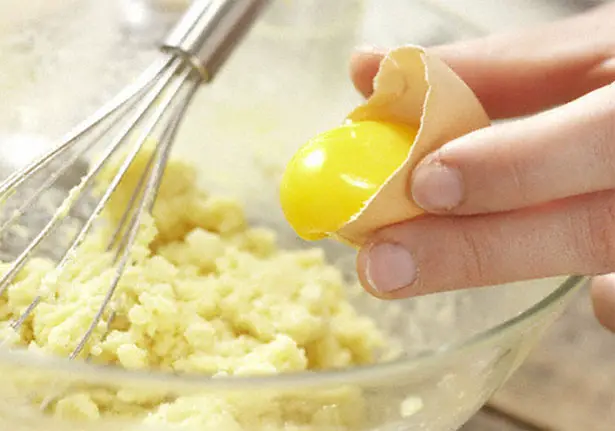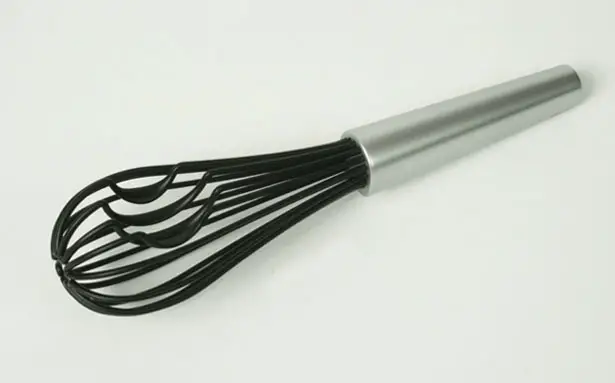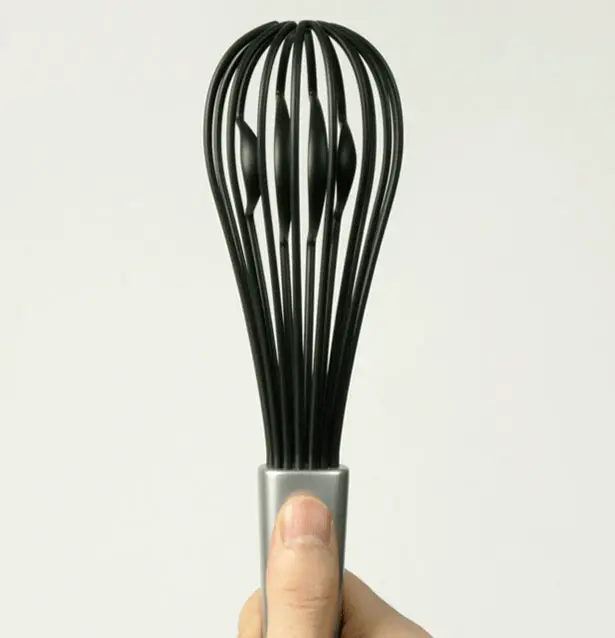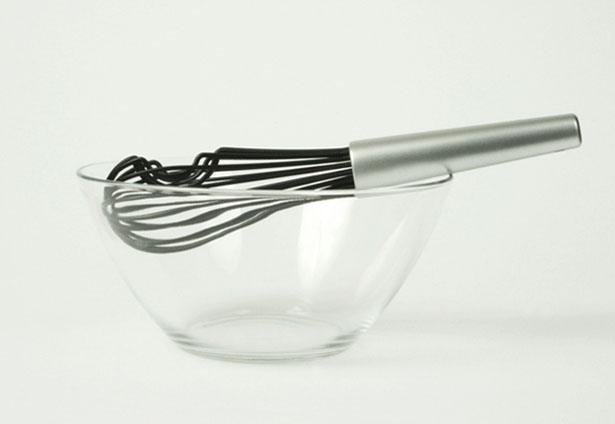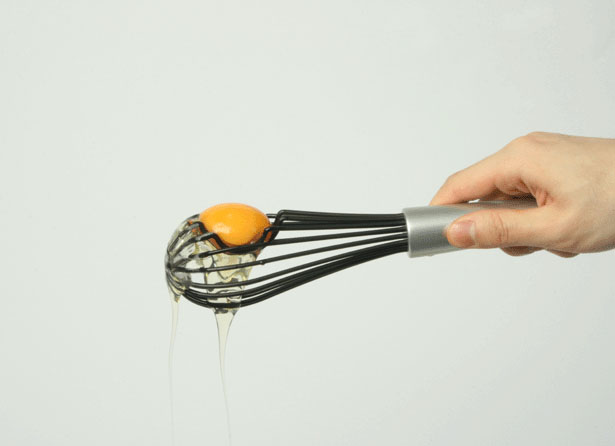 ---