When people goes for a picnic, a car that can provide room for social gathering parked in an urban landscape is always desirable, which was the main inspiration of designing the Renault Picnic concept car. This car can become an urban furniture, where people can re-acquaint themselves with the surrounding natural environment with its various functionalities. It features LED-impregnated DOL that allows adjustable and customizable tinting patterns that will make the car's surface a public art. The easy access sliding doors allow convenient entrance. You can attach a bicycle with the rear bumper and can arrange some extra sittings with tailgate rumble seats that slides-out from the front trunk. The Renault Picnic features low-cost and minimalist dashboard with i-pod compatibility which is ideal for new drivers. The modular seating arrangement of this car ensures equal comfort to be enjoyed for all passengers either inside, on atop the rear bumpers or on the front tailgate.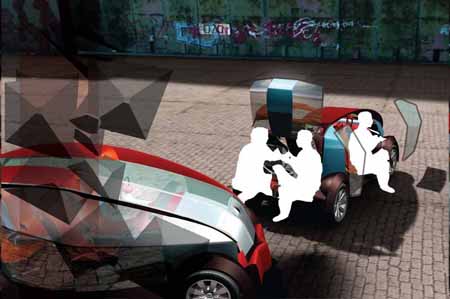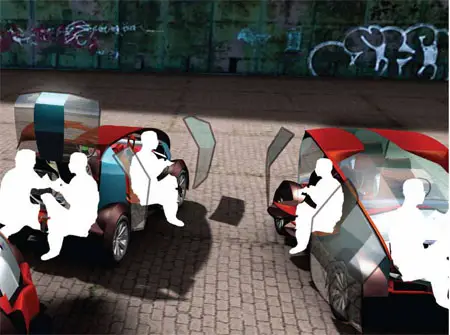 Gabriel says :
The Renault Picnic seeks to augment rather than detract from the health of it's surrounding environment. It is a Zero-emissions vehicle that provides a social function to the parked car within in the urban landscape. When parked, the Picnic transforms into urban furniture, becoming a social space for people to re-acquaint themselves with the surrounding environment. LED-impregnated, glass-coated polycarbonate windows project customized images when the vehicle is parked, transforming the vehicle into a form of public art.
Further considering the environment, the exterior panels are composed of hemp-based composites, and the vehicle is powered by Lithium Ion batteries and two rear-mounted in-wheel hub motors.
In order to reduce cost, complexity and weight, the simple interior is constructed of modular components, with four identical, soy-foam seats and an i-pod doc replacing most of the functions, including sound system and GPS on the dashboard.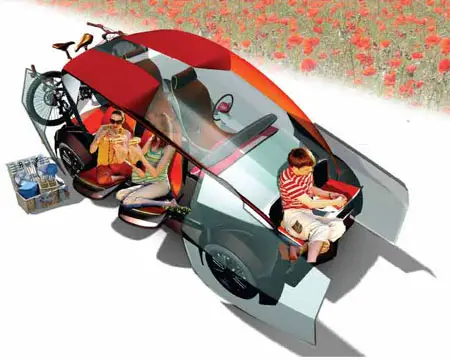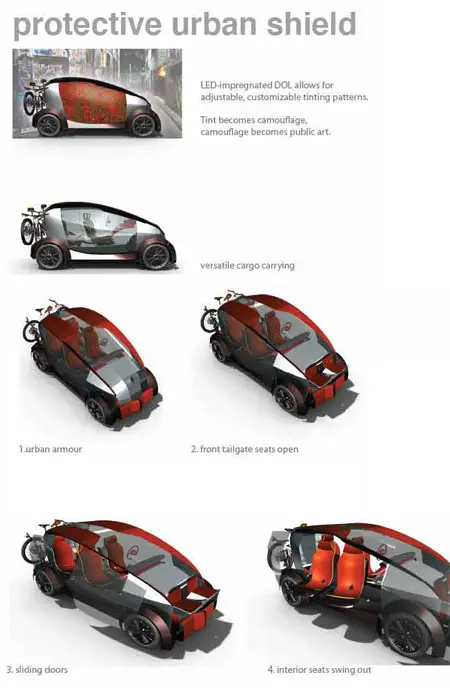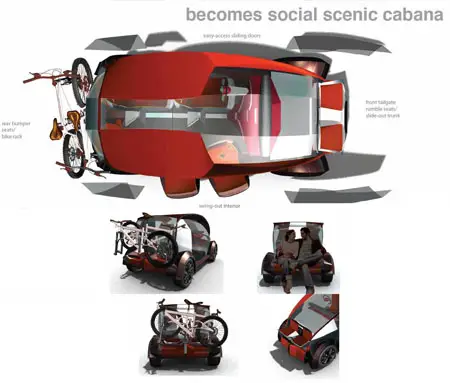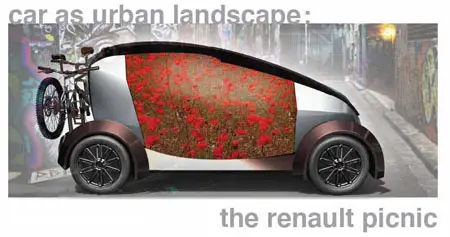 Designer : Gabriel Wartofsky
---
Weaving a Home is a unique structural fabric that functions as tent shelters. This project is based on history where human has developed in alternating waves of migration and settlement. People move from one point to another, across the earth led by the discovery of new territories or by the creation of new communities to form towns, cities, and nations. It is both exploration and settlement, changes between movement and stillness, these are fundamental essence of what it means to be human.
Due to global wars and natural disasters, we have seen the displacement of millions of people across continents. They are refugees who seek shelter from disaster in their countries, settle in unknown lands in the middle of nowhere, starting with nothing but tent to call home. This project "Weaving a Home" brings back the traditional architectural concept of tent shelters, it creates a technical, structural fabric that expands to enclose users and contracts for mobility, it provides safety and comforts of contemporary life, such as running water, heat, electricity, storage, and many more.
Designer : Abeer Seikaly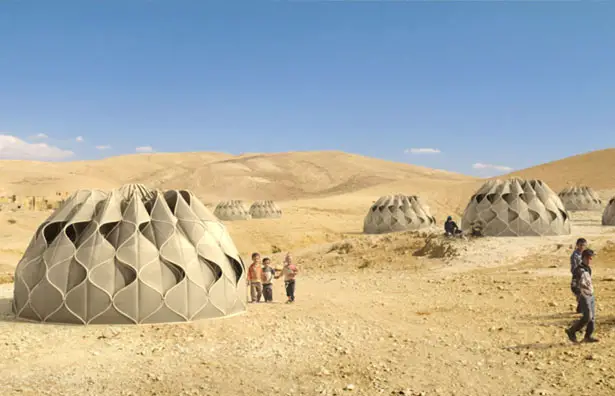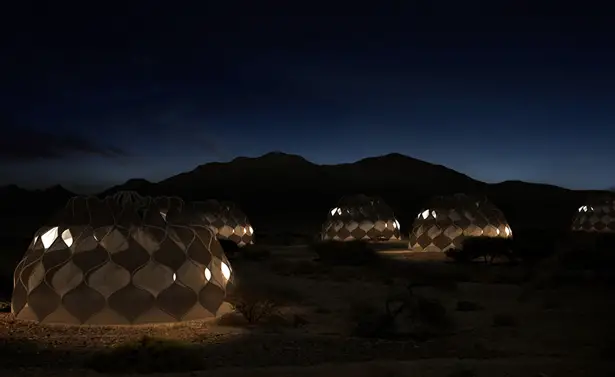 This concept tent has been design to bridge the gap between people's need and desire to have a home. This lightweight structural fabric has great potential in answering people's desire to have their lives back together, physically weaving their built environment into a familiar place. Inside the tend, refugees can enjoy a moment of peace, a pause from their turbulent worlds, weaving this shelter into home.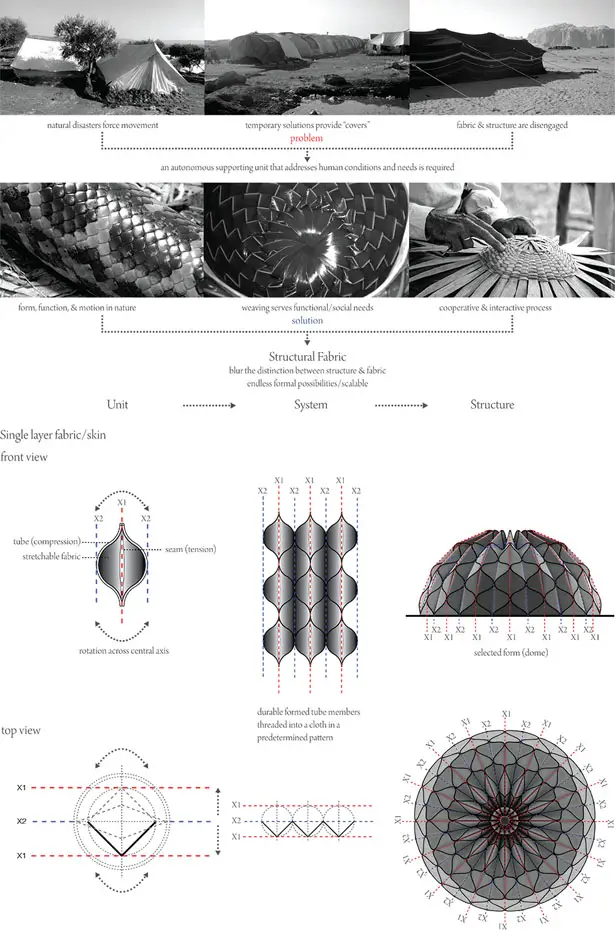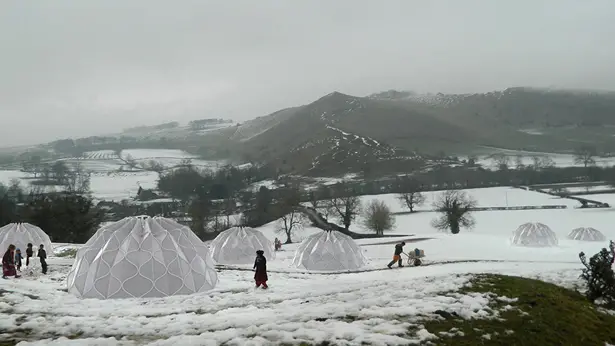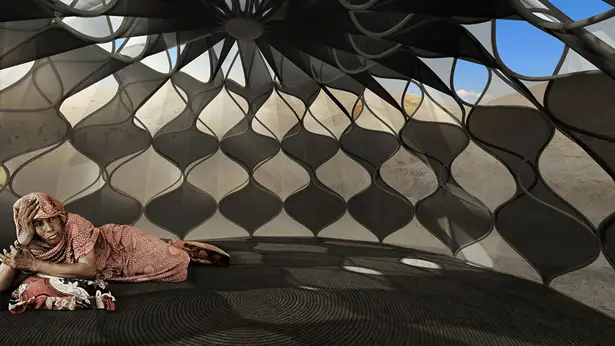 ---
There are times when sudden raining or snowing can make central lane markings on the road become invisible, thus causing traffic congestion or worst, traffic accidents. Buoyancy-Road design tries to solve this issue by automatically rising lane separator when water or snow obscures a road's lane markings. This buoyant lane separator emerges due to its buoyant quality, therefore, when water or snow covers the road over the height of the traffic lane, it will raise this device automatically. In this way, drivers will still be able to recognize the position of the lane markings. Buoyancy-Road system can also be activated manually in the case of a temporary lane reversal.
Designer : Joh Minhoo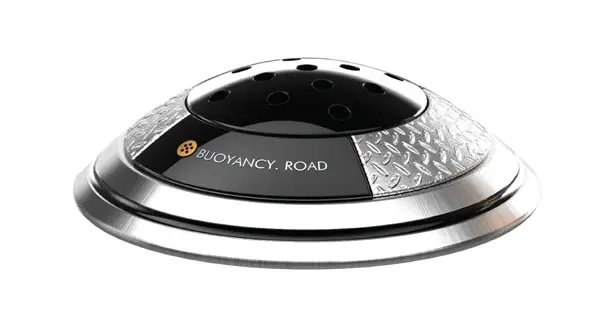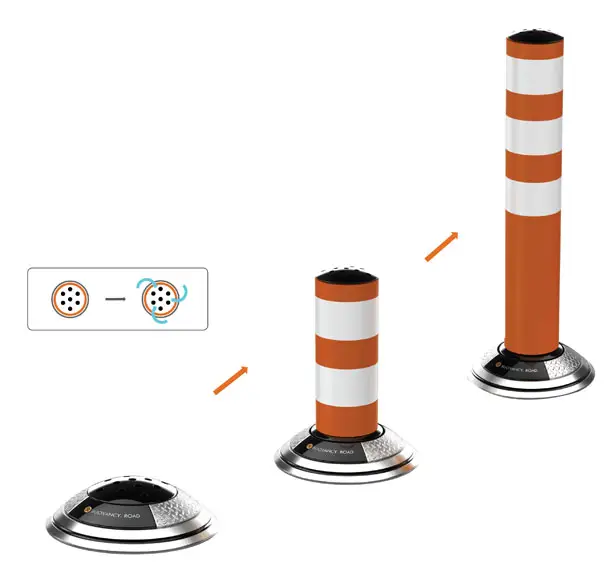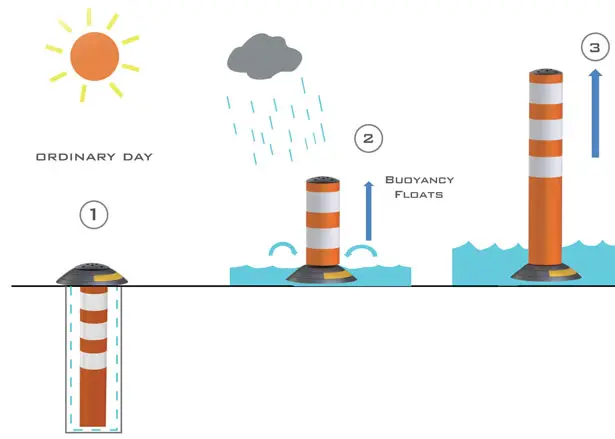 ---