Tag Heuer, the famous watch manufacturer, has announced to launch a handy Bluetooth headset which is quite unlike than any other products available on the market. The device is actually an essential combination of a hearing device, a USB charger and a flash drive. This design will allow the users to carry all they need into one sleek pack without any sorts of cords. This device, with a great visual of elegant white and black combination, is an icon of space efficiency and provides quality sound along with brilliant voice capturing capability. The capacity of the USB flash drive is yet to be announced but since it is from Tag Heuer, you can expect quite a big space for the same.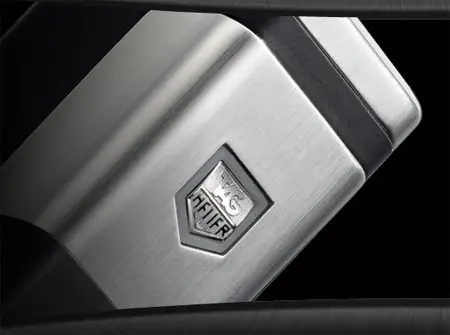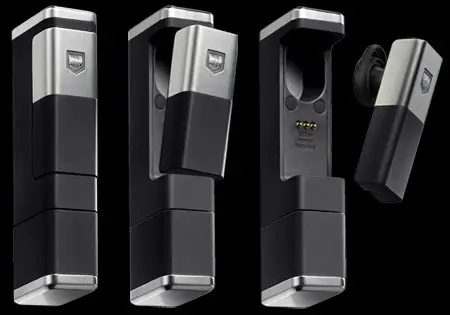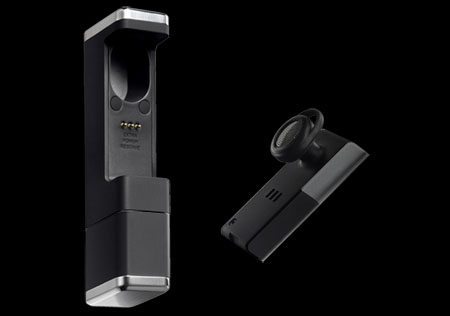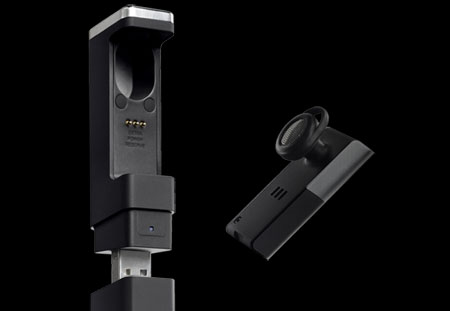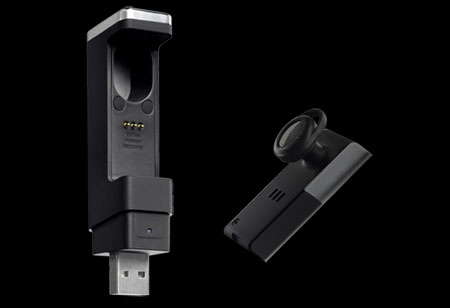 Designer : Tag Heuer
---
This is a sportscar concept that with skateboard design. Using only 10″ in diameter wheels, flat and deck-style body, I can see my future skateboard in this car concept. You can fold the two seats flat when your park the car, and open it again for the ride. According to Florian Dobe, this is called "Sculpture Mode", envisioning the vehicle can enhance the space it's parked in.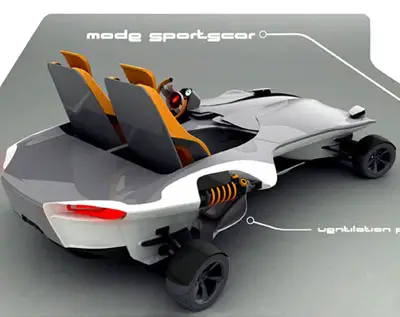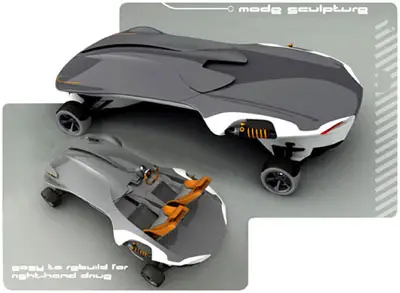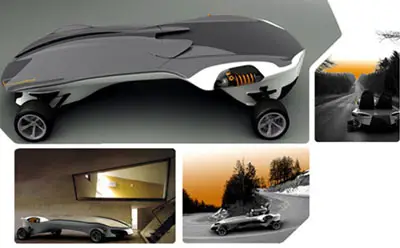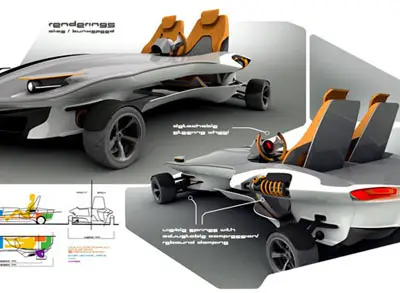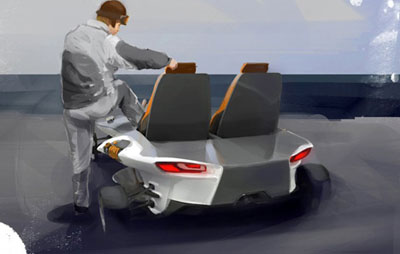 Designer : Florian Dobe
---
For the love of cooking, you can share this love to children using "Kitchen Kids" concept. It's a series of kitchen tools which are specially designed for children age 4 to 7 with a simple mission, to encourage children to understand more about food and its preparation, prepare them to have healthier lifestyle in the future. According to some researches, children who are involved in the preparation process of family meal usually have better and healthier lifestyle as adults. Unfortunately, there are not many families that ask their children to participate in this process due to so many potential dangers that can happen.
Designers : Josefine Bentzen and Charlotte Skak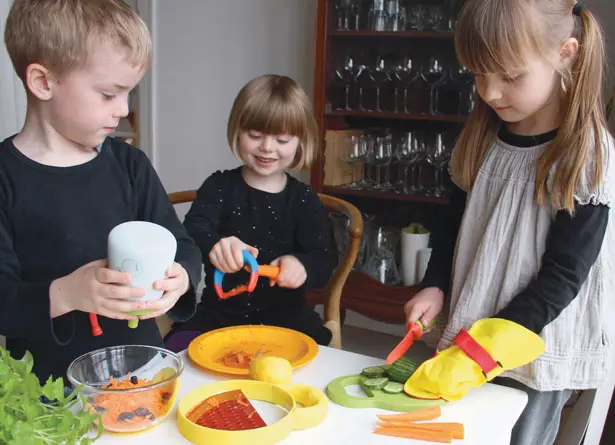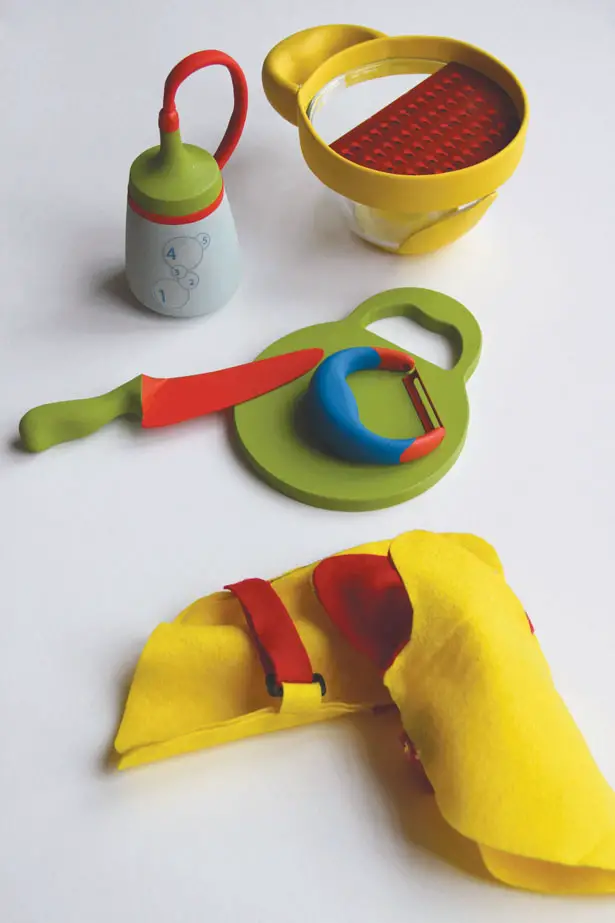 Kitchen Kids series offers a better way to teach children about food. This series consists of a knife, a chopping board, a vegetable peeler, a grating bowl, a mixing bottle for dressing and a protective mitten to ensure children safety when they use sharp objects. This will certainly give parents peace of mind. The unique color method provides clear distinction between which areas are safe to hold and which are dangerous (hint: red color for "dangerous"). The handles of these kitchen tools are made with rubber with a characteristic shape that supports with grip. Even the grating tool can be fitted with a transparent bowl to catch the grated food.
We can teach children that we live in the world where not everything we eat should be fast food or canned food. Kitchen Kids concept provides our future generation with fundamental knowledge of preparing healthy meals.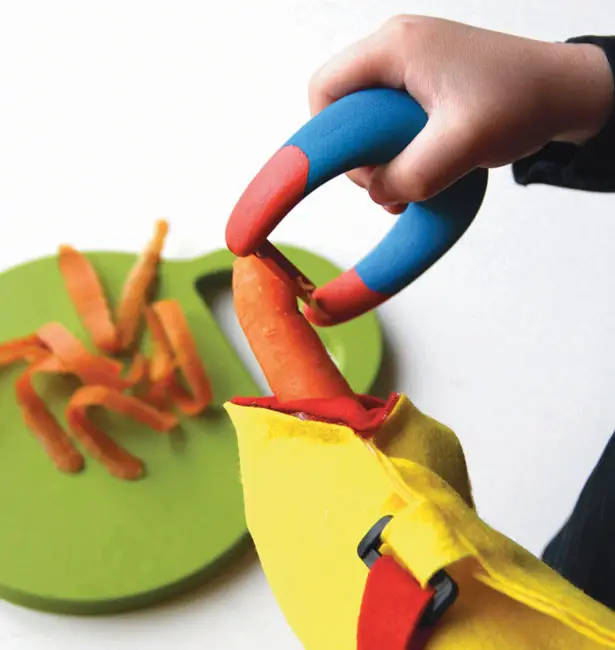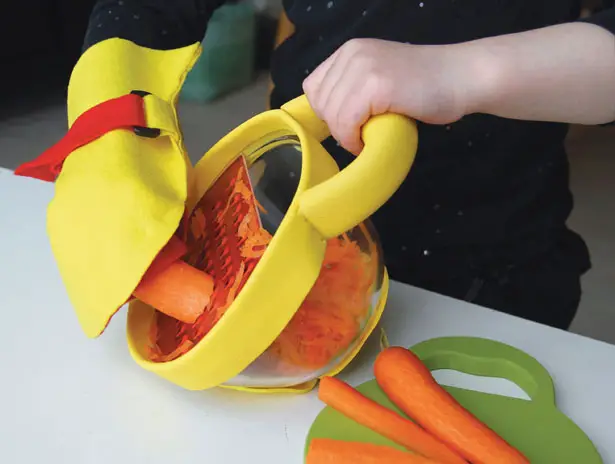 ---