Husqvarna Panthera Leo is a concept mower specially designed to get you rid of mowing associated inconveniences such as providing electricity, hectic pushing, dust, etc. The mower is powered with rechargeable batteries that last two hours on full charge. The LCD display and sensors are some other highlighted features of this mower that can inform you what height and speed you should mow at. Moreover, this mower will inform you if you are going to ride too vertically or about to strike an object. Aside from the features, the visor of the mower is brilliantly extraordinary that can attract anyone's attention.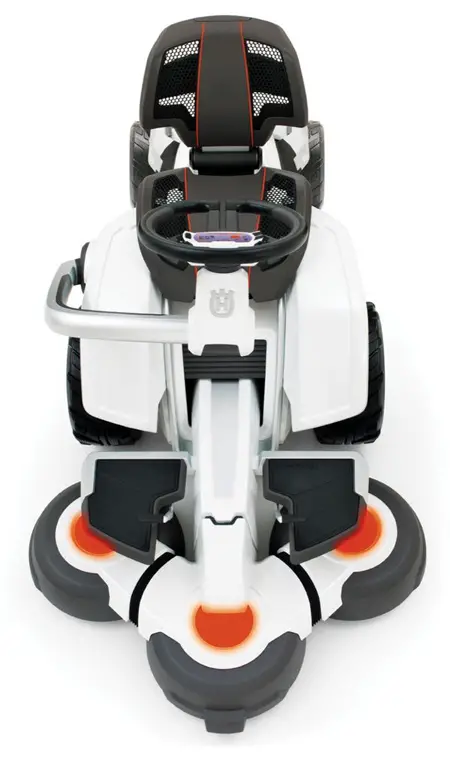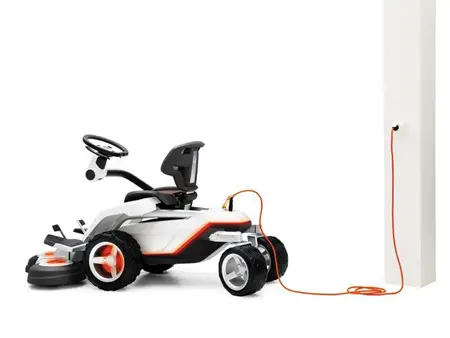 [Press Release]
Husqvarna, the global leader of outdoor power products, has developed a quiet, powerful and environmentally friendly ride-on mower for the future garden. The concept mower, developed by Husqvarna's designers and engineers, is made of recycled materials and gives an indication how the future of mowing might come to look.
-Husqvarna Panthera Leo™ demonstrates our innovation capacity and ambition to develop high performing products with less environmental impact, says Magnus Yngen, President and CEO of Husqvarna.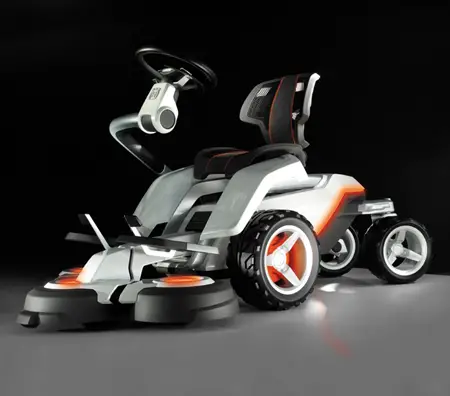 Husqvarna Panthera Leo™ is a hybrid made up of two ride-on mowers, Rider and Zero-Turn. A battery that can be charged at any electrical outlet has replaced the traditional gas engine. Five powerful electrical motors partnered with a sound absorbing cutting deck, allow the Husqvarna Panthera Leo™ to glide effortlessly and silently across your lawn. The tree individually suspended cutting decks enables this mower to mow smoothly over bumpier parts of your garden, avoiding lawn scalping. The cutting decks each have razor sharp blades for a close cut finish and can be controlled to suit wide or narrow lawns (from 85cm up to 120cm).
All functions and are managed via paddles on the steering wheel. Via an LCD-display gardeners are told everything they need to know to achieve a perfect lawn, from how fast they are driving, cutting height, cutting width, remaining battery time, service needs and warns the user about objects that are too close. With the help of sensors, Husqvarna Panthera Leo™ can recommend the most suitable speed and cutting height for the perfect lawn.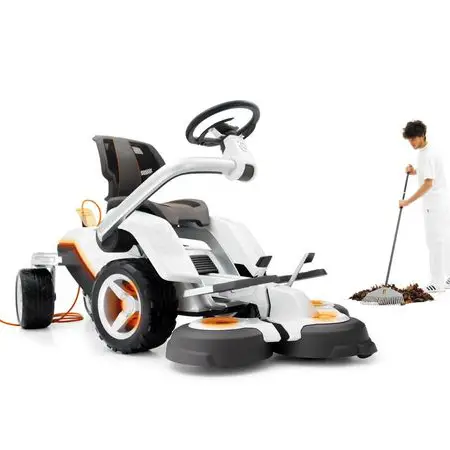 Husqvarna is the leader in several areas in terms of products with reduced environmental impact. The Group's new engines comply with the strictest exhaust-emission criteria in the US and Europe .
Features
* Equipped with zero-emission technology
* Produced from recycled materials
* Rechargeable Lithium-phosphate battery
* Plug-in product, charged at any electrical point
* Five brushless electrical engines, easy and clean to maintain
* Three separate cutters equipped with razor sharp blades
* Cutters individually suspended to glide smoothly over bumpy terrain and prevent lawn scalping
* Variable cutting width (85-120cm)
* Zero-turn functionality
* Lifting cutting deck (90 degrees)
* Ergonomic steering wheel
* Easy to control dashboard
* Cutting time 2 hours, overnight charging
* Detailed LCD display monitor (featuring cutting height, width of cutting deck, speed, service information, steep hill warning, objects that are too close)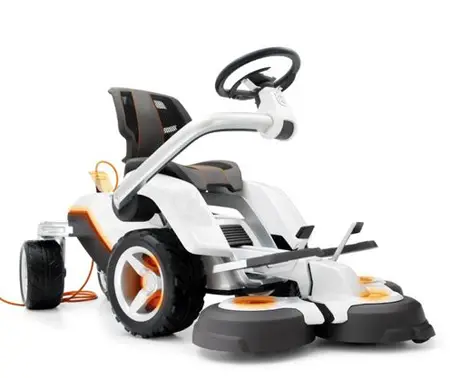 Designer : Husqvarna