As its name suggest, Infiniti Katana concept car was inspired by many Japanese cultures, from its exterior body to the interior.
In today's fast-paced and turbulent society, it is the calm and especially time that embodies the ultimate luxury. The intention should therefore be to offer the customer more time in the vehicle. The perceived time depends on the number of sensory impressions you perceive in a given time interval. It is therefore desirable to minimize the sensory impressions of the outside world for the passenger. Since the Infiniti Katana concept car is an autonomous vehicle and the driver does not need to monitor the road, it would be obvious to close all direct viewing areas.
However, in order not to isolate the occupants completely from the outside world, but rather to emphasize the beauty of nature, a large glass surface is situated in the center of the vehicle, which releases the view only to the sky. You know the calming and decelerating feeling of sitting in the back of a vehicle and watching the clouds pass by just through the roof window.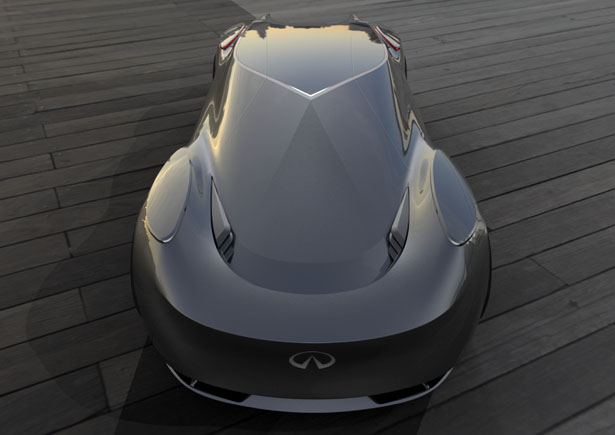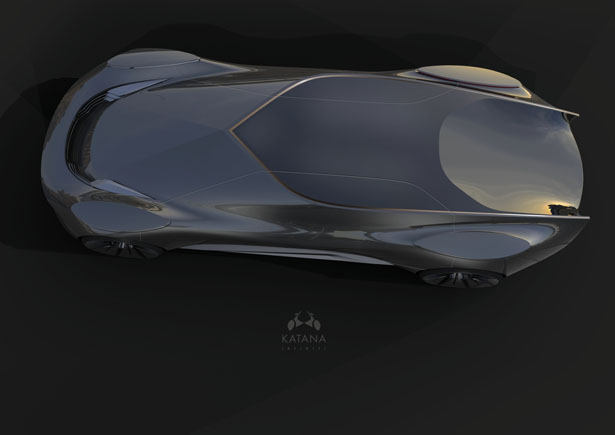 At the core of the INFINITI Katana concept car by Frederic Allenberg is the focus on the peculiarity of Japanese aesthetics, which has not been seen in other car designs so far, namely the emotional minimalism. It is deeply rooted in Japanese culture. The core element is the philosophy of Wabi-Sabi. In the figurative sense, it means that a well-formed, simple sculpture only becomes really interesting and attractive when it is broken by irregularities.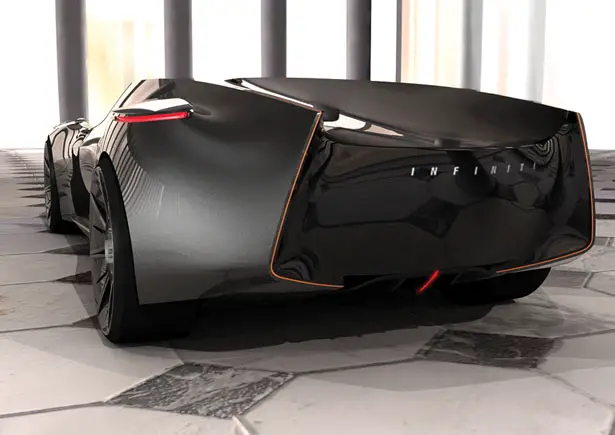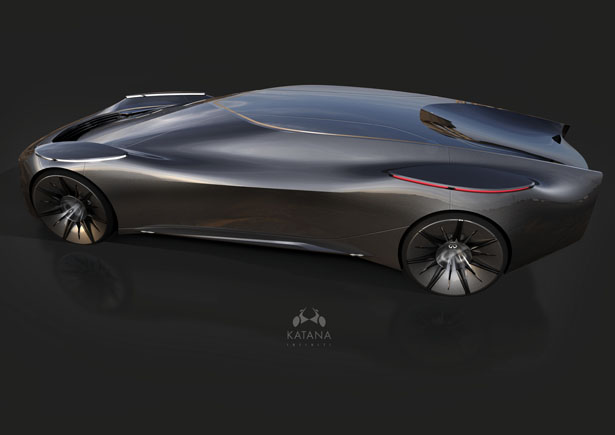 A key element here is a sculpture by Mária Bartuszová, which gave rise to this idea and also illustrates the international absorption of Japanese culture. The volumes of this concrete sculpture are opened through sharp cuts and thus achieve a special tension that has been transferred to the form. This refers to the extremely sharp samurai swords called Katana.
However, these cuts are not exclusively reduced to their aesthetics. The large section, which extends over three quarters of the model visually opens the vehicle to the sky and thus allows the above-mentioned function of changing the perception of time. But also the other cut surfaces above the wheel arches have a very essential function. When darkness falls, the surfaces lift against the sky and make room for the signal lighting of the vehicle.
Also inspired by Japanese culture is the golden bond that separates the glass surface inside from the shell. It is an allusion to Kintsugi, a practice of the aforementioned Wabi-Sabi philosophy. It is a process in which broken porcelain or ceramic is rejoined by a gold compound. The usual approach is reversed. The object that has actually reached the end of its lifespan by fracture is actually aesthetically lifted to the next level by the golden bond, at the end, making it more beautiful than ever.
More images of INFINITI Katana Concept Car: