Designers nowadays frequently have to create and manage videos of their projects, portfolio, or even videos that they use to market their services. Because the videos you handle may need to be used in different situations, it is important that you're able to convert and optimize – or even compress them if need be.
One of the best tools to do that is Movavi Video Converter. With its help you can convert your design videos so that they are optimized for any purpose, and compress them – all in a few simple steps.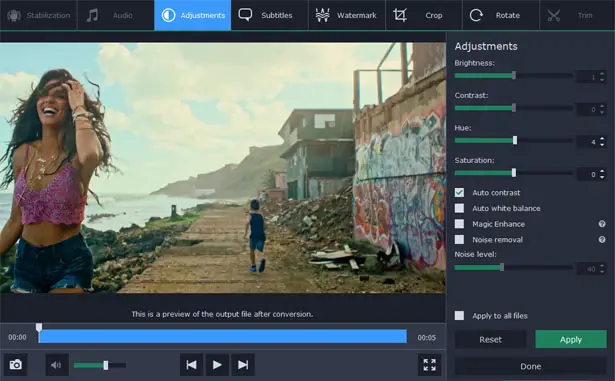 Convert and Optimize Design Videos
Before you convert a video, you should figure out what format you need it to be in. Additionally if you want to optimize it you may want to find out the resolution you want it to be displayed in.
The good news is that Movavi Video Converter will let you skip both those steps if you want to, and instead you can convert and optimize a design video in just a few steps:
Launch Movavi Video Converter.
Add the video that you want to convert by clicking 'Add Media' then 'Add Video' and selecting it, or dragging and dropping the video file in the working area.
Open the 'Popular' or 'Video' tabs at the bottom and select the preset with the format and resolution that you want, or open the 'Devices' tab to select a preset for the specific device that you intend the video to be viewed on.
Check the destination folder under the 'Save to' list, and change it if necessary.
Click the 'Convert' button to start converting the video format.
As you can see there is nothing complicated about it and you should be able to easily switch your video to the format that you need. On top of that the fact that this video converter has hundreds of built-in presets will make it easy to optimize your video for any type of use, including if you want to convert it for mobile devices, YouTube, Facebook, iTunes, and more.
All in all it shouldn't take more than a minute to set up the conversion, and not much more than that to actually convert the video itself.
Compress Design Videos
If your design videos are simply too large and that makes them difficult to manage, you should compress them.
The first way to do that is to follow the steps listed above but select a video format that has more efficient compression. For example instead of MP4 with H.264 you could select MP4 with H.265 as that will reduce the file size by up to 50% without affecting its quality.
Unfortunately newer codecs with better compression tend to be not as widely-supported – so you'll have to take that into account. A 'safer' way to compress your design videos would be to reduce the bitrate, which can be done in Movavi as well in a few steps:
Launch Movavi Video Converter, then add the video and select the format as described above.
Click on the file size in the output information of the video.
Adjust the 'File size' slider to the desired file size (while taking note of the 'Quality' and 'Bitrate' below it).
Click 'Convert Sample' to convert a small part of the video so you can see what its quality will be like if you compress it that much.
Once you're satisfied, click 'Convert' to convert the video.
As you may have surmised, this method of compressing your design videos will affect their quality – which is why you should take care when using it. By converting small samples as you reduce the file size you can make sure you don't reduce the bitrate too much and end up with a video that is unwatchable.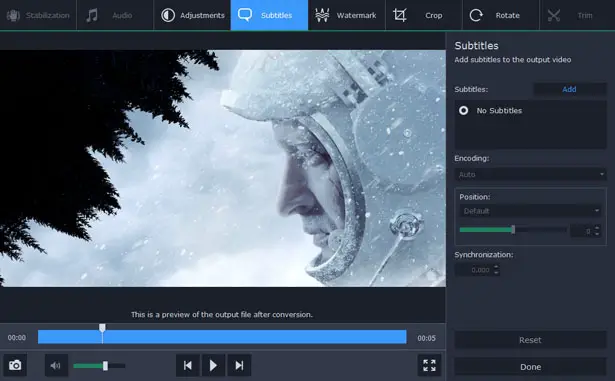 Being able to convert, optimize and compress your design videos will undoubtedly prove useful. Not only will you be able to ensure it is displayed in exactly the quality that you want it to be, but you can also reduce its file size as necessary to make it easier to distribute, especially for web display.
At the end of the day the options are limitless – so be sure to try out Movavi Video Converter and see how easy it is.