Hercules Concept Excavator has an innovative design to eliminate the inefficiencies of existing excavators. It uses the principle of continuous rotary cutting and soil extraction and eliminates the energy-wasteful dead cycles. These dead cycles – during which the excavator boom needs to be swung to dump the soil and returned again – are an innately inefficient part of traditional excavator operation. The move to a continuous mode of operation eliminates these dead cycles and so confers significant efficiency, energy and time savings.
The excavation process begins with a cutting head that rotates and moves in three dimensions. The soil is drawn inward by the cutting blades and transferred through the booms via internal augers. Finally a conveyor belt transfers the soil to the receiving vehicle at the rear end of the excavator.
Designers : Selin Koşağan, Chi Liu, Danny Mc Elchar, Apostolos Papamatthaiakis, and Rahil Rupawala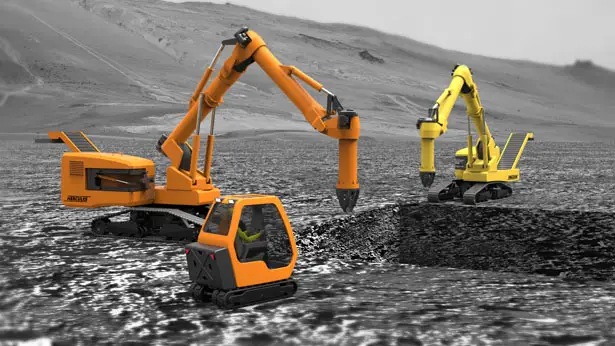 Increased efficiencies are achieved through a combination of continuous operation and by the use of hybrid power source in place of a traditional ICE. Hercules Concept Excavator utilizes a plug-in hybrid electric system in conjunction with a conventional engine. Batteries store energy from the engine that would otherwise go to waste, and these can also be charged through the grid with renewable source of energy. An all-electric system of actuators and motors reduces the maintenance cost and increases the efficiency compared to high-pressure hydraulic equivalents as the power is only consumed when it is necessary. Indeed, there is no need for hydraulic oil at all, which in itself provides further cost and environmental benefits.
Hercules Concept Excavator also features a detachable cabin that makes the operation safer for the operator. The elimination of soil transfer swing cycles makes Hercules ideal for confined space operations. The zero tail swing feature also increases efficiency and also safety when others are close to the excavator. A further novel feature of the Hercules system is the use of pre-excavation ground-penetrating radar surveys. The terrain is scanned and potentially hazardous or problematic obstructions are identified and can then be safely excluded from the resulting excavation map. The intelligent control unit calculates the most efficient map of excavation and with the commencement of excavation; the cutting head follows the pre-calculated tool path, in a manner similar to a CNC machine