Golden Marlyn Wooden Yacht is designed for sports fishing. This concept yacht is the result of ten months of researching, sketching, calculating, developing, and 3D modeling, until finally rendering. The main goal of this project was to design a luxury cruiser, ideally for summer time since that type of yachts are pretty rare nowadays. Wooden yacht is not that easy to model since it consists of several layers of wood, through 3D program, the designer had to work over 700 layers, the process itself lasted for about six months and of course, thousands of hours of work.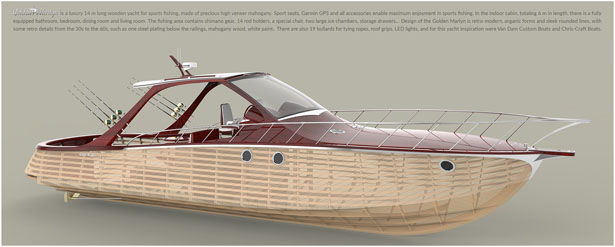 Golden Marlyn Wooden Yacht by Nebojsa Anicic is 14 meters long, that wooden body is crafted of precious mahogany. The cockpit design features a command bridge for pilot and co-pilot, it is also equipped with the latest Garmin GPS system. Since this yacht is designed for sports fishing, the seats, accessories, and all controls have been carefully designed and considered for maximum enjoyment in fishing. There are two small tables in the open cabin, benches, two refrigerators, and four additional storage drawers. Below the deck, there are two diesel engines.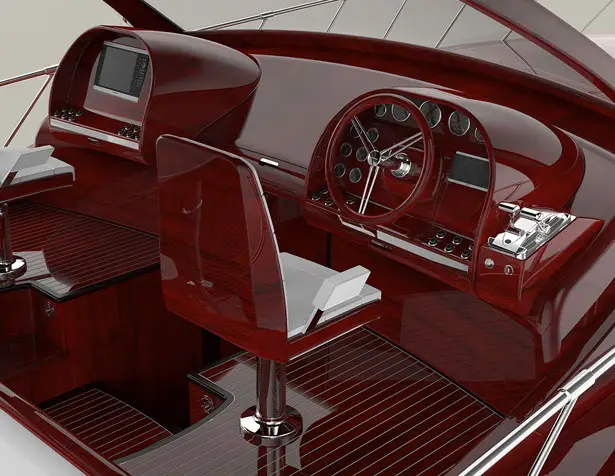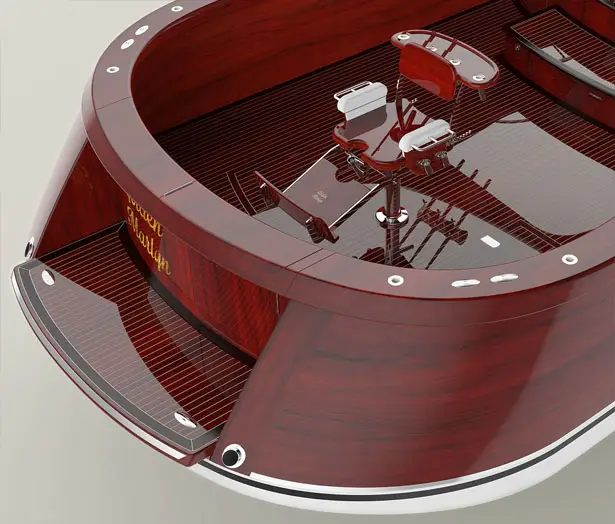 More images of Golden Marlyn Luxurious Wooden Yacht: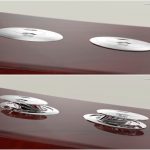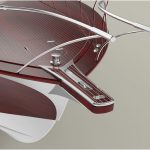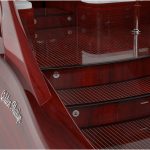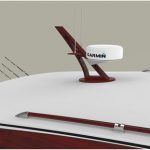 The cabin is 6m long with fully equipped bathroom, living room, dining room, and bedroom. There are also extra rooms for fuel and water. The aft deck becomes the fishing area, it has additional drawer for accessories, 14 rod holders, special chair for extreme fishing, a gateway for taking fish, and two large ice chambers for freezing fish. There are 19 bollards for tying ropes, they are at the same level of the wooden part but can be extracted when needed. This yacht also has several LED lights, guardrails, anchor, roof grips, and bow platform for disembarking.
Specifications:
Length over all: 14.00 m
Beam over all: 3.60 m
Height over all: 4.00 m
Height keel to front deck: 2.15 m
Height keel to cabin roof top: 3.75 m
Engines: 2 x 450 hp turbo (65 mph)
Cabins: 2
Indoor cabin length 6.00 m
Materials: high veneer mahogany wood, stainless steel guardrails split at the bow, chrome, etc.
Number of passengers: 8
Number of berths: 2 + 2