Sponsored by UPrinting, we at Tuvie are happy to announce this giveaway campaign to all of you who own business design, professionals, freelancer or even still looking for a job.
We live in a high-tech and digital age where social networking can be done virtually. We can meet new people, sharing new experiences, photos, conversations through websites like Facebook, Twitter, LinkedIn or forums.
However, this also means people are forgetting the importance of creating business cards as they think they can easily exchange contact information electronic ways. Do you also think the business card has become obsolete?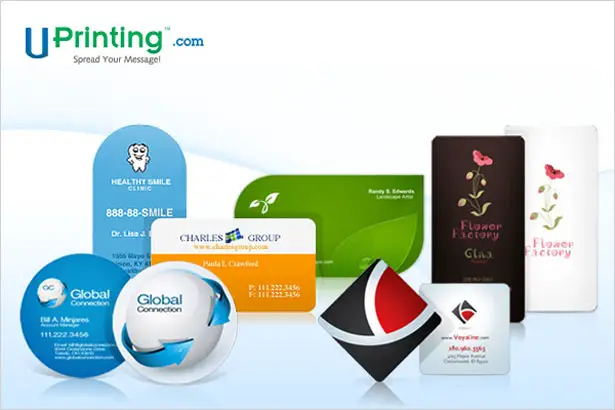 If your answer is yes, think again my friend! Most people still prefer to exchange contact information using physical cards. Having business cards also mean that you take your career seriously, just like virtual relationship can't replace having to meet people in person.
Your business cards provide creative opportunities for you to express yourself as designer, even when you don't own a business and currently work as freelancer, these business cards work as self-promotion tools. One significant change from conventional business card that we notice is now people include their personal/business website URL, email address, LinkedIn, Facebook and Twitter. Checkout popular UPrinting business cards that you can create.
So, for this giveaway campaign, a winner will get: 250 pcs Die Cut Business Card Printing*.
Sizes to choose from: 2 x 3.5″ Rounded Corners, 2×2″ Rounded Corners, 1.75×3.5″ Rounded Corners, 2×3.5″ Leaf, 2×3.5 Rounded one corner, 2×3.5″ Half Circle Side, 2×3.5″ Oval, 2.5″ Circle.
Paper to choose from: 14pt Cardstock Gloss / Matte / High Gloss (UV), or 13pt Cardstock Uncoated.
What you need to do is simple, simply tell us what information you'll include in your business cards, "Like" this post and Re-tweet about it.
The Business Card printing giveaway promotion will run from Monday 28th May 2012 to Friday 1st June 2012.
UPDATE : The winner is Linda W, you'll be hearing from us and UPrinting sometime next week.
*6 Business Days Turnaround
*Free shipping for US residents only