Introducing Elephone NXG Series, it's a set of three concept phones with the boundless visual effects, exciting new multimedia feature, and fresh new possibilities for even faster experience.
Elephone NXG Series feature:
01. H.G Soft Touch Buttons : Simpler, Better and Faster Interaction (fully customizable). The possibility to change the color of the Soft-Touch buttons & panel, also to change the Shape & Look of the buttons.
02. Pure Bezel-Less Design on All 3 models.
03. Unique and Precise Nano Injection.
04. Full Metal and Anodized Aluminum Body.
05. 8 MP Front + 16 MP Rear Cameras on All 3 Units.
06. RAM: 3 GB / 4 GB / 6 GB
07. Protection: Gorilla Glass on All 3 Units.
08. Three Models with the different design: One for the Basic Users, One for the Passionate Gamers and One for more Advanced Users.
09. CPU: Deca Core on All 3 models ( For Extreme-Fast experience )
10. ROM: 32 GB / 64 GB / 128 GB
11. OS: Android on All 3 Units.
12. Display: One with the Flat Screen Display, One with the 2.5D Screen Display and One with the Curved Edge Display.
13. Notification Light and Fingerprint Scanner on All 3 Units
Designer : Mladen Milic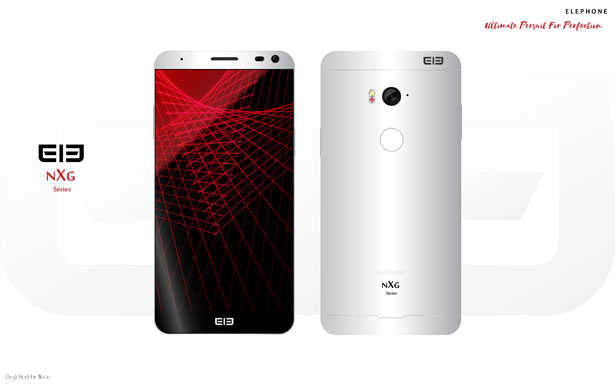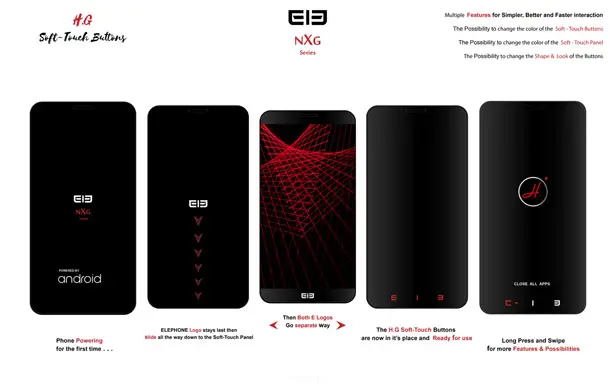 Click above image for bigger view
More images of Elephone NXG Series: